Manpreet Badal to restructure party
Moga, March 17
The People's Party of Punjab president, Manpreet Singh Badal, is restructuring his party organisation to reach out to the people at the grassroots level in view of the forthcoming Lok Sabha elections.
Police gears up for farmers' stir today
Tarn Taran , March 17
More jawans of the Indian Reserve Battalion (IRB) have been summoned here in view of the call given by a joint committee of farmers and workers for district-level dharnas outside the offices of Deputy Commissioners throughout the state tomorrow.
A novel way to tackle problem of water hyacinth at Harike
Harike, March 17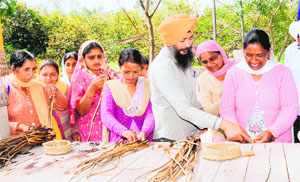 To check the problem of water hyacinth, that poses a threat to aquatic life at the Harike Wildlife Sanctuary, the Forest Department, in association with the Tourism Department and World Wide Fund (WWF) for Nature, has initiated a training programme for local residents in making handicraft items of this weed.
Forest official Atma Singh imparts training to womenfolk from villages adjoining Harike in making handicraft items from water hyacinth. Photo: Vishal Kumar

Folk singer Aujla dies in accident
Batala, March 17
Renowned Punjabi folk singer Sukhraj Aujla alias Santokh Aujla (38), died in a road accident on the Batala-Fatehgarh Churian road this morning. Batala Senior Superintendent of Police (SSP) Tulsi Ram said Aujla, who was at the wheel, lost control of his car and the vehicle rammed into a roadside tree. Aujla and his wife Ranjit Kaur were returning to their native village in Gurdaspur district from Marid-ke village.
Power corp directed to withdraw circular
Jalandhar, March 17
The Punjab State Electricity Regulatory Commission (PSERC) has directed the Punjab State Power Corporation Limited (PSPCL) to immediately withdraw its commercial circular, relaxing the conditions of supply and general conditions of power tariff to mega industrial projects.
Meeting called to discuss shortage of gunny bags
Ludhiana, March 17
The issue of shortage of gunny bags and space to stock wheat will be discussed at a high-level meeting in Chandigarh tomorrow. The meeting, which has been called by the Chief Secretary, will be attended by all Deputy Commissioners.
Alliance MLAs to meet before House session
Chandigarh, March 17
Legislators of the ruling alliance have been called for a meeting to review stand vis a vis the Opposition before the House session tomorrow.
Few takers in Punjab for highly beneficial organic produce
Sangrur, March 17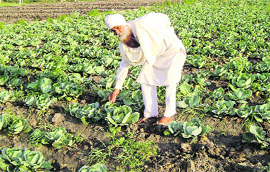 These days Punjab farmers are often blamed for using excessive pesticides and fertilisers to maximise their produce inadvertently poisoning the underground water. There are, however, some far-sighted farmers who are growing organic vegetables despite finding it tough to sell their produce.
Bikkar Singh, an organic farmer, shows his crop in Badrukhan village. A Tribune photograph
New technology to revolutionise farming
Ropar, March 17
A new wave of reforms in the agriculture sector is on cards as the Indian Institute of Technology (IIT), Ropar, together with Aston University, Birmingham, UK, is all set to introduce decentralised off-grid electricity generation using agricultural residues, which otherwise is burnt by the farmers, in the country.
Ludhiana sewing machine industry in dire straits
Ludhiana, March 17
The sewing machine manufacturers in Ludhiana are being elbowed out of business. Consumers prefer the cheap sewing machines that are imported from China and Taiwan to the old sewing machines that are manufactured in Ludhiana.
Govt to clear up pending payment of arhtiyas
Fatehgarh Sahib, March 17
The state government has agreed to release the commission agents' payment which various government agencies owed them in lieu of procuring wheat and paddy produce from them. Their bills had been lying with these agencies for months, making it difficult for them to pay labourers and farmers.
Kharar Congress leader shot at
Ropar, March 17
A Congress leader from Kharar was seriously injured when two unidentified motorcycle-borne assailants opened fire on him at Chamkaur Sahib, near here, today.