Governor says state doing well fiscally, will meet Plan targets
Chandigarh, March 11
The Governor said the state would provide free computer tablets to all 1.5 lakh students of Class XII at a cost of Rs 110 crore in the coming year. He said the government was committed to creating 10 lakh jobs in the next five years, two lakh in the government sector.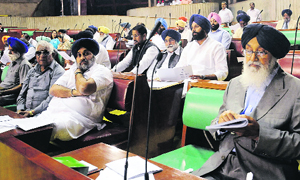 All set for quiet burial to Majithia-Rana faceoff
Chandigarh, March 11
The SAD-BJP and the Congress today decided to give a quiet burial to the controversy regarding the use of expletives by Revenue Minister Bikram Majithia against Congress legislator Rana Gurjit on the floor of the House during the last session.
Deputy CM Sukhbir Badal (left) and Bikram Majithia (seated behind him). Tribune photo: Manoj Mahajan

Ludhiana MC to discuss water supply from Sirhind canal
Ludhiana, March 11
At the Ludhiana Municipal Corporation general house meeting tomorrow, the issue of supplying local residents treated water from the Sirhind canal will be discussed. The issue has been hotly debated as the underground water of the city has been depleting fast. The proposal to supply canal water to cities is not new to the state as Bathinda and some other districts already have similar mechanisms in place.
Punjab's growth slowest among big states
Chandigarh, March 11
Punjab continues to paint a grim picture so far as the growth rate of its Gross State Domestic Product (GSDP) is concerned. Among the big non-special category states, Punjab is a laggard.
Statewide menace
Drugs: UN report had sounded alert, but police called it 'false'
Bathinda, March 11
That Punjab is a major transit point for drugs to the US and Canada has been re-affirmed with the busting of yet another drug ring allegedly involving policemen and sportspersons.
In Tarn Taran, farmers using live wires to kill boars
Tarn Taran, March 11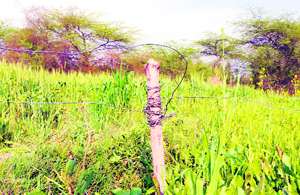 Farmers of five villages in this border district have devised a strange technique to get rid of the menace. They have been using live electricity wires around their fields to kill these animals. Their population has grown alarmingly in the area over the last few years.
Live electricity wires put up by farmers in their fields to keep wild boars at bay at a village in Tarn Taran on Monday. Photo: Vishal Kumar

Tarn Taran Assault Case
SC seeks reports from DGP, SP
New Delhi, March 11
The Supreme Court today directed Punjab's Director-General of Police (DGP) and the Tarn Taran district police chief to file their reports within a week on policemen thrashing a woman on March 4 when she approached them to lodge a complaint of sexual harassment against truck/taxi drivers.
PSERC directs power corp to implement fuel audit report
Patiala, March 11
Punjab State Electricity Regulatory Commission (PSERC) has directed the Punjab State Power Corporation Limited (PSPCL) to aggressively implement the fuel audit report at all its thermal plants. The commission had disposed off the review petition filed by the PSPCL. It contested the PSERC order of October 10, 2012 regarding the compulsory fuel audit of various thermal power plants.
ASI case: Nine farmers sent to two-week judicial custody
Tarn Taran, March 11
Nine farmers arrested in connection with the death of Assistant Sub-Inspector Kulbir Singh were today sent to two-week judicial custody till March 25. One more farmer held in the case earlier is already in judicial custody.
Security cover pruned, Cong leaders cry foul
Chandigarh, March 11
Former MLA Sukhpal Singh Khaira and Punjab Youth Congress president Vikramjit Singh Chaudhary today hit out at the state government for withdrawing bulk of their security cover.
Sangrur school urges admn to remove encroachment
Sangrur, March 11
The encroachment along the wall of the local Prem Sabha Senior Secondary School has not been removed even though the school had threatened to protest against the administration on March 4 if it failed to take any action.
Will clear all pending cases by month-end: New welfare board chief
Abohar, March 11
Former Punjab BJP Mahila Morcha chief Vijay Laxmi Bhadoo has been again made the chairperson of the Punjab Social Welfare Board. Bhadoo had quit the post last year to contest the Vidhan Sabha election from Abohar, which she lost.
Farmers hold protest in Sangrur villages
Sangrur, March 11
Activists of the Bharatiya Kisan Union (Ugrahan) today burnt effigies of the state government at Bhutal Khurd and Chottian villages (near Lehragaga). They also held demonstrations and raised slogans against the government in protest against the arrest of agitating farmers in the past few days.
State set to witness bumper wheat crop
Chandigarh, March 11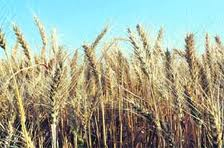 Punjab is all set for a bumper and record wheat crop this season due to favourable rains and weather conditions. In a review meeting of all Chief Agriculture Officers, department Director Dr Mangal Singh Sandhu said the state would witness a record yield and bumper wheat crop this season and assured that Punjab had been able to control the effect of yellow rust. In view of diversification of crops in kharif season, Dr Sandhu asked the chief agriculture officers to encourage farmers for expanding area under maize, cotton, sugarcane and guar. — TNS
No arrest without prior notice, Ludhiana admn told
Chandigarh, March 11
The Punjab and Haryana High Court today directed Ludhiana Commissioner of Police to give Shiromani Khalsa Panchayat president Charanjit Singh Channi notice three days in advance after taking cognisance of the fact that he was acquitted in eight cases. These cases were registered against him due to political vendetta.


Drug addict commits suicide in Sangrur
Sangrur, March 11
A 32-year-old drug addict, Harshjeet Singh, resident of Flound Kalan village (near Malerkotla), today allegedly committed suicide by jumping from the second storey of the civil hospital here. He was admitted to the local civil hospital on March 4. A Dhuri-based private drug de-addiction centre had referred him to the hospital.
Minor abducted in Moga village
Moga, March 11
Two years after her mother went missing, a 15-year-old Dalit girl was allegedly abducted by some unknown persons from a Moga village last night. A case has been registered at the Mehna police station against unknown persons.
Three booked for raping minor
Ferozepur, March 11
A 13-year-old girl from Basti Machianwali under Zira sub-division was allegedly gang-raped by three persons. She was abducted from her house and taken away to an isolated petrol pump. Senior Superintendent of Police Varinder Pal Singh said the police has registered a case against three persons. — OC
2 cops arrested
Amritsar, March 11
The Tarn Taran police today arrested Head Constable Davinder Kumar and constable Saraj Singh, said highly placed sources. This was done after an inquiry by Ranbir Singh, Superintendent of Police (Traffic), into the assault on a Dalit woman here on March 4 found the two guilty. The policemen were already under suspension. — TNS