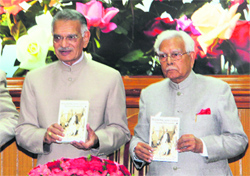 Shivraj Patil, Governor of Punjab and UT Administrator, releases a book, "Walking With Lions", written by K Natwar Singh (right), at the Punjab Bhawan in Chandigarh.
Soon, night food street to come up at Sector 48
Chandigarh, March 17
City residents will soon have a night food street at Sector 48. This will be the second night food street in the city. The municipal corporation has allocated work for the construction of the night food street.
Police caught on the wrong foot
Chandigarh, March 17
The UT police has been caught on the wrong side of law. It has failed to abide by some orders of the Police Complaints Authority (PCA) and has not submitted cogent reasons/justifications for the same to the Home Department of the UT Administration.
HP MLA's hair samples do not match with those found on victim's sweater
Panchkula, March 17


In a twist to the sensational Jyoti murder case, a r

eport of the Forensic State Laboratory (FSL), Madhuban, has stated that the hair samples of Ram Kumar Chaudhary, MLA from the Doon constituency in Himachal Pradesh, do not match with those found on Jyoti's sweater at the time of her murder. The police is now zeroing in on other evidence against the MLA.
MLA Ram Kumar Chaudhary



UIET panel to recommend action against girl student
Chandigarh, March 17
Although the police has decided not to initiate any action against the girl student of the University Institute of Engineering and Technology (UIET), who under the influence of alcohol slapped two women constables on Saturday during the annual cultural literary fest "Goonj".
Hundreds of demolition orders pending with CHB
Chandigarh, March 17
While the Chandigarh Housing Board (CHB) authorities have been swift in banning the transfer of plots or giving non-objection certificate (NOC) without seeking the physical verification report on the status of building violations, they have failed to implement hundreds of demolition orders pending against dwelling units in rehabilitation colonies and CHB flats.
Housing societies turn to Pawan Bansal
Chandigarh, March 17
The Group Housing Cooperative Societies submitted a representation to Union Railway Minister Pawan Kumar Bansal to highlight the fact that development of internal infrastructure in the group housing societies situated in the area from sector 48 to 51, for which the Chandigarh Housing Board had collected several hundred crores of rupees, had in fact been approved in 1994.
Society members hold protest against its chief
Mohali, March 17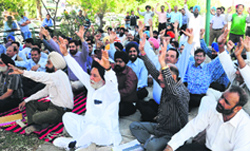 As many as 150 members of the Sky Rock City Welfare Society, Mohali, staged a dharna in front of the residence of Navjeet Singh, president of the society, at Sector 69, this morning.



Members of the Sky Rock City Welfare Society, Mohali, protest against Navjeet Singh, president of the society, outside his residence at Sector 69 on Sunday.
Lab for special children to be set up in Mohali
Mohali, March 17
Waking up to the needs of visually impaired and special children, the Mohali District Administration is going to set up a high-end laboratory for them at Government School, Phase 11, here.
'Vyom 2013' ends on a high note
Chandigarh, March 17
The third and final day of "Vyom 2013", the technical fest of the PEC University of Technology, went off well. The day started with events like patent wars, "noesis - the general quiz", explorative design, "ecelectica - the paper presentation", fictional confluence and robot wars.
For these daredevils, circus is their world
Panchkula, March 17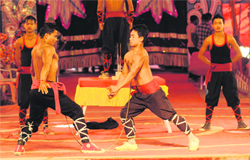 It is life or death every minute in our show, says a cyclist couple, who grew up in the circus, got married here and has been together for the past 33 years. For Sheela (39) and Subash (40), they are happy in their own small 'circus world' and feel that life outside is pretty easy if they compare it with the world of circus.

Cousins from Manipur perform a dangerous act in Great Bombay Circus at Mani Majra.
Hunger for recognition brings these Tanzanians to India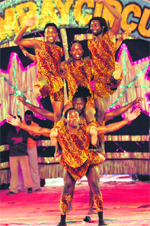 Five friends from Tanzania, South Africa, together entered the world of circus to establish their own identity. In Chandigarh for the first time, they entertain everyone with their daring fire dance and bamboo acrobatics. "Earlier, we used to show simple acrobatic acts at African hotels. We had performed such acts for five years and side by side learnt fire dance and other acts. Later, we felt that our work was not being recognised," said Franky.Franky, whose four brothers worked in a circus in Tanzania, said: "My brothers have their own business and it was only me who wanted to join this profession. So, we all friends looked for a job online and finally got a chance to join the Indian circus," added Franky.


The Franky group from Tanzania.
Once children laughed at 30-year-old Pappu, now he makes them laugh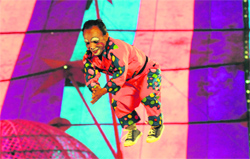 For 30-year-old Pappu, his profession of being a clown was not chosen by him but by destiny. A few years ago, certain children made fun of him by throwing stones at him and calling him a dwarf. Today, he make children laugh by performing funny acts.





Pappu, a clown, during a circus show.
CTU floats tenders for low-floor buses
Chandigarh, March 17
To procure 49 low-floor buses, the CTU has finally invited a short-term notice. The buses would be acquired at a cost of around Rs 25 crore.
Awards given to those working for the differently abled
Chandigarh, March 17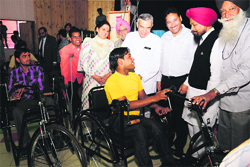 To encourage individuals, NGOs and corporates working for the disabled, the Cheshire Homes Chandigarh organised an award function to honour such crusaders for their contribution towards the noble cause. The Tribune was the media sponsor of the event.
Pawan Bansal, Union Minister for Railways (fourth from right), distributes tricycles among differently abled persons at the Bal Bhawan in Chandigarh on Sunday. Tribune photo: Parvesh Chauhan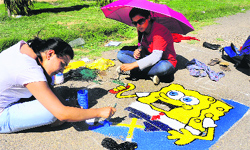 UIET cultural event concludes
Chandigarh, March 17 The annual cultural literary fest of UIET, "Goonj", concluded with finales of various events conducted today.



Students of the University Institute of Engineering and Technology take part in a road painting competition held on the campus on Sunday. Tribune Photo: S.Chandan
Free medical camp held
Chandigarh, March 17 Arthritis is a problem associated with ageing. Instead of going in for nutritious diet and regular walk, people start depending on excessive painkillers, which are very harmful especially for kidneys and abdomen.