OPED

Governance
Being forewarned is forearmed
Rohit Choudhary
It is time the police forces in all Indian cities followed the lead of neighbourhood watch implemented in other countries and developed the community as an asset for gathering and sharing intelligence to prevent terror strikes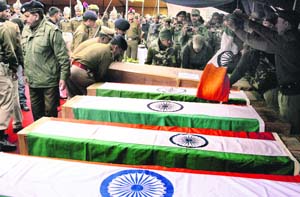 Bodies of CRPF jawans killed in a suicide attack in Srinagar last week being sent home after a wreath-laying ceremony. PTI

The recent terrorist attack in Srinagar that killed five CRPF jawans and the twin blasts in Hyderabad — another shocking addition to a long tally of serial blasts in the last decade in major cities of India — have severely dented the credibility of the security forces in preventing such incidents. The huge city population and large number of crowded areas have put tremendous strain on the security apparatus, rendering preventive measures ineffective and making our cities vulnerable, enabling terrorists to strike at regular intervals, choosing the place and time to inflict maximum loss of life and psychological scars.
In the current scenario, the internal security in India needs reinforcement from all quarters and community can play a vital role in defeating the designs of subversive forces in India. While the debate rages on to find ways and means to secure our cities, several forces across the world have adopted community participation measures wherein residents share the responsibility with the police and help in implementing crime prevention strategies. A terrorist strike broadly has three distinct stages — pre- strike preparatory stage, execution stage and post-strike response. Community participation measures of China, Holland and Singapore are of considerable relevance for prevention and response at these three stages, respectively.
Neighbourhood watch scheme of China
During the time span of nearly 30 years, before the implementation of the policy of economic modernisation, the Chinese police had developed extremely effective policing strategies. The main components of Chinese policing were a closely monitored household registration system and an extensive surveillance system of mass-line organisations. Under the household registration system, everyone must register his or her residence in a locality with the police. To ensure the enforcement of the household registration law, a tightly knit police and mass-line supervisory system was set up. Neighborhood committees were established in all neighborhoods. Corresponding to the mass-line organisation network, a police substation was set up in each larger community. The larger community was divided into subsections, with each subsection containing several neighborhood committees. A police officer, known as the household registration officer, was assigned to each subsection. The officer visited the neighborhoods within his jurisdiction on a daily basis and was informed by the neighborhood committees about all happenings in the community. In addition to making sure that all residents were properly registered, the household registration officer also maintained the security and order in the neighborhoods and investigated minor offences. Since an officer usually worked in a community for a long time, he soon became extremely familiar with the residents, as well as the conditions of life in the community. The advantage of the system was that it enabled the police to keep close contacts with community residents and to keep a tight surveillance on everything and everyone in a neighborhood. No strangers could come to a neighborhood without being noticed immediately and reported promptly to the police.
To combat the current rise in crime, the government advocates an overall strategy that is referred to as "comprehensive management". The strategy calls for mobilising all possible social forces to strengthen public security and prevent crime. The traditional cooperation between police and mass-line security organisations is a key part in the strategy. For that reason, the government is taking all possible measures to strengthen the neighborhood security system. To attract more residents to participate in the neighborhood security work, the government does not only rely on the traditional methods of recruiting volunteers, but also resorts to economic inducements by giving participants a small allowance for their services. Because of the government's auspices, the number of neighborhood security committees in urban areas is growing.
Town watchers of Holland
Some 4,000 town watchers assist the Dutch police by patrolling in public places, thus enhancing safety and amenity. They carry out their duties on the basis of municipal safety and security programmes, whether for particular neighbourhoods or otherwise. They are often under the operational control of police officers. In general their duties are confined to observation and supervision and they do not have powers of investigation. As they are in direct contact with the control room through their walkie-talkies, they can call in police assistance if necessary.
The presence of uniformed town watchers makes people feel safer and helps to prevent anti-social behavior. They are one answer to demand of municipalities for a more visible policing presence on the streets. Moreover, they free up time for the police to concentrate on investigation offences and providing emergency assistance.
'Corporate first responder' scheme of Singapore
The police force in Singapore is hardly seen on the streets yet there is lot of work going on behind the façade. Officers spend time visiting all kinds of associations and citizen groups like senior apartment dwellers and religious leaders from the mosques and temples and forge a partnership and educate the public. The concept that is developing there for the past eight years is that of "from police to policing". Their Corporate First Responder (CFR) scheme aims to forge a win-win partnership between the government and business community in dealing with the aftermath of a terrorist attack. The scheme allows key business personnel from CFR members to access the restricted sites post incidents to take mitigation measures to help expedite return to normalcy.
Initiatives in Indian states
Under the "Eyes and Ears Scheme", the Delhi Police seeks to involve rickshaw-pullers, hawkers, security guards, shopkeepers and volunteer citizens to provide information regarding suspicious activities of undesirable elements with a bearing on terrorism and crime in general. The Himachal Police has introduced the concept of beat policing team, aimed at community participation for keeping a vigil.
In Tamil Nadu, any member of the public who is not involved in civil or criminal case can become a member of "friends of police". The members can provide useful information leading to solving crimes.


What must be done

Adopt integrated security architecture.


Bring community participation measures to centre stage by making them part of core policing activities.


Form vigilant groups of city residents.


Implement neighbourhood watch scheme in cities.


Maintain data bank of residents' phone numbers, emails, Facebook accounts for dissemination of alerts and collection of information on crime and criminals.


Form resistance groups in villages for crime prevention, information collection.


Form rural sports clubs for contact with rural youth.


Revive and strengthen chowkidari system.


Collaborate with private security personnel for exchange of information.


Form Police Private Partnership committees for innovations and leveraging existing facilities especially in the area of information sharing across networks and financial transactions for terror funding.
In Madhya Pradesh, under the leadership of the district Superintendent of Police, committees have been formed in urban and rural areas as per the Madhya Pradesh Gram Thatha Nagar Raksha Samiti Act passed in November 1999. Local citizens have been nominated as members after police verification. At present, 65,356 members are working in 5,781 samitis. On the above pattern, in village areas "gramraksha samiti" (defence societies) have been formed. They perform night patrolling in areas and gather intelligence for anti-Naxalite and dacoity operations.
At present, about 4,87,209 members are working in 46,835 samitis. Similarly, Maharashtra has set up mohalla committee, village defence party, gram surakhsha dal and ekta committee, while Andhra Pradesh has the Maithri programme and Assam Prahari and Janamaithri Suraksha.
Another flagship project of Kerala, Janamaithri Suraksha Project, is a three-tier structure with the beat and community police officer at the bottom. The beat officer has to personally know at least one member of every household in his beat and constantly interact with service providers in the area like postmen, linemen, milkmen and gas agencies to get information about the area.
Measures like joint patrolling, area security and new residents' verification are also part of the project. Kerala also has Costal Vigilance Committee to protect its 590-km shoreline against possible seaborne terrorist threats and infiltration bids. Such projects, if implemented with sustained commitment and integrated in core police working and provided with adequate institutional support from the government, can lead to significant community involvement resulting in crime prevention, including terrorist strikes.
Integrated security architecture
As an innovation in police organisation and philosophy, community participation needs to come to centre stage as it offers solutions to some of the most challenging problems of internal security like prevention of terrorist strikes. Joint ventures by the police in partnership with the community that shares common goals and operations can lead to community involvement, resource augmentation, expertise sharing and improved results.
Strategically speaking, the police can be positioned as an organisation that helps to increase safety, working in partnership with groups to enhance safety, rather than an organisation that provides safety solely. There is an urgent need to identify the required linkages to be strengthened and the measures through community participation initiatives to do so.
The measures proposed (see box) would not only ensure the flow in human intelligence from community to the security forces, but would also act as force multiplier resulting from the community involvement and coordination resulting in more alert and vigilant community willing to aid and inform police forces.
This would turn the community in India from being "vulnerable" to "valuable ally" in the fight against terror.
The writer is an IG in Punjab Police.