Delhi government seeks transfer of Chautalas to prison in home state
New Delhi, March 18
The Delhi Government has sought transfer of former Haryana Chief Minister Om Prakash Chautala, his son Ajay Chautala and 53 other convicts in the teachers' job scam from Tihar Jail to A prison in their home state.
Haryana Cong ready to reach out to people
Chandigarh, March 18
After trying to iron out differences among senior leaders and launching a media blitzkrieg about the Haryana government's success stories and rapid strides in every field, the state unit of the Congress is now ready to "reach out to the people".
Scientists come to cops' aid in identifying bodies
Madhuban, March 18
The identification of unclaimed bodies recovered by the police has now been made easy by forensic scientists by creating a data bank of DNA samples of unidentified bodies. It will now be easy to identify a mutilated or decomposed body even after a long time through the DNA matching technique. If the DNA of a person looking for his missing family member finds a match with the DNA sample of an unidentified body in the data bank, the body can be identified.
3 murders in 2 days jolt Rohtak
Rohtak, March 18
With three murders and several incidents of crime in the past 48 hours, the law and order situation in the district appears to have taken a dive. Protests erupted in some cases, including the blockade of the Meham-Beri road by residents of Kahnor village on Sunday over the murder of a youth on Saturday. Two senior citizens also became victims of murder in two separate incidents in the past two days.
Khaps to launch drive against cow slaughter
Jhajjar, March 18
Notorious for their bizarre diktats, especially in matrimonial issues, khaps have now announced to launch a state-wide campaign against cow slaughter, besides asking the state government to discontinue the subsidy to slaughter houses with immediate effect.



Charu Wali Khanna (R), Member of the National Commission for Women, receives a memento during a training programme for service providers in cases of violence against women organised by the commission at the Haryana Police Academy, Madhuban (Karnal), on Monday. Tribune photo: Ravi Kumar

Land Acquisition for IMT
Kharkhoda farmers block road
Sonepat, March 18
A large number of farmers from villages of the Kharkhoda area blocked the Kharkhoda-Delhi road at Saidpur village for around three hours yesterday in protest against acquisition of their land for setting up an Industrial Model Township (IMT).
Orders quashing clerks' selection stayed
Chandigarh, March 18
Less than two months after a Judge of the Punjab and Haryana High Court quashed the appointment of 13 clerks in the Haryana Vidhan Sabha and ordered fresh selection "in accordance with law", a Division Bench today stayed the operation of the orders.
'Step-motherly' treatment to Shivalik: Padyatra begins
Chandigarh, March 18
Vijay Bansal, president of the Shivalik Vikas Manch, a non-political organisation, today started his six-day padyatra from Kalesar(Yamunanagar) against the government's alleged 'step-motherly' treatment to the Shivalik region, spread over three districts of Ambala, Panchkula and Yamunanagar.
CM opens gymnastics championships
Kurukshetra March 18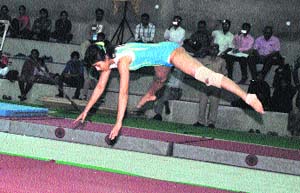 "Wrestling's exclusion from Olympic Games is not justified because it has become a symbol of our ancient culture and I will try my best to retain it in the Olympics," Chief Minister Bhupinder Singh Hooda said while inaugurating the five-day 53rd senior and the 26th sub-junior national artistic gymnastics (men and women) championships at the Kurukshetra University indoor stadium here today.
A gymnast performs at the five-day senior and sub-junior national artistic gymnastics championships at the Kurukshetra University indoor stadium on Monday. Tribune photo

Three killed as cars collide
Rewari, March 18
Three persons died while five were injured, one of them seriously, in a head-on collision between Accent and an Alto cars near Roliawas village, 7 km from here, on the Rewari- Kanina road , last evening,
IIT-Delhi takes possession of 50 acres in Sonepat
New Delhi, March 18
The IIT-Delhi today finally acquired possession 50 acres of land in Sonepat for its extension campus, promised free of cost, by the Haryana Government last year.
Father held for bid to rape 4-year-old
Sonepat, March 18
Gulab of Kundli village today allegedly attempted to rape his four-year-old daughter in his house in the village. Luckily for the minor girl, a woman from the neighbourhood reached his house and raised the alarm and called neighbours to the house.
Woman's half-burnt body found in village
Rewari, March 18
After being spotted by some villagers, the Rampura police of the district recovered the half-burnt body of a young woman in Peethrawas village yesterday. It appeared that after killing the woman , the killers brought her body here where they made a bid to burn it to destroy evidence of the crime. While the police has registered a case of murder and destruction of evidence of the offence, the body was sent to the PGIMS, Rohtak, for a post-mortem examination. OC
Polytechnic student shot dead
Rewari, March 18
Jagat Singh Yadav (22), a student of Government Polytechnic College, Lisana, and a resident of Gokalgarh village, was shot dead by some assailants last night. Jagat Singh, who was thrown by the assailants on the Rewari-Jhajjar road, was picked up by the police, which took him to the PGIMS, Rohtak, where he succumbed to his injuries last night. The police gathered some clues from his belongings, which led to his identification. The police has registered a case. OC
Major-Gen A. Krishnan dead
Hisar, March 18
Major-Gen A Krishnan, General Officer Commanding (GOC) of the Hisar-based 33 Armoured Division of the Army, died of a heart attack this morning. He was 54. Major-General Krishnan is survived by his wife, Mahalaxmi Krishnan, and two sons. He had joined as GOC in Hisar only three months ago. Brig K Budhwar, Station Commandant of the 33 Armoured Division, said that Major-Gen Krishnan had donated his eyes. TNS
INA veteran cremated with state honours
Fatehabad, March 18
Bachittar Singh (94), a soldier of the Azad Hind Fauj, who worked as a personal bodyguard of Netaji Subhash Chander Bose, died in his native Meond Khurd village yesterday. He was cremated with state honours in his village. Haryana Agriculture Minister Paramvir Singh went to the freedom fighter's residence to pay tributes. Chief Minister Bhupinder Singh Hooda has expressed condolences to the bereaved family. TNS
KU results out
Kurukshetra March 18
Kurukshetra University has declared the result of the MA Applied Yoga (IIIrd semester) and M.Pharma (IIIrd semester) examinations held in December, 2012. The results are available on KU website www.result. kuk.ac.in," said Daviinder Sachdeva, PRO of the university. OC