55 parking passes returned to Mayor
Chandigarh, March 25
Councillors of the BJP-SAD on Monday returned their quota of 55 complimentary parking passes, five complementary passes each for every councillor, to Mayor Subhash Chawla. This year, Mayor Subhash Chawla will get 102 parking stickers, including 100 complementary parking stickers
Malba bylaws not notified
Former Mayor and Congress councillor Pardeep Chhabra said the MC was carrying out 'malba-free' drives in the city, but it would be beneficial only when the UT Administration notifies malba bylaws. He said horticulture bylaws should also be notified immediately.
Split wide open
Chandigarh, March 25 The local unit of the Shiromani Akali Dal (SAD) today criticised the BJP's move to announce Arun Sood as leader of the opposition and Heera Negi as deputy leader of the opposition in the MC.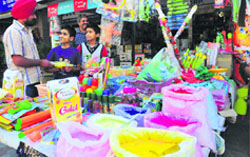 Holi hai! Naturally
Chandigarh, March 25
Staying away from the muck of synthetic colours, several organisations and the city's youth brigade are motivating residents to go for natural colours this Holi. City-based Youth Innovative Society is planning to celebrate Holi with flowers and herbal colours.

Children buy herbal colours in Chandigarh on Monday. Tribune photo: S Chandan
'Holy' colours: Culture knows no bounds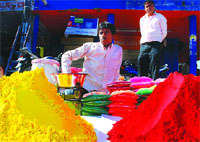 Chandigarh, March 25
It's time to submerge in festive colours. With Holi round the corner, residents are looking forward to grand celebrations. Rajender Singh, president, Purvanchal Welfare Association, representing people from Bihar and Uttar Pradesh, said, "The festival is celebrated with pomp and show."


Holi colours up for sale at a roadside stall. A File photo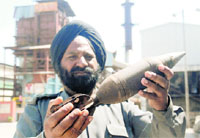 Artillery shell found
Chandigarh, March 25
A live artillery shell was found at the garbage processing plant in Sector 25 today.




An employee of the garbage processing plant near Dadu Majra shows an artillery shell recovered from the garbage on Monday. Tribune Photo: Pradeep Tewari




HUDA's inhuman face comes to fore
Panchkula, March 25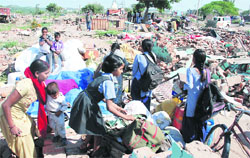 Maya Devi, who is seven months pregnant, was sleeping with her two children when she heard the sound of a bulldozer moving outside her house and people's cries. When she looked outside from a window, she was shocked to see that the houses in the locality were being razed. A shocked Devi cound't decide whether she should run for her life or save her house.

Children leave for school at the demolished Azad Colony in Sector 21, Panchkula, on Monday.
Demolition drive put off
Chandigarh, March 25
A day after the Union Railway Minister and Member of Parliament, Pawan Kumar Bansal, assured villagers at a function outside Raipur Khurd village that the houses outside the "lal dora" would not be demolished, a team of the Land Acquisition Collector (LAC) visited Raipur Kalan village to carry out a demolition drive.
Realtor shells out Rs 8 lakh for '0001' tag
Chandigarh, March 25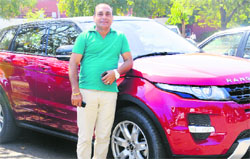 At a price of Rs 8 lakh, which could get you an entry-level sedan, Sukhvinder Singh, real estate developer, today bought "0001" of the CH01 S series for his customised Rs 1-crore Range Rover SUV.





Sukhvinder, who has bought "0001" for his customised SUV.
House allotment linked to Aadhaar card
Chandigarh, March 25
The Chandigarh Administration has embarked upon the task of allotting 8,100 small flats at Dhanas linked to Aadhar cards. Around 40,000 persons would be accommodated in the dwelling units coming up at Dhanas.
Safe street campaign fizzles out
Panchkula, March 25
The safe street campaign, launched by Commissioner of Police Rajbir Deswal, has apparently fizzled out.



Helmet-less riding goes unchecked during a naka on the road separating Sectors 5 and 10 in Panchkula; and (below) not even a single policeman is seen at one of the entry points to Chandigarh. Tribune photos: Nitin Mittal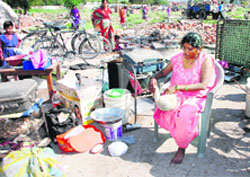 No end to her miseries
Panchkula, March 25
Guddi Devi, whose leg was amputated after an accident last month, has no place to go. She has been in a shock since the HUDA officials demolished her house. With tears in her eyes, she had been sitting like a statue since then.




Guddi Devi tends to her amputated leg amid rubble.
Professional police force need of the hour: Ex-DGP
Chandigarh, March 25
A special lecture on "India's Future Linked with Police Reforms" by Prakash Singh, a Padma Shri awardee and former Director General of Police, UP and Assam, emphasised the historical aspect of the reforms in the police administration. The lecture was organised by the ICSSR North-Western Regional Centre here today on the Panjab University campus.
Pleas answered with lathis
Panchkula, March 25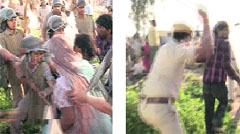 The residents' pleas for mercy were answered with a lathicharge by the HUDA officials. Certain dwellers, who said they had been putting up at the place for the past 15 years, were injured in the police action as they tried all that they could to save their houses. Women, children and elderly persons were crying for help.

Police personnel use lathis on residents at Azad Colony.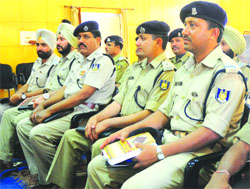 Stress buster for CRPF personnel
Chandigarh, March 25
About 100 Central Reserve Police Force personnel from four different units, Delhi, Rajasthan, North-East and North-West, were given tips on stress management during a special workshop today.




CRPF personnel get tips on stress management at a camp in Hallo Majra, Chandigarh, on Monday. Tribune photo: S Chandan
Experts dwell on role of biochemistry at PGI
Chandigarh: The two-day CME on "Advances in Clinical Biochemistry" organised by the department of biochemistry, PGIMER, concluded on Sunday. Prof Yogesh Chawla, director of the institute, highlighted the role of clinical biochemistry in the diagnosis and prognosis of diseases.
Industrialists divided over felicitation of UT officials
Chandigarh, March 25
Consensus seems to be eluding industrialists over inviting UT Adviser KK Sharma to a function on March 26.
PU star nite disrupted, stones hurled at stage
Chandigarh, March 25
The star nite on the last day of Jhankaar, the annual fest organised by Panjab University Campus Student Council (PUCSC), was disrupted when some anti-social elements from among the crowd started throwing stones on the stage. The incident happened when the famous Punjabi singer Babbu Mann was performing on the stage.



A policman pacifies the audience during the star nite on the Panjab University campus in Chandigarh on Monday. Tribune Photos: S Chandan Punjabi singer Babbu Mann argues with students during the event.
Kabir fest begins at Tagore Theatre
Chandigarh, March 25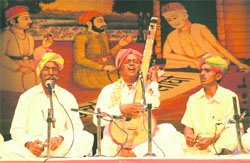 The 6th Annual Kabir Festival titled "Suno Bhai Sadho" began today with the mystic performances of folk singer Mahesha Ram and celebrated classical singer Mudhup Mudgal here at the Tagore Theatre.



Mahesha Ram performs during the 6th Annual Kabir Festival with his group members at Tagore Theatre on Monday. Tribune photo: Pradeep Tewari
UT teachers demand promotion
Chandigarh, March 25
More than 150 teachers, under the aegis of the UT Cadre Educational Employees Union, met the DPI (S) today. They raised their demand for the immediate promotion of UT teachers.
Over 1,000 teachers stage protest
Mohali, March 25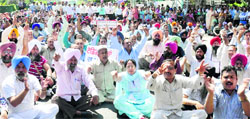 Chaos prevailed on the Mohali-Kharar Main Road near the Civil Hospital, Phase VI, when more than 1,000 members of the Punjab State Aided School Teachers and Other Employees Union blocked the traffic during their two-hour protest here today morning.

Teachers stage a protest at Phase VI in Mohali on Monday. A Tribune Photograph
PU staff strike work, students suffer
Chandigarh, March 25
Hundreds of students visiting Panjab University were left at the receiving end, due to the strike called by the non-teaching employees of PU. The students who had come for the various purposes, were not issued the gate-pass to enter the administrative block. Moreover, the work suffered because of two-hour protest by the PU staff.
Clean chit to board officials
Mohali, March 25
The Mohali police has ruled out the involvement of PSEB officials in the fake certificate racket busted three days ago.
No RTE protection authority for now
Chandigarh, March 25
The UT Education Department has put on hold the constitution of the Right to Education Protection Authority (REPA) under the Right to Education (RTE) Act. A senior official said the department had decided not to move ahead with REPA because the Social Welfare Department of the UT had already sent the proposal to the Centre to set up the State Commission for Protection of Child Rights.