CM blames Cong for House stalemate, Tewari differs
Raikot, March 24
Even as Chief Minister Parkash Singh Badal today held the Congress responsible for the stalemate in the Punjab Assembly, Union Minister of State for Information and Broadcasting Manish Tewari claimed that the Congress action was justified.
Farmers demand bridges, govt gives boat
Ramdas (Amritsar), March 24
It's been more than 65 years since the country gained Independence, but the border villages in Punjab continue to struggle for basic amenities like roads, bridges, health, education and water.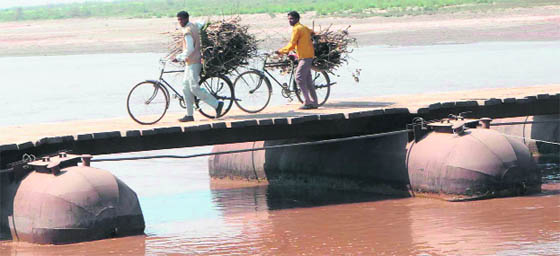 in troubled waters:

Villagers cross a makeshift pontoon bridge over the Ravi, which is removed every year ahead of the monsoon, near Dharamkot village in Amritsar. Photos: Vishal Kumar
CRPF guards Badal family, Saini
Chandigarh, March 24
The Punjab Government and the top brass of the Punjab Police do not depend on their own men when it comes to providing security. Chief Minister Parkash Singh Badal, his family members, Revenue Minister Bikram Singh Majithia, Food and Civil Supplies Minister Adesh Partap Singh Kairon and even State Director-General of Police Sumedh Singh Saini have been provided a security cover by the Central Reserve Police Force (CRPF).
Tarn Taran Assault Case
Usma village sarpanch, key witness not given security
Chandigarh, March 24
A controversy is brewing over the issue of providing security to the Tarn Taran police assault victim, her family and other "victims".
Penalty for officers providing unauthorised police security
Patiala, March 24
Finding it tough to tackle its officers facilitating unauthorised gunmen, a salary deduction mantra has worked wonders for the Punjab Police.
Khatkar Kalan function
CM has got his facts wrong, say Cong, PPP
Chandigarh, March 24
Punjab Pradesh Congress Committee (PPCC) president Partap Singh Bajwa today rebutted the statement issued by Chief Minister Parkash Singh Badal that the Congress had "failed to observe Bhagat Singh's martyrdom day".
Farm suicides
856 families get Rs 1 lakh each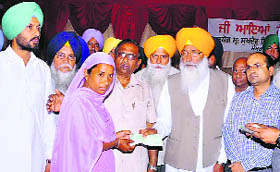 Sangrur, March 24
An amount of Rs 1 lakh each was today disbursed among 856 bereaved families of debt-ridden farmers and farm labourers who committed suicide in the past few years in Sangrur district. A total of Rs 8.56 crore was distributed as part of the government's decision to give Rs 2 lakh compensation each to the bereaved families.

Rajya Sabha member Sukhdev Singh Dhindsa hands over a cheque of Rs 1 lakh to a family member of a deceased farmer in Sangrur on Sunday. A Tribune photograph

New TB diagnosis test soon
Ropar, March 24
To reduce the time taken in preparing tuberculosis (TB) test reports, the government is all set to introduce liquid TB culture test in Patiala.
Efforts on to popularise Heritage Walk
Amritsar, March 24
To popularise Heritage Walk in the city, the Punjab Heritage and Tourism Promotion Board has initiated steps to ensure adequate sanitary conditions along the route.
A month after crime, former Mayor yet to join SIT probe
Patiala, March 24
A month after the murder of 29-year old Parampreet Kaur, the "daughter-in-law" of former Patiala Mayor Jaspal Pardhan, the Special Investigation Team (SIT) formed to investigate the case is yet to question the former Mayor.
Accused under TADA held at Delhi airport
Sangrur, March 24
A proclaimed offender (PO) since May 1999, Manpreet Singh of Bhawanigarh, was arrested by the local police from Delhi airport yesterday. He was today remanded in police custody for two days.


Cong activist dies in strange circumstances
Moga, March 24
Manjit Kaur, 45, secretary of the Ludhiana (Urban) unit of the Punjab Mahila Congress, died in mysterious circumstances in the district hospital here on the intervening night of Friday and Saturday.
Youth shot at; accused linked to ruling party
Hoshiarpur, March 24
Two youths, one of them associated with a ruling party, allegedly shot at their friend while the trio were consuming liquor at Terkiana village near Dasuya last night.