'One-way' Budget debate a dull affair
Chandigarh, March 22
With the Opposition Congress continuing to boycott the session, the debate on the Budget today was a dull affair. But First-time Independent legislator Balwinder Singh Bains, who has joined the Shiromani Akali Dal (SAD), impressed all while putting across his demands. He even got Chief Minister Parkash Singh Badal into note-taking mode.
Govt readies to roll out red carpet for investors
Chandigarh, March 22
The new industrial policy of Punjab, to be approved by the Cabinet in the coming week, will offer incentives to all categories of investors. For the first time, the state appears to be seriously wooing investors by offering them incentives through different "packages" on the basis of total investment committed by them.
Govt imposes cess on big investors
Chandigarh, March 22
It's payback time. Having availed a plethora of incentives from the Punjab Government after investing over Rs 100 crore under the state's mega projects policy, the investors will now pay a corporate social responsibility cess to the state government.
After contempt notice, CRPF provides security to assault victim
Chandigarh, March 22
Facing contempt proceedings for not providing security to Tarn Taran police assault victim and her family, the CRPF today wasted no time to protect them. Displaying remarkable swiftness, the CRPF provided them with eight personnel, within hours of being put on contempt notice by the Punjab and Haryana High Court. Safeguarded, the family left Chandigarh for Tarn Taran late this afternoon.
...but family has no space to accommodate 7 jawans
Amritsar/Tarn Taran, March 22
The Tarn Taran police assault victim and her family members were a relieved lot today as they finally got the CRPF security.
Hola Mohalla begins today, security beefed up
Ropar, March 22
Gearing up to hold six-day festival of Hola Mohalla starting tomorrow, the district administration has decided to deploy 3,100 security personnel at Anandpur Sahib and Kiratpur Sahib. Over 15 lakh devotees from different parts of the country as well as abroad are expected to attend the festival to be concluded on March 28.
Cong to put up united face at Bajwa's installation today


Chandigarh, March 22
The Punjab Congress will put up a united face at the installation ceremony of Gurdaspur Member of Parliament Partap Singh Bajwa as Pradesh Congress president here tomorrow. All Union ministers from the state as well as former PCC president Capt Amarinder Singh are slated to attend the ceremony.

Partap Singh Bajwa
Martyr Sukhdev's nephew quits PPP to join SAD
Chandigarh, March 22
The Manpreet Badal-led People's Party of Punjab (PPP) today received yet another jolt with martyr Sukhdev's nephew Bharat Bhushan Thapar joining the SAD in the presence of its party president Sukhbir Badal.
7 students of Sikh varsity hurt in attack by outsiders
Fatehgarh Sahib, March 22
At least seven students and a security official were injured when a group of 20-25 students today barged into Sri Guru Granth Sahib World University here and attacked them with sharp-edged weapons.
Violation of norms
2 govt hospitals among 6 facilities stare at closure
Jalandhar, March 22
Six hospitals and nursing homes, including two being run by the state government, are likely to face closure as the Punjab Pollution Control Board (PPCB) has initiated action against them for violating the biomedical waste disposal norms.
Ex-MP meets PM over rail demands
New Delhi: Former Punjab MP Virendra Kataria met Prime Minister Manmohan Singh on unmet railway-related demands. A former state Congress chief, Kataria alleged that Railway Minister Pawan Kumar Bansal had ignored the demands of the Malwa region.
PCMS doctors intensify agitation
Ludhiana, March 22
Against the callous attitude of the Punjab Government towards their demands, PCMS doctors all over the state observed a protest week. The PCMS doctors wore black badges and held protest meetings.
Expert: TB is a leading cause of infertility in women
Sangrur, March 22
Tuberculosis is among the leading causes of infertility in women, but the fact is ignored even by the doctors due to lack of awareness. Barring nails and hair, TB can affect any part of the body.
Eminent agriculture scientist to be honoured
Chandigarh, March 22
Dr KV Prabhu, an eminent agriculture scientist who is heading the genetics division of the Indian Agricultural Research Institute, will be honoured at the Kisan Mela-cum -Farmers Training Camp at Rakhra in Patiala. The camp is being organised by the Young Farmers' Association and the state Agricultural Department.


Patiala Abduction Case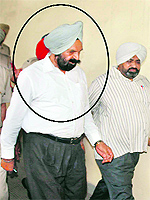 CBI court convicts former DSP
Patiala, March 22
In less than a fortnight a CBI court convicted six policemen for abduction, another CBI court of Special Judicial Magistrate Jaapinder Singh today held retired DSP Joginder Singh guilty of abducting two local youths who went missing in 1993. The court, however, acquitted three other police officials. The quantum of punishment will be announced on March 25.


Former DSP Joginder Singh in police custody in Patiala on Friday. Tribune photograph

Violence at exam centre: 2 held, erring students to be expelled
Amritsar, March 22
A day after armed assailants barged into a government school at Bhangali Kalan in Majitha yesterday after teachers refused to allow copying in Class XII exam, the state Education Department today decided to expel the student involved in the incident as well as his sister from the school.
20 kg sedative powder seized
Fatehgarh Sahib, March 22
The local police has seized 20 kg of sedative powder on the information provided by UK-based Kulwant Singh and Patiala resident Harpreet Singh, who were arrested by the police in connection with the Rs 130 crore heroin seizure case.