SAD likely to curtail session
Chandigarh, March 19
With nothing happening inside the Vidhan Sabha because of the boycott by Congress legislators and the Congress refusing to tender an apology for the ruckus in the assembly, the SAD is now chalking out another strategy, including curtailing of the Budget session.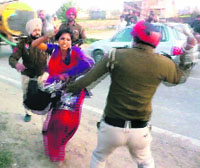 Finally, assault victim gets security; 7 cops transferred
Chandigarh, March 19
A day after the Punjab and Haryana High Court ruled that the Punjab Police acted in a "barbaric manner" and made miserable the life of a Tarn Taran woman, seven policemen accused of assaulting her have been posted out of the district. The victim too has been provided with a security cover by the Central Reserve Police Force.
Security to the Tarn Taran girl has been provided following a High Court order
Another policeman suspended
Tarn Taran, March 19
The district police has placed yet another policeman under suspension for his alleged role in the assault of a woman hailing from Usma village outside a marriage palace here on March 3.
Smuggler shot dead; 10 packets of heroin seized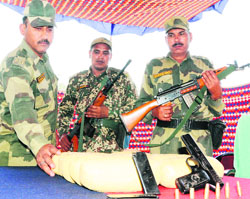 Amritsar/Ferozepur, March 19
BSF jawans shot dead an alleged Indian smuggler while he was receiving contraband from his Pakistani counterparts on the border in Ferozepur sector today. The deceased has been identified as Kuldeep Singh alias Bura Nihang of Khemkaran. Ten packets of the contraband, suspected to be heroin, a pistol and a mobile phone with a Pakistani SIM card were, among other things, recovered from his possession.
BSF men display the items recovered from the killed smuggler at Khemkaran in Tarn Taran on Tuesday. Photo: Vishal Kumar

Early Lok Sabha elections inevitable, claims Sukhbir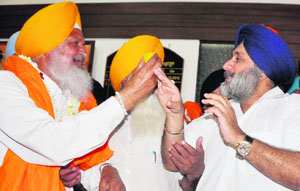 Ludhiana, March 19
SAD president and Deputy Chief Minister Sukhbir Badal today said early Lok Sabha elections were inevitable with the DMK likely to withdraw support from the UPA and the Samajwadi Party showing signs of dissent after its chief, Mulayam Singh Yadav, was branded as a "terrorist".
New District Planning Board chairman HS Gabria offers sweets to Sukhbir Badal in Ludhiana on Tuesday. Tribune photo

SAD plans 'vichar sammelan' next month, to invite BJP too
Chandigarh, March 19
The SAD will hold its second "vichar sammelan" early next month to "refocus" on the SAD-BJP agenda in view of the next parliamentary elections and to define its strategy for the 2017 assembly poll. The last "vichar sammelan" was held in September 2009 in Shimla.


Hospital laundry staff refuse to wash sheets of AIDS, hepatitis patients
Patiala, March 19
The laundry workers of Government Rajindra Hospital, Patiala, have refused to wash the bedsheets used by hepatitis and AIDS patients citing fear of being infected with the diseases. They have written a letter in this regard to the Medical Superintendent of the hospital, Dr VK Sharda.
CAG report points out lacunae in rural road projects
Chandigarh, March 19
The report of the Comptroller and Auditor General (CAG), which was tabled in the Vidhan Sabha today, points out lacunae in the execution of works under the Pradhan Mantri Grameen Sadak Yojna. It says that notification for acquiring land for roads had been delayed. This had had serious fiscal implications in terms of unjustified expenditure as well as quality work.
Govt overshoots Budget allocation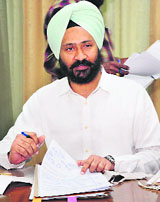 Chandigarh, March 19
The Punjab Government has incurred an additional expenditure of Rs 4,503.39 crore from its consolidated fund in 2012-13, over and above its total Budget size of Rs 50,648 crore. With this, the state's total Budget size for the current fiscal has gone up to Rs 56,000 crore. Finance Minister Parminder Singh Dhindsa said that the supplementary demands for grants for the current financial year covered 25 grants and a gross additional expenditure of Rs 9808.30 crore. This included Rs 4,883.21 crore on the revenue account (which is the current account of the state) and Rs 4,925.09 crore on the capital account (related to asset creation).
Finance Minister PS Dhindsa at the Vidhan Sabha on the eve of the Budget on Tuesday. Tribune photo: Parvesh Chauhan

Punsup attaches Akali leader's assets to recover missing paddy
Faridkot, March 19
Punsup has finally succeeded in pinning down an Akali leader in Faridkot by attaching his property worth Rs 7 crore as security for the recovery of 27,000 quintal paddy allegedly pilfered by him. Punsup officials in Faridkot were facing a tough time to start legal action against the Akali leader who had locked his rice mill. This made it difficult for the authorities to conduct a physical verification (PV) of the stock, which is mandatory for initiating legal action.
Mining Rules relaxed: Joshi
Chandigarh, March 19
Industries Minister Anil Joshi today announced that the state government had now allowed some relaxation under the Mining Rules for better access to sand and gravel. The state had allowed extraction of minor minerals (sand and aggregate) from an area measuring less than four hectares without environmental clearance or permission from district-level committees. A permit from the general manager of the Industries Department would do.
Shiv Sena protests against film shooting
Patiala, March 19
Members of the Shiv Sena staged a protest outside Government Medical College, Patiala, against the shooting of an international movie titled 'White Lies' in the college campus. They said the shooting had caused a lot of inconvenience to patients and college students.
Auction of liquor vends
Govt likely to collect Rs 175 crore from application fee
Patiala, March 19
The state government is all set to auction liquor vends on March 22. The mad rush of applications has taken the departmental officials by surprise. The government expects to earn a whopping Rs 175 crore through application fee alone, which points towards the interest shown by the liquor mafia towards the trade.
175 food inspectors strike work
Sangrur, March 19
About 175 inspectors of five state food grain agencies — Pungrain, Punsup, Punjab Agro, Warehouse Corporation and Markfed — went on a mass casual leave in Sangrur district today to protest against the suspension of 18 inspectors of Pungrain.
No ban on 'kirpan', clarifies Gurdwara of Rochester
Amritsar, March 19
The Gurdwara of Rochester, which has been mired in a row over the alleged ban on 'kirpan' on its premises, has shot off a missive to Akal Takht Jathedar Giani Gurbachan Singh, clarifying its stand on the issue. In the letter written by gurdwara's general secretary MS Chana, the Board of Trustees have clarified that there is no restriction on small 'kirpan' on the gurdwara premises. "There is also no restriction on full size 'kirpan' usually carried by baptised Sikhs," reads the letter. The Akal Takht Jathedar confirmed that he had received the letter. TNS
Judicial officer courts trouble over missing ancient painting
Chandigarh, March 19
A judicial officer in Punjab is in trouble. An ancient painting hanging in his official residence has gone missing; and the Punjab and Haryana High Court is not releasing his retirement benefits.
3 more held in drug haul case
Chandigarh, March 19
The police today arrested three persons in the Rs 130 crore drug seizure case that led to the recovery of more than 28 kg of heroin from Zirakpur.
Youth held at exam centre for impersonation
Sangrur, March 19
A person was held for impersonating a candidate appearing in the matriculation examinations in Sangrur today. SHO of the city police station Harinder Singh said Kuldip Singh had appeared for an examination in the place of genuine candidate Jaggi Singh at Adarsh Model Senior Secondary School.
Raped by tantrik
Sangrur, March 19
A 28-year-old woman was raped by a tantrik at Malerkotla yesterday. A case has been registered against the accused, Mohammad Akhtar. He is yet to be arrested. The woman, who was ill for the past week, visited the tantrik in the hope of being cured. But was raped after she was dropped at the tantrik's residence by the accused's brother. — TNS