Delay in deciding on taxation depriving MC of revenue
Shimla, April 7
While the direction of the Himachal Pradesh High Court for collection of property tax according to the old system will provide some respite to the fund-starved Shimla Municipal Corporation (MC) from the financial crisis, it will have to adopt the new tax system without any further delay to cover the residents of the merged areas to expand its tax base.
Workshop on websites kicks off at Jawaharlal Nehru college
Sundernagar, April 7
A two-day national workshop on "Building dynamic websites and testing" was inaugurated at Jawaharlal Nehru Government Engineering College here yesterday. The workshop is being organised by the Computer Science Department of the college.
Cong takes serious note of defeat in civic bodies
Mandi, April 7
The Congress has suffered defeat twice in a row in the Mandi Zila Parishad and Sarkaghat Panchayat Samiti where the BJP won despite the Congress being in power. The no-confidence motion moved by the Zila Parishad and Sarkaghat Panchayat Samiti to remove the BJP-supported chairpersons and vice-presidents were dropped as the Congress failed to muster enough strength in each house.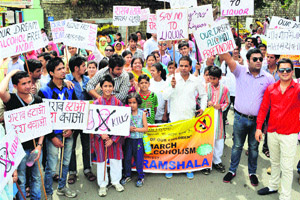 Residents participate in an awareness rally on World Health Day in Dharamsala on Sunday. Photo: Kamaljeet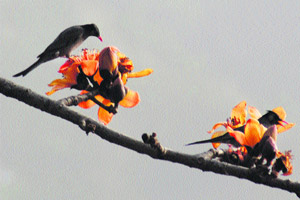 Birds toy with flowers on a branch in Mandi on Sunday. Photo: Jai Kumar

Backs defence FDI proposal
Palampur/Kangra, April 7
Former Union minister Shanta Kumar has welcomed the proposal of the Commerce Ministry to enhance from 26 per cent to 49 per cent the foreign direct investment (FDI) in the defence sector. He issued a press note today that the proposal mooted by Union Commerce Minister Anand Sharma was worthy of praise and he deserved appreciation as the proposal was the need of the hour.
HP to set up judicial academy
Shimla, April 7
The government is all set to establish a state judicial academy on the outskirts of Shimla. This was announced by Chief Minister Virbhadra Singh Stating at a conference of Chief Ministers and Chief Justices in New Delhi today. He said the government had allocated the land and earmarked an amount of over Rs 37 crore for the project. He said administrative approval for Rs 26 crore with expenditure sanction for Rs 7 crore had also been granted in this regard.
Reduce price of cement manufactured locally: MLA
Bilaspur, April 7
Bambar Thakur, local Bilaspur Sadar MLA, has stressed the demand of Bilaspur residents for reducing the price of cement manufactured at local ACC (Barmana), Ambuja (Dadlaghat) and JP cements (Bagha) units as the price of cement here is much more than the prevailing rates in other neighbouring states.
Women's stir over liquor vend pays
Bilaspur, April 7
The district administration has finally decided to close down the liquor vend which women have been opposing for long at Bhalha Bhalwana village in the Chandpur area near here.
Forest guard transferred for lapse in preventing felling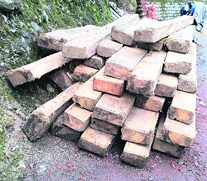 Bharian (Chamba), April 7
Having failed to prevent the felling of seven 'chil' trees and their transportation coming in the alignment of a transmission line of the Power Grid Corporation, standing in the land diverted in their favour by the Government of India in the forests of Bani DPF (Demarcated Protected Forest) in Chabaaru block in contravention of rules, DFO, Chamba, Kirupa Sankar, has transferred the in-charge forest guard of the Chabaaru beat and put him at the checkpost at Karian in the district.
Sleepers stacked at Bharian village in Chamba district.

Hospital to have dialysis centre
Hamirpur, April 7
The Hamirpur regional hospital will soon have a dialysis centre to treat patients suffering from kidney failure and related ailments. The hospital would be second to Indira Gandhi Medical College, Shimla, to have a dialysis facility in the state. With an increase in the number of kidney patients, the need was being felt to set up another dialysis centre in the state.
17 IPS, HPS officers transferred
Shimla, April 7
In a major police reshuffle, the government today ordered the transfer and posting of 17 Indian Police Service (IPS) and Himachal Police Service (HPS) officers. AP Siddique, Inspector General (IG), has been posted as IG, Armed Police and Training, Shimla. Atul Verma, IG, Central Range, Mandi, has been posted as IG, Tourism, Traffic and Railways (TTR), Shimla.
Villagers protest plying of multi-axle vehicles
Nurpur, April 7
A large number of villagers from Toki, Kandrori, Shekhupura and Bhai-Attarian under the banner of the Jan-Kalyan Avam Adhikar Surksha Samiti blocked the Indora- Kandrori road today. The villagers were protesting against the violation of ban on movement of multi-axle loaded carrier vehicles on the road.
Shanta not keen on party post
Palampur, April 7
Former Chief Minister Shanta Kumar said here today that he was not keen on any party post and would prefer to remain a party worker instead.
Kiran wins MTB Shimla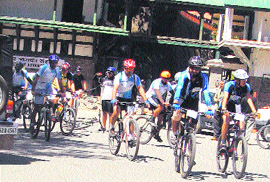 Shimla, April 7
Kiran Kumar Raju of Bengaluru today won the MTB Shimla clocking three hours and 18 minutes. Marco Ferrario from Italy (three hours and 23 minutes) was second and Luis Cantonomiz from Portugal (three hours and 24 minutes) third. Fifteen-year-old Shiven of Karnal bagged the first position in the student category clocking four hours and 16 minutes. An amateur rider, he also bagged the fourth position in the overall event.
Cyclists take part in the Hercules MTB Himalaya Rally that was flagged off from the Potter's Hill in Shimla on Saturday.

Dhumal dares govt on inquiries
Hamirpur, April 7
Former Chief Minister PK Dhumal has dared the state government to institute as many inquiries as is wants against the previous Bharatiya Janata Party (BJP) regime.
3 nominated to Naina Devi Nagar Parishad
Bilaspur, April 7
The state government nominated three new members of the Naina Devi Nagar Parishad here on Friday. They were administered the oath of office and secrecy by Bilaspur SDM ML Mehta at the Nagar Parishad office at Naina Devi, 75 km from here.
Home Guard dies on duty
Bilaspur, April 7
Home Guard Shyam Lal (42) died this morning while on duty at Chaitra Navratra fair at Shah Talai, about 70 km from here.
2 weeks on, body found
Bilaspur, April 7
The body of the unidentified girl who reportedly jumped off the Kandraur bridge, 18 km from here, into the Sutlej after getting down from a bus on March 24 has been found.
Man killed in freak mishap
Bilaspur, April 7
Jagat Ram (48) of Suin Surhaad died at the village on Friday night. He performed social service at the temple in the village. He was returning home when he slipped and fell at a construction site. A rod of an incomplete pillar of the house pierced his neck. Hearing his cries, village residents rushed to the spot, but could not help him. He died on the spot. — OC