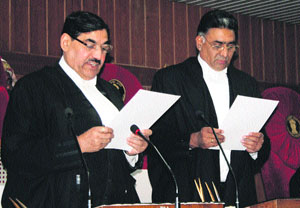 Rajiv Sharma sworn in High Court Judge
Shimla, March 31
Justice Rajiv Sharma, Additional Judge of the Himachal Pradesh High Court, was sworn in Judge of the High Court today. Acting Chief Justice RB Misra administered the oath of office to Justice Rajiv Sharma at a simple ceremony held in the court.
Justice Rajiv Sharma being administered the oath of office by acting Chief Justice RB Misra at the Himachal Pradesh High Court in Shimla on Sunday.
Shanta out, Nadda elevated
Shimla, March 31
The omission of Shanta Kumar from the new BJP team headed by Rajnath Singh and the induction of JP Nadda in the Central Election Committee are indicative of the 'generational' change being effected keeping in view the 2014 poll.
Farmers in Lahaul-Spiti unmoved by new plant variety
Mandi, March 31
Scientists claim that the Rs 4.11-crore National Agricultural Innovation Project (NAIP) on sea-buckthorn in Lahaul-Spiti has turned out to be a major breakthrough but there are hardly any takers among farmers.



People queue up for getting Aadhaar cards made at the Gaiety Theatre in Shimla on Sunday.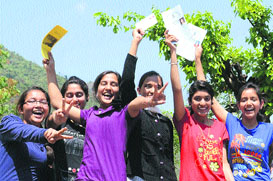 Students rejoice after they pass Class XI in Mandi on Saturday. Photo: Jai Kumar

AIDS patients seek ART centre in Mandi
Mandi, March 31
AIDS patients are seeking an anti-retroviral therapy (ART) centre at the 300-bedded Zonal Hospital here as the National AIDS Control Organisation (NACO) is yet to give its nod.
Engg college seeks 60 bighas for building hostels, houses
Mandi, March 31
Students and faculty members of Jawaharlal Nehru Engineering College, Sundernagar, are facing lack of hostel and house problems as the college needs an additional 60 bighas of land for the construction of these.
Handicrafts Corp to be strengthened: Agnihotri
Shimla, March 31
The state government will take all required steps to strengthen the state Handicrafts and Handloom Corporation keeping in view its vital role in the generation of employment and self-employment opportunities in rural areas.
State-level workshop on human trafficking ends
Kangra, March 31
A two-day state-level workshop on "Training of Trainers (ToT) on Human Trafficking, a Social Menace, its Causes, Prevention and Eradication" concluded at the Police Training College in Droh on Friday evening.
Consumers made aware of rights
Bilaspur, March 31
All consumers must be aware regarding their rights while making any purchase from shops, traders and dealers of goods. This was stated by District Foods and Civil Supplies Controller Shiv Ram while presiding over a day-long seminar organised by the department regarding "Consumer Rights" here today. The seminar was attended by government depot holders and consumers drawn from all parts of district.
New way to control apple root borer
Solan, March 31
Scientists with the Dr YS Parmar University of Horticulture and Forestry at Nauni have come out with a novel method of biological control against the attack of apple root borer in the form of the fungus metarhizium anisoplae.
Foetus dies in womb, negligence alleged
Bilaspur, March 31
A foetus died in the womb of an expectant woman who was admitted to the Regional Hospital here a few days back. The doctor concerned told her husband to take her to Indira Gandhi Medical College in Shimla to save her.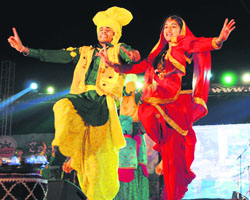 Two-day youth festival concludes
Solan, March 31
Emanation 2013, a two-day annual inter-college youth festival organised by the Baddi University of Emerging Sciences and Technology (BUEST) at Baddi, concluded today with more than 2,800 students dancing during a live performance by Prajata Shukra of Indian Idol fame.


Students perform at Emanation 2013, a two-day annual inter-college youth festival, at Baddi University on Saturday evening.

Rs 58.53-lakh budget proposals approved for civil hospital
Nurpur, March 31
The governing body of the Rogi Kalyan Samiti (RKS) of the local civil hospital has approved the budget proposals for the coming fiscal year. The RKS meeting held on Friday evening was presided over by its Chairman-cum-SDM Rakesh Verma.
Bands perform to save 10 children
Solan, March 31
The Gurgaon-based Genesis Foundation has organised a three-day Rhythm and Blues Festival at Kasauli in Solan district to help save lives of 10 underprivileged children who are in need of surgery.
Union meets CM over e-governance project
Shimla, March 31
The HPSEBL Employees Union has drawn the attention of Chief Minister Virbhadra Singh to the reportedly faulty and tardy implementation of the e-governance project and sought his intervention to avoid its collapse.
Plea to continue community care centre for HIV patients
Kangra, March 31
The local zila parishad has urged the Union Health Secretary and the Secretary Health of the state during its quarterly meeting to ensure continuity at Tanda of the community care centre for persons with HIV/AIDS.
Shah Talai Nagar Panchayat passes Rs 4.12-cr budget
Bilaspur, March 31
Nagar Panchayat of Shah Talai, 70 km from here, has passed Rs 4.12-crore annual budget for the next financial year which includes a deficit of Rs 2.20 crore, which it expects to meet by grants from the state government and contributions from various departments for the development of this pilgrim town of Baba Balak Nath.
Hydro power project authorities deposit Rs 2.5 crore
Bharmour, March 31
Authorities at the 180-MW Bajoli Holi hydroelectricity project have deposited Rs 2.5 crore with the district authorities to fulfil its social obligation.
Teacher gets 10-year RI for raping schoolgirl
Mandi, March 31
District and Sessions Judge Varinder Singh yesterday sentenced teacher Ram Singh of Rati in Balh to 10 years of the rigorous imprisonment (RI) and imposed a fine Rs 1.10 lakh on him for raping Class VIII girl of the same school. The Judge also found him guilty of kidnapping the girl and sentenced him to an additional two years RI.
9 injured in road mishaps in Kangra district
Kangra, March 31
Nine persons were injured in road accidents in the district during the past 24 hours. The Kangra district police chief said here today that four persons, Ravinder Kumar of Garoh village, his wife and two children, were injured when their motor cycle was hit by a car which was driven by Sadhu Ram of Baggi village in Chamba at Puhara falling under Shahpur police station last evening. The injured were admitted to the Community Health Centre, Shahpur.
BJP to give anti-party activists a chance
Solan, March 31
District BJP president Govind Ram Sharma today said the party would give one chance to perform and show results to those who had worked against official candidates in the Vidhan Sabha poll.
Punjab, Haryana HC Chief Justice at Paonta Sahib gurdwara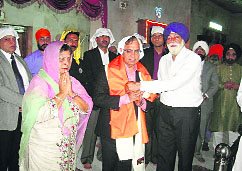 Paonta Sahib, March 31
Chief Justice of Punjab and Haryana High Court AK Sikri and seven other judges paid obeisance at the historic Paonta Sahib Gurdwara here today. Kulwant Singh, president of the local Gurdwara Parbandhak Committee, presented a siropa to the Chief Justice.


Chief Justice AK Sikri being presented a siropa by Gurdwara Parbandhak Committee president Kulwant Singh at the Paonta Sahib gurdwara on Sunday.

LLB student of HPU Regional Centre killed in road accident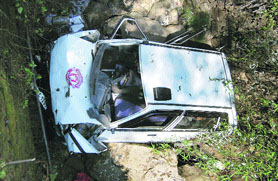 Dharamsala, March 31
Viju Chauhan (24) of the Rampur area of Shimla district and LLB student of Himachal Pradesh University (HPU) Regional Centre in Shimla was killed in an accident on the Dharamsala-McLeodganj road. Sources here said Viju, along with classmate Sanjay Kumar of Kullu, was coming back from McLeodganj on Saturday night. The Alto car in which they were travelling overturned near the Kalapul.
The car which fell into a gorge at the Kalapul near McLeodganj on Sunday. Photo: Kamaljeet

2 get jail for stealing money from ATM
Bilaspur, March 31 Ramnik Sharma, Judicial Magistrate, Ghumarwin, near here, has sentenced Ranjeet Singh and Mahender Singh, both residents of Rajthal, Hisar, Haryana, to two-year imprisonment under Section 379 of the Indian Penal Code and three-year imprisonment and additional fines of Rs 2,000 each under Section 420, IPC, and four-month imprisonment under Section 120-B, IPC, for stealing Rs 15,000 from the account of a woman by using her ATM card.
102 bags of rice, wheat confiscated
Chamba, March 31
The police confiscated 64 bags of rice and 38 of wheat being transported in two pickup vans near the Koti bridge, 25 km from here, last night.
Stretcher 'delay' proves fatal
Bilaspur, March 31
SI Sukh Dev Sharma (retd) of Luhnu village under Mehri Kathla panchayat died at the Regional Hospital here recently, reportedly due to delay in the availability of a stretcher.
Rajinder Singh is new DPR
Shimla, March 31
Rajender Singh, a 2000 batch IAS officer currently posted as Director, Scheduled Caste, Other Backward Classes and Minority Affairs, has been posted as Director of Information and Public Relations (DPR).
60 illegal LPG cylinders seized
Bilaspur, March 31
The District Food and Civil Supply Department has taken into its possession 60 LPG cylinders at Shah Talai, 70 km from here, where a fair is going on. Reports said Inspector Amriti Devi while checking several shops at the fair found that illegally supplied cylinders were being used and these were sold to them at high rates and without any valid documents by an unauthorised agency. Reports said a gas agency at Una had supplied these cylinders. OC