Rajnath presents a blend of youth & experience
Aditi Tandon
Tribune News Service
New Delhi, March 31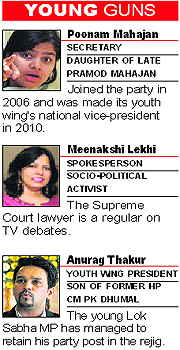 In the new team of BJP office-bearers announced today, party President Rajnath Singh struck a fine balance between experienced and youthful candidates besides keeping the promise of 33 per cent reservation for women.
Out of 40 posts of vice-presidents, general secretaries, secretaries, and joint general secretaries, 13 seats (32.5 per cent) went to women. Ironically, Rajnath didn't appoint any woman among his 10 general secretaries, the most important party position after the central parliamentary board of the BJP.
In the previous BJP chief Nitin Gadkari's team, Vasundhara Raje, the former Rajasthan Chief Minister, was appointed as general secretary and Kiran Maheshwari, a grassroots worker from Rajasthan, replaced Raje later in the slot. Rajnath has moved Maheshwari from the general secretary to vice-presidential list, the latter being a higher position but more ornamental in nature so far as decision making goes.
Likewise, Sushma Swaraj, Leader of Opposition in the Lok Sabha, continues to be the only woman in the BJP parliamentary board, considering the party practices a strange a policy of 33 per cent women quota in all positions except the parliamentary board, its highest decision-making group where Gujarat Chief Minister Narendra Modi has today been inducted.
Women office-bearers of the BJP are mainly confined to the list of vice- presidents and secretaries. Out of the 13 vice-presidents in Rajnath Singh's team, the high-flying women entrants this time are Uma Bharti, the firebrand former Madhya Pradesh Chief Minister; Laxmikanta Chawla, the former Punjab Health Minister who is known to detest favour-seekers; and former party secretary, women's wing president and Rajya Sabha MP from Gujarat Smriti Irani whose proximity to Modi has helped her case. Party leader from Assam and Lok Sabha MP Bijoya Chakravarty has been retained as vice-president and Kiran Maheshwari from Rajasthan, a Vasundhara Raje confidante has been promoted as one.
Durg Lok Sabha MP Saroj Pande, former secretary, stands promoted as the Mahila Morcha chief. She had defeated Congress stalwart Motilal Vohra's son in the 2009 Lok Sabha elections and was feted by Gadkari alongside Smriti Irani. Rajnath has promoted them both today.
Prominent women vice-presidents to be dropped by Rajnath are Najma Heptullah and Hema Malini, who now figure only in the 80-member BJP National Executive.
Out of 15 new secretaries, eight are women with Rajnath retaining former Delhi Mayor Arti Mehra, inducting new secretaries in Sudha Yadav, former Gurgaon MP; Sudha Malaiya, wife of Madhya Pradesh minister Jayant Malaiya; Dr Tamilisai, Tamil Nadu vice-president of BJP; and promoting Poonam Mahajan, daughter of late BJP leader Pramod Mahajan. Poonam was earlier in the party's youth wing.
Among the four new party spokespersons, Supreme Court lawyer and TV debate regular Meenakshi Lekhi has managed a slot; so has Rajnath's political adviser Sudhanshu Trivedi; BJP's dalit face from UP Vijay Soankar Shastri and Capt Abhimanyu from Haryana.
Youth in front
Among youngsters who have pulled off major promotions is the 33-year-old Varun Gandhi, BJP's Pilibhit MP promoted from party secretary to general secretary, the youngest-ever in BJP. His acquittal in the hate speech case in UP aided the elevation.
Former BJP spokesperson Rajeev Pratap Rudy has also been rewarded with an appointment as general secretary. He replaces Ravi Shankar Prasad (from Bihar) who has been stripped of general secretary and chief spokesperson's positions to concentrate as Rajya Sabha deputy leader considering the BJP has one person one post policy.
A major induction is of former Gujarat Home Minister Amit Shah, a close Modi aide and accused in the Sohrabuddi Shiekh fake encounter case, as a new general secretary. He recently won MLA elections in Gujarat after getting bail from the apex court and defeated his Congress rival by 63,000 votes.
RSS strongman Muralidhar Rao of the Swadeshi Jagran Manch also stands promoted from secretary to general secretary, so does Tapir Gao, former BJP Lok Sabha member from Arunachal. Hamirpur MP Anurag Thakur has managed to retain BJP youth wing presidentship, a rare occurrence in the party. He was retained keeping in mind the 2014 Lok Sabha polls.
Rise & fall
Noticeable exits from the office-bearers list include Navjot Sidhu, former secretary, now only in the national executive and Shanta Kumar who lost his vice-president's post after Himachal debacle for the BJP. Prominent promotions from the region include former secretary Capt Abhimanyu from Haryana who has been appointed a new BJP spokesperson; Laxmikanta Chawla, former Punjab minister, who told TNS today that she was "surprised" at the news; and Sudha Yadav, former Gurgaon MP who can be a potential threat to the Congress in the seat after party's Inderjit Rao floated a new outfit.
Seniors adjusted
While youngsters have been given a fair chance in the new team, experienced hands have also been accommodated, especially those who received rough deals in the past. Former Karnataka Chief Minister Sadanand Gowda has been included as party vice-president as promised after BS Yedyurappa forced him to quit, so has SS Ahluwalia, former deputy leader in the Rajya Sabha who was denied the seat from Jharkhand. Former Bihar BJP chief CP Thakur is another new vice-president, so is Balbir Punj. Former MP BJP president Prabhat Jha, considered close to RSS leader Suresh Soni, has become vice- president, so has Jual Orao, former Orissa BJP chief.
Among general secretaries Ananth Kumar, an LK Advani loyalist, continues, so does Thawarchand Gehlot from MP, JP Nadda from Himachal and Dharmandra Pradhan, who failed to defuse the Karnataka crisis as general secretary in charge of the state.
Young brigade
Smriti Irani (vice-president), Varun Gandhi (general secretary), Poonam Mahajan (secretary), Meenakshi Lekhi (spokesperson)
PARLIAMENTARY BOARD

Narendra Modi (new)
Rajnath Singh (president)
Atal Bihari Vajpayee
Lal Krishna Advani
Dr Murli Manohar Joshi
M. Venkaiah Naidu
Nitin Gadkari
Sushma Swaraj
Arun Jaitely
Narendra Modi
Anant Kumar
Thawar Chand Gehlot
Ram Lal (GS Org)


VICE-PRESIDENTS

Smriti Irani (new)
Uma Bharti (new)
Sadananda Gowda (new)
Mukhtar Abbas Naqvi
Dr CP Thakur (new)
Jual Urao (new)
SS Ahluwalia (new)
Balbir Punj (new)
Satpal Malik (new)
Prabhat Jha (new)
Bijyo Chakravarti
Lakshmikanta Chawla (new)
Kiran Maheshwari (new)

GENERAL SECRETARIES

Amit Shah (new)
Varun Gandhi (new)
Rajeev Pratap Rudy (new)
Ananth Kumar
Thawarchand Gehlot
JP Nadda
Dharmendra Pradhan
Tapir Gaon
Murlidhar Rao (new)
Ramlal

Secretaries

Shyam Jaju
Bhupendra Yadav
Krishna Das (new)
Dr Anil Jain (new)
Vinod Pandey (new)
Trivendra Rawat (new)
Rameshwar Chaurasiya (new)
Aarti Mehra
Renu Kushwaha (new)
Sudha Yadav (new)
Sudha Malaiya (new)
Poonam Mahajan (new)
Luies Marandi (new)
Dr. Tamil Isai (new)
Vani Tripathi

MAHILA MORCHA CHIEF

Saroj Pandey
(replaces Smriti Irani)

Spokespersons

Shahnawaz Hussain
Prakash Jawdekar
Nirmla Sitaraman
Vijay Sonkar Shashtri
Dr Sudhanshu Trivedi
Meenakshi Lekhi
Capt Abhimanyu

CENTRAL DISCIPLINARY PANEL

Radha Mohan Singh (President)
Jagdeesh Mukhi (Secretary)
L.Ganeshan (Member)
Hari Babu (Member)
Shyam Nandan Singh (Member)

CENTRAL ELECTION COMMITTEE

Rajnath Singh (President)
Atal Bihari Vajpayee
Lal Krishna Advani
Dr Murli Manohar Joshi
M. Venkaiah Naidu
Nitin Gadkari
Sushma Swaraj
Arun Jaitely
Narendra Modi
Anant Kumar
Thawar Chand Gehlot
Ram Lal (GS Org)
Gopinath Munde
Jual Oran
Syed Shahnawaz Hussain
Vinay Katiyar
JP Nadda
Dr Harshwardhan
Saroj Pandey (Ex-Officio)