After SIT relief, Pardhan eyes a comeback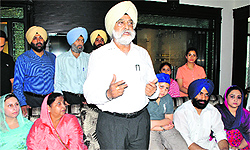 Patiala, March 31
Former Patiala Mayor Jaspal Pradhan today said that he was always hopeful to come out "clean" in the murder case of Parampreet Kaur. He said he was still a contender for the post of Mayor as it was due to the murder case and the allegations that the party had asked him to resign. The state government is expected to announce the new Mayor on April 2.

Former Mayor Jaspal Pardhan addresses mediapersons in Patiala on Sunday. Tribune photo: Rajesh Sachar

Clearance sale eludes Malwa tipplers
Bathinda, March 31
The last day of the financial year, which usually brings cheers for Bacchus lovers due to stock clearance sale by liquor vend owners on the expiry of their contract, did not bring much joy for tipplers in this region.
Dera chief's 'offensive' photo on Facebook, 1 held
Muktsar, March 31
The Gidderbaha police today arrested one person for allegedly hurting the sentiments of Dera Sacha Sauda followers by posting an "offensive" photo of dera head Gurmeet Ram Rahim Singh on Facebook.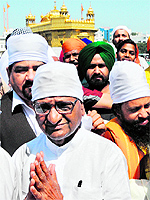 Anna's rally in Bathinda on April 3
Bathinda, March 31
As many as 110 social organisations and civil society groups have joined the Swami Vivekananda Study Circle to host rallies of anti-corruption crusader and social activist Anna Hazare here and the adjoining districts on April 3. CS Talwar, founder patron of the study circle, along with its chairman RK Mahajan told mediapersons that the study circle and the organisations under the banner of the Bathinda Association of NGOs have obtained due permission from the local administration for holding a rally in the Thermal Colony and later at Subash Market on April 3.
Social activist Anna Hazare after paying obeisance at the Golden Temple in Amritsar on Sunday. Photo: Vishal Kumar

SAD govt biased against Gurdaspur, says Bajwa
Gurdaspur, March 31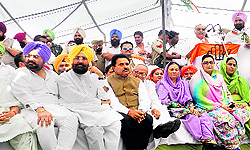 PCC president Partap Singh Bajwa alleged the state government was creating impediments in some vital projects which would have given direct and indirect employment to thousands of youth in the drug-hit Majha region.



PCC president Partap Singh Bajwa with party leaders in Gurdaspur on Sunday. A Tribune photograph

Goa 'Chintan Shivir' to focus on LS poll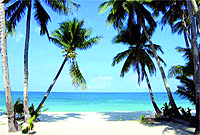 Chandigarh, March 31
The Shiromani Akali Dal's (SAD) forthcoming 'Chintan Shivir' in Goa would mainly focus on the next Lok Sabha elections, though other burning issues facing Punjab would also be taken up. SAD spokesman Daljeet Singh Cheema said, "We will examine various aspects of our past performance and accordingly formulate our strategy for the next parliamentary elections."

Cong leaders to approach Centre for getting security restored
Patiala, March 31
Peeved at the withdrawal of their security cover by the state government, the Punjab Congress leaders have now decided to approach the Union Home Ministry on the issue.




ED takes up Rs 130-cr drug haul case
Chandigarh, March 31
Following the long trail of contraband recoveries in the Rs 130-crore drug haul case, the Enforcement Directorate has registered a case and asked the Punjab Police to furnish details of recoveries and arrests at the earliest.

Punjab to review merger of govt primary schools
Ropar, March 31
Taking into account the resentment among teachers over the merger of primary schools, the state government has decided to review its decision. Gurpreet Singh Hira, district president of Government Teachers Union at Ropar, said the Punjab Education Minister Sikandar Singh Maluka in a meeting with the teachers' unions had assured them that the interests of students and teachers alike would be taken care of.

New Financial Commissioner to take charge
Chandigarh, March 31
Suresh Kumar, a senior IAS officer, who has been posted as the Financial Commissioner, Development, will assume the charge of the office tomorrow.

Guru Arjan Dev's descendents set to lose surplus land
Kartarpur (Jalandhar), March 31
Having evaded action by the Revenue Department for 52 years, the family of an influential man from Kartarpur Amarjit Singh Sodhi, who was the 12th direct descendent of Guru Arjan Dev (the fifth Sikh Guru), is set to lose a huge chunk of nearly 1,500 acres of surplus land. The administration is mulling its division among 291 tenants in a month or two.

Tailoring a better future
Sarhali (Tarn Taran), March 31
Once a hotbed of militancy, women in this district have taken to needle and thread to tailor a better future for themselves.

Authorities to raze century-old building, Sangrur residents cry foul
Sangrur, March 31
The building of the local Government School for boys situated on Sangrur-Patiala road that was commissioned by Maharaja Ranbir Singh of the erstwhile Jind state in 1913 may soon be razed to the ground.

Vacancies to leave power corp powerless in summer
Patiala, March 31
The functioning of the Punjab State Power Corporation Limited (PSPCL) will be hamstrung during the upcoming paddy season with three of its top-level posts lying vacant. The demand for power is extremely high during this time of year.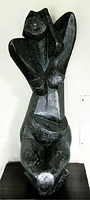 Art lovers despair as exquisite works at PAU stand in

total neglect
Ludhiana, March 31
Hundreds of students and faculty members at Punjab Agricultural University (PAU) pass by these exquisite works of art by noted artists without realising the true significance and value of these artworks. The stature of the artists, who created these paintings and sculptures, also remains unknown to them. Paintings by artists of national repute dot different parts of the university.


A sculpture by noted artist BK Roy. Tribune photos: Himanshu Mahajan

Relieve guest faculty in May, not Feb, govt colleges told
Chandigarh, March 31
Punjab has instructed government college principals not to relieve the guest faculty lecturers during the academic year 2012-2013, till the classes are over. The development is significant as semesters in some of the Punjab institutes continue till May, while the guest faculty lecturers are relieved in February.

Barnala ROB inaugurated
Barnala, March 31
The road over bridge (ROB) on the Bathinda-Barnala railway track near SD College here was today inaugurated by Rajya Sabha member Sukhdev Singh Dhindsa.



Give pension benefits to ex-judicial officers: HC
Chandigarh, March 31
Censuring the State of Punjab for not treating government workforce equally, the Punjab and Haryana High Court has asked it to treat judicial officers on a par with other state government employees for granting pension benefits.



Amritsar gang-rape: Third accused held
Amritsar, March 31
The police has arrested the third accused wanted in the alleged gang-rape of a woman in a moving car by four youths a few days ago.

2 youths die in road mishap
Batala, March 31 Two youths of Udokey village were killed while one sustained serious injuries in a road accident, near Kaler Kalan village, here today.

Man held with smack
Fatehgarh Sahib, March 31
The local police has arrested a person for possessing 10 gm of smack. The accused has been identified as Dharminder Kumar, resident of Baazigar Basti at Khanna in Ludhiana district.