ASI attacked by tipper driver, dies
Sidhuwal (Patiala), March 29
An Assistant Sub-Inspector (ASI), Ravinder Singh Mangat, posted as Nabha traffic in charge, died allegedly after being attacked by a tipper driver here today.
RS Mangat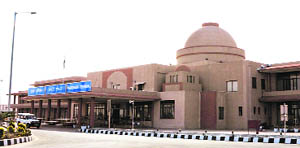 Online system at ICP from April 1
Amritsar, March 29
The Integrated Check Post (ICP) at Attari will be equipped with electronic data interface (EDI) from April 1. The system will bring efficiency and transparency in the documentation process for the bilateral trade between India and Pakistan.

The Integrated Check Post at Attari

Regularising illegal colonies retards planned progress
Chandigarh, March 29
The state assembly has passed the Punjab Laws (Special Provisions) Bill, 2013, to facilitate the regularisation of about 1,500 illegal colonies across the state. The move is a setback for the planned growth of urban areas. The Bill will remain in force for a year after it is notified as an Act.
American Sikhs join Obama in calling for gun control
Washington, March 29
Members of the Sikh community joined President Barack Obama as he sought to spur lawmakers into action against gun violence in the wake of tragedies like the Newtown massacre in December that killed 20 first-graders.
Panchayat Elections
Will move court on violations in delimitation of wards: Bajwa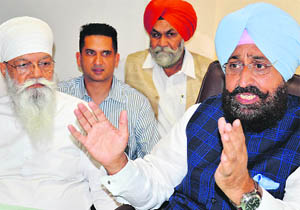 Bhaini Sahib, March 29
Punjab Pradesh Congress Committee (PPCC) chief Partap Singh Bajwa today paid a visit to Bhaini Sahib, headquarters of the Namdhari sect. The visit, preceding his state-wide tour after assuming charge, comes at a time when the Congress is trying to regain its ground in the state.



Pradesh Congress chief Partap Singh Bajwa (right) talks to mediapersons at Bhaini Sahib on Friday. Photo: Inderjeet Verma

Sukhbir has failed on Home front: Cong
Chandiagrh, March 29
Pradesh Congress chief Partap Singh Bajwa, in a statement issued here today, alleged that Deputy CM Sukhbir Badal had failed to improve law and order as Home Minister and had proved a disaster as Sports Minister as well.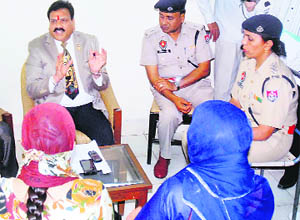 ASI, family facing threats from goons approach SC/ST panel
Amritsar, March 29
An Assistant Sub-Inspector (ASI) working with the Batala police district and his family have been living in fear ever since his daughter, kidnapped by some youths of the area, was rescued and one of the accused, identified as Bikramjit Singh, arrested.

Rajkumar Verka, Vice-Chairman, National SC/ST Commission, meets victims of gender crime in Amritsar on Friday. Photo: Sameer Sehgal

Akal Takht chief, hardliners skip Gurdaspur function

Chaur Sidhwan (Gurdaspur), March 29
The death anniversary of 18-year-old engineering student Jaspal Singh, who was allegedly killed in police firing on March 29 last year, passed off peacefully amid tight security at his village here today.


Policemen stand guard in Gurdaspur on Friday. A Tribune photograph

Services in co-op banks to be upgraded
Chandigarh, March 29
The Punjab Government has decided to do away with the practice of electing political appointees as Managing Directors in district branches of cooperative banks. A decision in this regard was taken at a high-level meeting of the Co-operation Department held under the chairmanship of Chief Minister, Parkash Singh Badal here today.
High power tariff on pisciculturists belies govt's diversification claims
Amritsar, March 29
The government's efforts to promote diversification in the state appear half-hearted as it has been charging industrial rates for electricity from fisheries. The fish farmers in the state are paying Rs 6.5 per unit of power while in Haryana and Himachal Pradesh, their counterparts are paying 25 paisa per unit and Rs 1 per unit, respectively.

Vocational training centres planned at Adarsh schools
Chandigarh, March 29
The Punjab Education Development Board today gave its nod for setting up vocational training centres in all Adarsh Schools in the state.
10 months on, Bar unions call off 'Saturday strike'
Chandigarh, March 29
District and sub-divisional bar associations across Punjab have collectively decided to call off the strike observed by them on Saturdays for the past 10 months. The protesting lawyers were demanding a holiday on Saturday on the Punjab and Haryana High Court pattern.
Mayoral race: Panel finalises 3 names
Patiala, March 29
The three-member screening committee formed to select the next Mayor has prepared its final report after meeting the elected the Shiromani Akali Dal (SAD) councillors at the party head office in Chandigarh today.
Probe yet to be marked in SHO extortion case
Patiala, March 29
Patiala police are yet to initiate an official probe into the alleged role of serving Station House Officer (SHO) in the extortion of local businessmen.
Bus owners to boycott work if PRTC doesn't clear dues
Patiala, March 29
Bus owners under the km-scheme are once again at loggerheads with the PRTC management over pending payment. Though PRTC for the past five months has been paying Rs 5 lakh daily to these bus owners, the PRTC still has to allegedly pay around Rs 10 crore to the bus owners.
Role of police in Rs 130-crore drug haul to be investigated
Fatehgarh Sahib, March 29
The district police is probing the role of former policemen indicted in the recent Rs 130-crore heroin seizure at Zirakpur. It is said that they might have been helping international drug trafficker and former DSP Jagdish Singh Bhola evade arrest.
Govt to consult High Court over VAT Tribunal posts
Chandigarh, March 29
The Punjab Government has made it clear that chairman and members of "Punjab VAT Tribunal" would be appointed in future after holding consultation with the Punjab and Haryana High Court.



Board, corp staff entitled to benefit of age relaxation: HC
Chandigarh, March 29
The Punjab and Haryana High Court has ruled that employees of boards, corporations and public sector undertakings in Punjab are entitled to the benefit of age relaxation in Punjab State Civil Services Combined Competitive Examination. The order will benefit all such employees aged between 37 and 47.
Sanskrit teachers' plea for equal pay dismissed
Chandigarh, March 29
More than two decades after Sanskrit teachers at Patiala and Nabha institutes moved the Punjab and Haryana High Court by filing eight writ petitions, a Division Bench has made it clear that they cannot to be equated with college lecturers.



5 held for molesting student
Amritsar, March 29
The police has arrested five of the accused persons who allegedly molested a student and manhandled her brother here yesterday. The goons also barged into the victims' house and assaulted their parents. The girl sustained serious injuries on her leg and foot.
Youth kills sister for honour
Amritsar, March 29
In what appears to be a case of honour killing, a youth in Shehzada village in Amritsar district, Malkeet Singh slit the throat of his 17-year-old sister while she was asleep and buried the body near the village pond.
Minor raped in Patiala, accused on the run
Patiala, March 29
Patiala police has registered a case against one Ramji for raping a minor. It was alleged that Ramji, a cook at the Netaji Subhash Institute of Sports, raped the victim outside Sheesh Mahal on the night of March 26.