Power tariff may go up by 7%
Chandigarh, March 28
Power tariff hike for 2013-14 is likely to be 7per cent-8 per cent. The Punjab State Electricity Regulatory Commission is giving the final touches to its power tariff order for the next fiscal year after having completed the required formalities.

Hola Mohalla concludes with political conferences
SAD: Cong a party of the corrupt; Bajwa announces offensive
Anandpur Sahib, March 28
Calling upon Congress workers to take on the SAD-BJP Government head on, the PPCC president, Partap Singh Bajwa, announced a major offensive against the "misdeeds" of the state government at Hola Mohalla here yesterday. On the other hand, ruling party leaders claimed that the Congress was a party of the corrupt and would never be able to form government in the state.

CM Parkash Singh Badal at a rally at Anandpur Sahib on Wednesday; and PCC chief Partap Bajwa addresses a gathering. Tribune photos: Vicky Gharu
Martial arts display steals the show
Anandpur Sahib, March 28
A magnificent display of horse riding and martial art skills by thousands of Nihangs marked the last day of the six-day historic Hola Mohalla festival here today.

DAREDEVILRY ABOUND: Nihangs display their horse riding skills at Anandpur Sahib on Thursday; and (right) a Nihang sports a 75-kg turban. Tribune photos: Pradeep Tewari
Traffic chaos plays spoilsport
Anandpur Sahib, March 28
Visitors to the town had to face frequent traffic jams during the last two days of the Hola Mohalla festival. Though the district administration has claimed to have earmarked 17 sites for parking of vehicles, most roads in the town remained clogged with thousands of vehicles throughout the fair.

Vehicles stuck in a traffic jam at Anandpur Sahib on Thursday. A Tribune photo
Amritsar rape case
Form medical team: SC/ST panel to admn
Amritsar, March 28
Even as no arrest has been made in the case where a 21-year-old girl was allegedly raped by four youths in a moving car on Tuesday, the National SC/ST Commission today directed the district administration to form a medical board to examine the victim.
Civil military liaison conference
Army may get new aviation base in state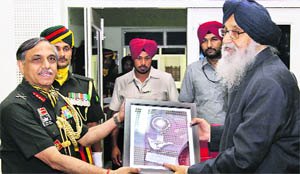 Chandigarh, March 28
The Army is expected to have a new aviation base in Punjab, with the state government responding positively to its request for allocating land for the purpose at Mand, near Jalandhar.




Lt Gen Sanjiv Chachra, GOC-in-C, Western Command, presents a memento to Chief Minister Parkash Singh Badal at Chandimandir on Thursday. A Tribune photo

Forum flays govt on alleged diversion of tax revenue
New Delhi, March 28
Expressing concern at the Comptroller and Auditor General's (CAG) report on the Punjab Government's alleged diversion of tax revenue to the tune of Rs 3,194 crore, the Forum of Retired Officers of Indian Audit and Accounts Service today said it was not only a serious violation of the Constitution but also a serious financial irregularity, which "impinges on the well laid out tenets of legislative control."
Chandigarh-Ludhiana rail link to miss yet another deadline
Chandigarh, March 28
The Chandigarh-Ludhiana rail link will miss its fifth deadline of March 31, 2013, as the Commissioner of Rail Safety (CRS) has so far not given its clearance to make the 110-km track operational. As per norms, until a CRS team inspects the track, the railway authorities cannot ply trains on it. Divisional Railway Manager PK Sangi said till date the department had not received any information on when the CRS team would inspect the track even though they had requested the CRS to do the same.
PSEB to reduce deficit, hike prices of books
Mohali, March 28
The Punjab School Education Board (PSEB) passed a deficit budget for the financial year 2013-14 today. Its estimated income is set to be around Rs 228.32 crore and its expenditure is likely to be around Rs 257.84 crore.
Patiala SHO sent on leave
Patiala, March 28
Patiala Senior Superintendent of Police (SSP) Gurpreet Singh Gill has sent a Station House Officer (SHO) on leave on receiving a verbal complaint from a local businessman that the SHO had asked him to pay Rs 70,000.
SI dismissed for 'links' with drug mafia
Fatehgarh Sahib, March 28
The Punjab Government today dismissed from service Sub-Inspector Sarabjit Singh for allegedly helping former Deputy Superintendent of Police Jagdish Singh Bhola, who is an accused in the Rs 130-crore drug haul case.
Panel to meet councillors to select Patiala Mayor
Patiala, March 28
The three-member screening committee will meet all the 33 elected SAD councillors of the Patiala Municipal Corporation at the Shiromani Akali Dal (SAD) head office in Chandigarh to select the next Mayor. The committee was appointed yesterday by the SAD.
Rs 7,361-cr annual credit plan for Patiala
Patiala, March 28
The annual credit plan of Rs 7,361.01 crore for Patiala district was released by Additional Deputy Commissioner (Development) Anandita Mitra today. She said the credit had been increased by Rs 1,415.56 crore compared to last year.
Rs 28 cr for law varsity
Patiala, March 28
The Punjab government has earmarked Rs 28 crore for the Rajiv Gandhi National University of Law (RGNUL), Patiala, in the 2013-14 budget. The university had sought Rs 40 crore.



High Court stays e-auction of cattle fair
Chandigarh, March 28
Two days after the Punjab Government issued a notice for e-auction of cattle fair at the state level, the Punjab and Haryana High Court today stayed its operation.