Land grab: HC tells state to file reply in four weeks
Chandigarh, March 26
Less than a fortnight after a panel, headed by Justice Kuldip Singh, submitted an interim report on land grab cases to the Punjab and Haryana High Court, a Division Bench today asked the state of Punjab to file its response.
Ex-DSP gets 3-yr RI in abduction case
Patiala, March 26
Four days after the CBI court of Special Judicial Magistrate Jaapinder Singh convicted a retired DSP, Joginder Singh, in the abduction case of two Patiala youths, who reportedly went missing in 1993, a Patiala court today awarded him three years of rigorous imprisonment. He was, however, granted bail.

Third front figment of imagination, says Badal
Badal (Muktsar), March 26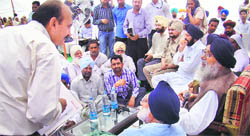 Chief Minister Parkash Singh Badal today said the proposed third front was nothing but a figment of imagination. Talking to mediapersons on the sidelines of Sangat Darshan at his native village today, he said the picture would be clear only after the process of Lok Sabha elections was set into motion.


Chief Minister PS Badal interacts with officials during his Sangat Darshan at Badal village on Tuesday. Tribune photo

Bajwa: Won't allow excesses during panchayat poll
Amritsar, March 26
Pradesh Congress president Partap Singh Bajwa today said his party would not allow the ruling SAD to "perpetrate excesses" during the coming panchayat poll in the state and will sensitise the people against any such move.
High command forces Bajwa to withdraw appointments
Chandigarh, March 26
In a snub to the newly appointed Pradesh Congress chief Partap Singh Bajwa, the Congress high command today forced him to withdraw the appointments made by him yesterday.
Booster dose of Rs 8.10 crore for dying wetland
Keshopur Chamb (Gurdaspur), March 26
One of Asia's biggest wetlands, Keshopur Chamb, which was on the verge of extinction owing to an assortment of reasons, has got a fresh lease of life with a booster dose of Rs 8.10 crore.
Govt breaks norms, appoints junior officers BDPOs
Patiala, March 26
Facing severe shortage of Block Development and Panchayat Officers (BDPO) in the state, government, going against the norms, has been appointing junior officers as BDPOs.
50 served notices for not deducting TDS
Ludhiana, March 26
The Income Tax Department has shot notices to over 50 people across the state for not deducting tax at source (TDS) while buying properties from NRIs. Whenever an Indian citizen buys property from an NRI he has to deduct 30 per cent TDS from the payment made. Maximum number of such cases has been detected in Ludhiana and Jalandhar.
Breast cancer most prevalent among women, prostate cancer in men
Patiala, March 26
Breast cancer is the most prevalent form of cancer among women in Punjab followed by cervix cancer. Whereas men suffer from prostate cancer the most, oral cavity cancer is the second most common form of cancer among men. Cancer of esophagus is at number three in both men and women.
He supplies biogas to Ropar's model village free of cost
Ropar, March 26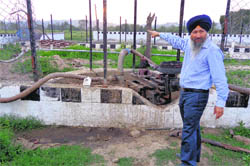 In this day and age when energy is scarce and costly, people in Bahadurpur village are supplied free gas in abundance! Entrepreneur Dalbir Singh, who deals in scrap metal in Dubai, runs the biogas plant and has been supplying gas for six hours a day to all the 75 houses in the village free of cost for over a year.



Entrepreneur Dilbar Singh shows his biogas plant at Bahadurpur village in Ropar district. Tribune photos: Arun Sharma

Assault victim's uncle, cousin get police security
Amritsar, March 26
Tarn Taran police assault victim's uncle Gurmukh Singh and her cousin Jagjeet Singh, who had shot a video of the incident, finally got the security cover today.
Patiala to get new Mayor on April 2
Patiala, March 26
The state government has today issued instructions to the Patiala Municipal Corporation to appoint the new mayor on April 2. The post has been lying vacant ever since former Mayor Jaspal Pardhan had to resign after he was booked in a murder case.
Unpaid PRTC employees strike work in Sangrur
Sangrur, March 26
Members of the Punjab Road Transport Corporation (PRTC) Workers Union (Azad) today staged a dharna outside the workshop of the PRTC depot here.
Central Excise officers to strike work from March 29
Chandigarh, March 26
Amritsar-based Central Excise Superintendent VK Dhawan is among hundreds of Excise officers retiring on March 31 after waiting for a promotion for the past seven years.
Improvement Trust acquires philanthropist's land
Fazilka, March 26
Lala Munshi Ram Aggarwal Charitable Trust, Fazilka, a registered body set up in 1937 by the philanthropist Munshi Ram Aggarwal Lakhpati, with the objective of promoting education has been caught unawares by the move of the Improvement Trust, Fazilka, to acquire its 16 acres of land without any notice.
Inquire into state debt, Jakhar to Governor
Chandigarh, March 26
Punjab Congress MLAs led by Legislature Party leader Sunil Jakhar today made an appeal to Governor Shivraj V Patil to intervene to prevent the occurrence of a financial emergency in the state besides urging him to inquire into the state's debt.
Woman murdered in Fatehgarh Sahib
Fatehgarh Sahib, March 26
A woman named Jaspal Kaur was found murdered on the outskirts of Cholti Kheri village today. A Santro car was also found parked near the body. The woman's son Gurpreet Singh accused nambardar Piara Singh, a distant relative, of murdering his mother and filed a complaint against him with the police.
2 killed in mishap
Muktsar, March 26
Jagmeet Singh and his father Harbans Singh were killed when the motorcycle they were riding on collided with a Mohali-bound deluxe bus belonging to a private company, near Sarainaga on the Kotkapura-Muktsar highway this morning. They were going towards Muktsar after paying obeisance at a dera. — TNS