TO remain healthy is the desire of every living human being. This is especially true of today when we have to face stress of all types each day and at every moment in the life. It is observed that with increasing age, each one would have a disease or two or even more for which many patients would visit doctors for their respective treatment and medications. Some may prefer allopathic system of medicines, while a few may approach other systems of medicine. And some patients may indulge in self medication even.
However, when the patient suffers on account of some chronic ailments he visits a doctor. But he may also start on some other medicines on his own for quick cure and recovery from the ongoing diseases. Problem starts when some patients take allopathic medicines concomitantly with herbal supplements on their own without disclosing it to their doctors leading to serious consequences.
As per journal Nature, every third American is taking complementary medicine assuming that anything natural is always safe and is without any adverse effects. Concurrent use of herbs may mimic, magnify or oppose the effect of allopathic drugs, and may show pharmacokinetic (what the body does to the drug) and pharmacodynamic (what the drug does to the body) interactions. However, the picture in India is equally grim.
Poly-pharmacy
Complementary medicines are frequently used in the context of poly-pharmacy. In a study of 3,070 elderly people it was found that 74.2 per cent took at least one prescription drug and one complementary medicine, with 32.5 per cent of them using three or more prescription medicines with three or more complementary medicines. This translates to an increased risk of drug interactions. In a study of 458 US Veterans' Administration patients, 197 of them reported taking complementary medicines combined with prescription medicines. Of these patients, 45 per cent had potential for interactions, which was rated as serious in 6 per cent of patients.
In another study which interviewed 3,000 people (aged 57-85) about prescription, over-the-counter and complementary medicine use, 4 per cent of them were potentially at risk of a major drug-drug interaction. It has been suggested that once a patient is on eight or more medicines, regardless of origin, there is a 100 per cent chance of a drug interaction occurring.
Obesity, to gain generalised vigour, loss of libido and patients suffering from chronic diseases (e.g. diabetes, cancer, rheumatoid arthritis etc.) either switch over to other system of medicines and/or use concomitantly the drugs from alternative school of medicine/ herbs leading to serious drug interactions and consequences.
Herb-drug interactions
Warfarin, aspirin, insulin, ticlopidine has the greatest number of reported drug interactions with herbal and dietary supplements as was found in the systemic review of 85 studies. In one of the studies, 42 per cent of drug interactions were caused by the herbal and dietary supplement altering the pharmacokinetics of the prescribed drugs out of which 26 per cent were described as major drug interactions.
One of the most common and prevalent household remedies used for cough is mulathi (liquorice). Its long-term use may lead to headache, fatigue, hypertension and loss of potassium. Drugs like captopril or alike are recommended in hypertension also induce intractable cough. If we use mulathi along with this drug, anti-hypertensive control with captopril will go bizarre leading to failure of therapy. Glycyrrhizin, the active ingredient in mulathi (liquorice), stimulates the release of aldosterone, which may further lead to retention of sodium, loss of potassium and fluid retention, thereby increasing the blood volume, which may cause rise in blood pressure, and failure of allopathic drug therapy.
Patients suffering on account of rheumatoid arthritis are normally recommended to take allopathic drugs. To start with pain killers are recommended, which lead to irritation to gastro-Intestinal tract (GIT), and even acidity and bleeding can occur. If the same patient, who is on these drugs, also starts taking castor plant extract from an ayurvedic physician it can cause GIT-related side-effects leading to synergistic adverse effects on GIT (food tract).
Many herbalists prescribe guar-gum for obesity, but this herb can interfere with the absorption of metformin and glibenclamide (oral hypoglycaemic drugs) used to treat diabetes leading to failure of diabetic control with serious consequences.
These days every alternate patient is taking garlic. Blood thinners e.g. aspirin or anti-coagulant warfarin can interact with garlic, because both will lead to synergistic anti-platelet aggregating activities leading to increase in bleeding tendencies, in such individuals.
Guggal is often recommended by ayurvedic physicians for arthritis and hyper-cholesterolemia. Now even some allopathic doctors are also prescribing it. The active ingredient in guggal is bosevilic acid, which is acidic in nature. Therefore, patients on guggal should avoid pain killers i.e. NSAIDs (non-steroidal-anti-inflammatory drugs) e.g. aspirin, brufen, diclofenac etc, otherwise concomitant usage of both drugs may lead to ulcers and intestinal bleeding. Even ginkgo biloba should be avoided with aspirin and oral anti-coagulants for the same reason.
Every third person today is suffering from diabetes especially Type 2 i.e. NIDDM (non-insulin dependent diabetes mellitus) in middle age. Wrong lifestyle habits and stress are contributory factors. When these patients start looking for alternative treatments for diabetes management it can cause trouble. While taking allopathic drugs some of them also start taking bitter gourd juice (karela) in the morning on empty stomach. Such interaction can lead to hypoglycaemia or even can induce hypoglycaemic shock if unguarded. In a research carried at the GMCH, Sector 32, it was observed that in patients with Type 2 diabetes mellitus, 45 per cent patients were taking herbal remedies along with the prescribed allopathic drugs for diabetes.
Asthma patients who are on Salbutamol (?2 agonist & a bronchodilator) should resist eating paan. Betel nut in paan is rich in arecholine and constricts the respiratory pathways. If a patient taking bronchodilator eats betel nut, it leads to broncho-constriction leading to failure of therapy for asthma management.
Some studies say ginseng may be responsible for hypertension and anaphylactic reactions, so it should be avoided by the patients who are suffering from hypertension. Ginseng can over stimulate the central nervous system (CNS) resulting in insomnia. Long-term use of ginseng may cause menstrual abnormalities and breast tenderness in females. Ginseng is not recommended for pregnant and lactating women. Ginseng and garlic supplements together can cause bleeding episodes when taken with oral anti-coagulants.
The online purchase of drugs can lead to serious consequences. Fang Ji (Stephania tetrandra), a weight-loss preparation, is potentially nephrotoxic. Forty-eight women who took Fang ji for weight loss had occurrence of renal failure, reported a Belgium Study.
St John's Wort is taken by patients suffering from depression. The active ingredient of St John's Wort is hypericin, which exerts similar effects like MAO Inhibitors. Never ever combine St John's Wort with allopathic anti-depressant drugs otherwise there may be a serotonin syndrome leading to agitation, irritability, headache even confusion. Most of these clinical drug interactions are reported with St John's Wort (British Medical Journal November2012) It is only a tip of the ice-berg. There are so many other herb-drug interactions also which may be detrimental to patients' health.
Avoid self-medication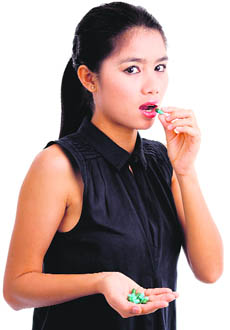 Self-medication is prevalent not only in uneducated but even among qualified people, that too when we know that all allopathic drugs may lead to the side-effects. But these side-effects can be avoided most of the time. The medicines, which are sold as natural, may produce side-effects which may carry long-term consequences. Situation becomes grim further if the patient unknowingly is concomitantly taking drugs of both systems, which may interact. Such information is neither given by the patient and nor asked by the doctor. Failure of therapy must ring a warming signal for prescribers, so the information regarding the use of herbs may be enquired from the patient.
Advertisements in media about such natural medicines must be stopped so as to curtail the promotion of self-medication of these so called natural, harmless, herbal preparations. There is also a need to have self restrain in taking medicines/ drugs from other system of medicines about which we know the least.
In India, where the application of synthetic drugs may still be hampered by economic infeasibility and/or a lack of social acceptance, the use of traditional medicinal herbs may be an interesting possibility but ethno-pharmacological research can play a vital and decisive role in this realm by showing which traditional treatments may be promoted as being effective and well tolerated.


MEASURES TO BE TAKEN

Avoid using drugs of two systems concomitantly.


Avoid self-medication.


The promotion in media about such medicines must be curtailed.


Anything from nature is always not safe, so one should always be cautious.


Pills should not be recommended for every ill .


Anything imported with funny name is not always safe for human use.


Always disclose to your attending physician if you are taking complimentary medicines voluntarily.



Dr Gautam is Professor & Head, Department of Pharmacology and Dr Singh is Professor, Department of Medicine, Government Medical College and Hospital, Sector 32,Chandigarh