Not much impact likely on Bollywood
Tribune News Service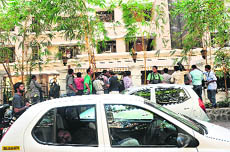 Mediapersons outside Sanjay Dutt's house in Mumbai on Thursday. — AFP
Mumbai, March 21
The prospect of actor Sanjay Dutt returning to jail is unlikely to trouble film-makers associated with him as the actor has wrapped up most of his projects.
According to sources here, Dutt has just three big films on hand including a remake of "Zanjeer", "Policegiri" and "PK".
While shooting of "Zanjeer" has been wrapped up, the makers of "Policegiri" are expected to rush through the shooting schedule before the actor surrenders before the court in four weeks' time. In "PK", an Aamir Khan-starrer, Dutt plays a supporting role. The movie is scheduled to release next year.
The buzz in the trade is that Dutt had planned his projects so as to not put his producers at risk should he be sent back to jail.
A fourth film "Munnabhai Chale Dilli", third in his Munnabhai series, is yet to go on the floors.
Though Sanjay Dutt remains a big draw at the box office, most big banners had steered clear of him because of the criminal charges against him. "Zanjeer" was one of the few big banners other than Vidhu Vinod Chopra, producer of the Munnabhai series, who banked on the actor.
The Supreme Court's orders sending Dutt back to jail has, however, shocked the film industry, many of whose leading lights have rallied behind him.
"I am truly shattered to hear of Sanju's sentence - the nicest guy I have known just doesn't deserve this. My heart goes out to him," film producer Karan Johar tweeted. Johar had only recently signed Dutt for his new movie "Ungli".
"The strange dichotomies of life. A fine Supreme Court judgment on the Bombay blasts. But yes, Sanjay Dutt is my friend. I am sad for him. I will be very sad to see Sanjay Dutt go back to jail where I used to meet him years ago. A second term will destroy the man. Sad for Sanjay Dutt. He is paying for what was an act of folly. He is no traitor. He made a mistake. He is paying for it. Hugely," film maker Pritish Nandy tweeted.
"Man lives in hope and dies in hope! I am hopeful that the apex court's verdict will finally bring enduring peace in Sanjay Dutt's life," said film director Mahesh Bhatt.
Rs 250 cr riding on his movies?
With the SC awarding a five-year sentence to Sanjay Dutt in 1993 blasts case, rumour mills are now abuzz on the amount of money at stake in Bollywood projects involving the actor. According to analysts, around Rs 250 crore are riding on Sanjay who will have to undergo a term of three-and-a-half year after the apex court upheld his conviction for illegal possession of arms. "As per the back-of-the-envelope calculations, around Rs 250 crore are riding on Sanjay, involved in various projects.