OPED —

The Arts
A writer in eternal exile
Vivek Sachdeva
Ruth Prawer Jhabvala will always be remembered for her screenplays, novels and short stories. With a meticulous eye for detail and penchant for a nuanced writing, she breathed life into films and fiction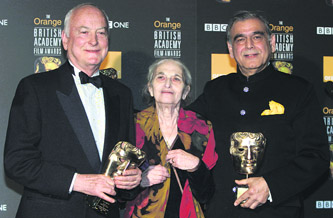 (L-R) James Ivory, Ruth Prawer Jhabvala and Ismail Merchant, who together formed Merchant Ivory Productions, after receiving a British Academy film fellowship at a ceremony in Central London, in this 2002 file photo. Photo: Reuters

Ruth Prawer Jhabvala, the Booker Prize and Academy Award winner novelist, short story writer and screenplay writer, died on April 3, 2013 at her home in the USA. She was a German-born Jewish woman who received her education in England, lived in India and finally settled down in New York towards the last phase of her life.
Her relationship with India started when she got married to Cyrus S. H. Jhabvala, a Parsi architect, whom she met at a party in London when the latter was a student of architecture in 1949. In 1951, they got married. Nirad Chaudhari, who was a friend of the Jhabvalas, called this marriage as the liberation of a Jewish woman from her exile by a modern Persian man. Her stay in India was not her first 'exile' as she and her parents had to flee Germany in April 1939 to escape anti-Semitism in Hitler's Germany.
German roots
Jhabvala was born in Cologne, Germany, on May 7, 1927. She was the second child of Marcus Prawer and Eleonara Cohn. Expatriation and exile seem to run in the family of the Prawers. Her father had come to Germany to escape military conscription in Poland during World War I. Her mother was born in Cologne, but her father had come from Russia. So, Jhabvala's roots in Germany do not go very far. The mixed blood she carried in her veins might have helped her in acquiring a cosmopolitan outlook. The mixed background of her parents and their non-German backgrounds did not become an obstacle in identifying with the Germany around them.
Jhabvala's mother was very proud of the fact that she was chosen to recite a poem in celebrations of the Kaiser's birthday. In spite of pleasant memories of the Prawers in Germany, Jhabvala's memories of Germany are marked with her coping with the hatred towards the Jews. She got her education in a segregated school, she used to read "Jews Not Desired" written outside shops and cinema houses. She remembers how Jews were shoved frequently and their shops and houses were attacked. Despite the fact that her father was arrested in 1934, the Prawer family decided to stay in Germany and it was only in the 1939 that they decided to leave Germany. Perhaps, Prawers were one of the last families to flee Hitler's Germany.
Move to England
She was 12 years old when the Prawers shifted to England, where she got her education and met Cyrus, whom she married. She studied at Hendon County School and later she attended Queen Mary College, London University. Jhabvala had shown her penchant for creative writing even in Germany. After shifting to England, she wrote a short story A Birthday in London. She switched to English easily and it seems she deliberately shut the window that would open to traumatic memories of Germany. Her elder brother, on the other hand, reacted to this situation differently. He studied German classics and took an academic post at Oxford University. Jhabvala lost herself in English classic novelists such as George Eliot, Thomas Hardy, Charles Dickens and later she read E.M. Forster, under whose influence she had always been.
Tryst with India
During her stay in India she gave birth to three daughters and eight published novels about India. Within two years after coming to India, she finished her first novel To Whom She Will, which was published under the title of Amrita in the US. Since her first novel was published in India in 1955, she continued to write about India that she saw around her. As her husband had Punjabi partners, the Punjabi community appeared in her early novels frequently. However, the family she was married into was different. Her husband's father was a trade-union leader and his mother was a prominent women's leader. Her father-in-law had spent eight years in prison during the British Raj. But she wrote about India, emerging immediately after Independence, which she observed from her perspective. In the larger context of the challenges before new emerging India as a nation, she portrayed idealist nationalists, shrewd businessmen, corrupt officers, family life in middle-class North Indian families, love-hate relationships and Indian spirituality. Her best-known novel in India, Heat and Dust, won her the Booker Prize in 1975. She left India for America the same year.
In the melting pot
While in America, she wrote what are called American novels. After going to the US, Jhabvala seemed to be moving gradually towards her Jewish roots as many Jewish refugees had settled down in the New York during World War II. In 1961, she was asked by James Ivory and Ismail Merchant to write the screenplay for their film based on her own novel titled The Householder.
While working with them, she explored and understood India more and wrote more novels while writing screenplays for Merchant Ivory Productions. The creative marriage between a German Jew woman; Ismail Merchant, an Indian Muslim and James Ivory, a Protestant American produced good quality cinema.
Screenplay writer
Jhabvala, besides two of her own novels, also adapted works of Henry James and E. M. Forster. She won Academy Awards for writing screenplays of A Room With A View (1986) and Howards End (1992) and was nominated for the Academy Award for The Remains of the Day in 1993, an adaptation of a novel by Kazuo Ishiguro.
In 1978, Jhabvala was awarded the Neil Gunn International Fellowship and in 1984, the British Film Institute and the Museum of Modern Art, New York jointly published a book devoted to the Merchant-Ivory-Jhabvala films. In February 1984, she received the MacArthur Foundation Fellowship, in December of the same year, she was awarded a Fellowship of London University College, Queen Mary College and London University's honorary degree of doctor of Literature.
Objective portrayal
In literary and film writing circles, Jhabvala is appreciated for her style of writing, comic vision and objective portrayal of India. Critics in India have placed her, along with R. K. Narayan, as an interpreter of Indian life. Though, Jhabvala has also been criticised by Indian critics for presenting stereotypical images of India in her fiction, yet she continued to be an important writer and screenplay writer in the history of English novel and world cinema.


Novels and short stories
To Whom She Will (1955; published in the United States as Amrita)

The Nature of Passion (1956).

Esmond in India (1958)

The Householder (1960)

Get Ready for Battle (1962)

Like Birds, Like Fishes (1963)

A Backward Place (1965)

A Stronger Climate (1968)

An Experience of India (1971)

A New Dominion (1972; published in the United States as Travelers)

Heat and Dust (1975)

How I Became a Holy Mother and Other Stories (1976)

In Search of Love and Beauty (1983)

Out of India (1986)

Three Continents (1987)

Poet and Dancer (1993)

Shards of Memory (1995)

East Into Upper East: Plain Tales from New York and New Delhi (1998)

My Nine Lives (2004)
Screenplays

1963

Shakespeare Wallah

1965

The Guru

1969

Bombay

1972

Autobiography of a Princess

1975

Roseland

1977

Hullabaloo Over Georgie and Bonnie's Picture

1978

The Europeans

1979

Jane Austen in Manhattan

1980

Quartet

1981

Heat and Dust

1983

The Bostonians

1984

A Room With A View

1985

Madame Sousatzka

1988

Mr. and Mrs. Bridge

1990

Howards End

1992

The Remains of the Day

1993

Jefferson in Paris

1995

Surviving Picasso

1996

A Soldier's Daughter Never Cries

1998

The Golden Bowl

2000

La Divorce

2003
The City of Your Final Destination
2008
As a novelist and screenplay writer, she has given important texts to her reader and viewers. In India, she is remembered for novels including To Whom She Will, The Nature of Passion, Get Ready for Battle, The Householder, A New Dominion and Heat and Dust and also for the films she wrote for Merchant Ivory Productions.
Among the various screenplays, the famous ones are: The Guru, Bombay Talkies, Autobiography of a Princess, The Householder, Heat and Dust, Roseland, Hullabaloo over Georgie and Bonnie's Pictures, A Room With a View, The Europeans and Howards End.
Ismail Merchant, James Ivory and Ruth Prawer Jhabvala used to share same building and same view in the USA as they lived in floors one above the other. The title of her last film, The City of Your Final Destination, as screenplay writer ironically reflects the final destination that she has found for herself and the final destination is the hearts of all those who have loved her for her films, novels and shorts stories. Ismail Merchant's death in 2005 had already left an irreparable void in the trio of Merchant-Ivory-Jhabvala. With Jhabvala's death at the age of 85, another important pillar of the trio has fallen down.
She is survived by her husband, three daughters and six grandchildren. It cannot be denied that the trio of Merchant-Ivory-Jhabvala has made a rich contribution to the world of cinema. Jhabvala's contribution to the world of fiction writing will always be remembered. With her death, the trio has suffered a severe blow.
She was born in Germany and lived in England, India and the US. In a manner of speaking, she remained in the state of eternal exile. Her screenplays, novels and short stories will live on in hearts of viewers and readers.
This humble tribute to such a creative genius can end only on this note:
So be my passing!
May task accomplished and the long day done,
My wages taken, and in my heart
Some last lark singing,
Let me be gathered to the quiet west,
The sundown splendid and serene, Death.
— W.E. Henley
The writer is Associate Professor at University School of Humanities and Social Sciences, GGSIP University, New Delhi. He teaches Cinema and English literature. His Ph.D. thesis is on the novels by Ruth Prawer Jhabvala and films based on her novels