FIFTY FIFTY
Time to cut the kite-flying on communal forces
The fact that the scenes of Hindu violence in Kai Po Che did not trigger a hue and cry to ban the film shows a certain maturity and acceptance from the Indian middle classes that mistakes have been made — and that the country has moved on.
KISHWAR DESAI

To begin with, let me state clearly that I am normally no fan of Chetan Bhagat's writing, especially his books, and I am sure he can quite happily return the compliment. But I do admire his savvy marketing and the manner in which he has managed to position himself as a spokesperson for the 'youth'.
The description of 'being young' in India is fairly ambiguous, and anyone under 50, I suspect, thinks he or she is very young. But Chetan has actually built himself a constituency among the under-35 men and women, boys and girls who are aspirational, and belong to 'middle India.' Especially those who do not have the backing of 'mummy and papa' and have to achieve everything on their own, often at great cost, because the boundaries between good and evil in our country are always rather blurred. Sometimes it appears as though whatever helps them to succeed is good and whatever leads to failure is bad, and the young are being are being forced to confront these issues on a daily basis.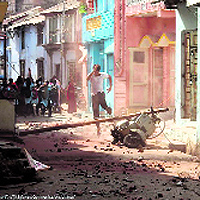 A still from the film Kai Po Che.
To be honest, while I have not been able to read any of Chetan's books, I have seen him develop a large following of loyal readers, which, as an author myself, I can only stand by and appreciate.
Recently, I also saw Kai Po Che, based on his book 3 Mistakes of My Life, for which he has written the script. The film directed by Abhishek Kapoor has been largely well received. I was curious about it because some viewers (who had also read the book) did mention that the film appeared less critical of the Gujarat riots than the book had been. That remark was intriguing (though the book still lies unread on my bookshelf). But I did wonder whether we are now measuring everyone through the prism of how they react to Narendra Modi or the Gujarat riots.
Interestingly, Kai Po Che turned out to be much more nuanced and thoughtful in its treatment than I could have ever imagined. The story is fairly straightforward — about three young men trying to build a business around the teaching of sports and running a sports academy, in Gujarat, just before the terrible earthquake of 2001, and then the riots of 2002, both of which have a devastating impact on their work. The close nexus between politics, business and religious beliefs is honestly explored — so is the division between the Hindus and Muslims. But the good thing about the film is that it is never jingoistic; nor does it paint any community as a victim or as a remorseless perpetrator, though the Hindu politicians definitely appear to be more questionable and violent. In fact, quite contrary to what I had been told, there were some rather hair-raising scenes of 'tilak'-adorned Hindu men picking up unsheathed swords to seek 'revenge' on the Muslims for the burning of 'kar sevaks' returning from Ayodhya on the Sabarmati express at Godhra. The fact that these scenes have been shown and that there has been no hue and cry to ban the film shows a certain maturity and acceptance from the Indian middle classes that mistakes have been made — and that the country has moved on.
Of course, this does not mean we should ever forget the carnage in Gujarat in 2002… just as we must never forget the innocents murdered in Mumbai in 1993, and in Delhi in 1984, and further back, all the way to 1947. But Chetan's film focused in a very pragmatic fashion on ordinary lives that are suddenly caught up in a fraught and dangerous environment.
The messages for the need for peaceful coexistence are all there, but without any melodramatic dialogues. In fact, the very ordinariness of the film and the characters made the film appealing, and also gave me hope that perhaps the wounds suffered by different communities have now begun to heal. We can look at the past with a certain objectivity and hope that there will be a better future. Children watching these kinds of films today might veer away from exploiting religion to hurt another community — much more than they would listening to pious lectures from 'secular' politicians. They can see the good sense in working together, both in business and sport to build a better India.
Of course, the central story of a young Muslim boy, who is a cricketing genius of sorts, and the star of the cricketing academy run by the three Hindu boys makes the point that religion should be irrelevant in real life choices. As ever, using cricket to push the story forward is a smart move, because the popular game unites all religions, castes, classes and communities. It also made me hope that perhaps we can now stop talking about 'communal forces' and move forward towards building a more cohesive India. So is it finally time to cut the kite-flying on the return of 'communal forces' and focus on development? Or should we continue to wallow in grief over painful moments from the past?
Kishwar Desai's new novel, The Sea of Innocence, will be published in April.