When will South Africa be truly free?
The country has First World infrastructure such as sweeping super-fast highways but the majority of its people continue to live in Third World conditions.
raj chengappa

It was after nearly two decades that I was visiting Durban, and to say there is a sea change is an understatement. Durban's beachfront is in many ways symbolic of that change. When I went first in 1994 to cover the historic elections that saw the black majority come to power displacing the white minority after decades of apartheid, Durban was even then a bustling port city. Like all docks, its wharf was dotted with bars, restaurants and hotels.
The difference today is in size and spread. Durban's Marine Parade is now a glittering promenade offering a range of entertainment, including casinos, risqué bars and amusement parks. The beachfront has now been extended to the north and south where 'point break' surf conditions attract adventure lovers from all over the world.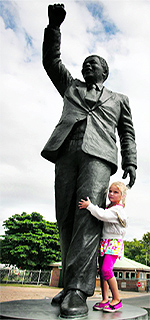 A statue of former South African President Nelson Mandela outside the Victor Verster Prison near Paarl in the Cape winelands. REUTERS

Call it coincidence, but while attending the plenary session of the BRICS Summit being held in Durban I bumped into Vivian Reddy, arguably Durban's most successful businessmen of Indian origin. When I met him in 1994 in the suburbs of Durban, he was among the few Indian businessmen who had made it big. He then ran a flourishing power transmission and distribution business and flaunted a flashy Mercedes Benz SL 500.
Reddy was among the few South African Indians who had succeeded even during the apartheid regime, though there was a horrendous segregation of races practised by the white majority. Accounting for only 2 per cent of the country's total population, the 1.2 million South Africans of Indian origin were said to be relatively better off than the black majority.
Like the blacks they were also herded into shanty townships, but they exhibited both a strong professional bent of mind and entrepreneurial spirit. Concentrated largely in the Kwazulu-Natal province, of which Durban is a part, the Indian minority had a fair share of professionals and government jobs apart from setting up businesses even before the apartheid regime was overthrown.
They too suffered extreme discrimination and fought side by side with the blacks for freedom. But their colour gave them their own distinct identity and they were clubbed as "Asians". Post apartheid, the community found itself in a struggle to find a place in the new black South Africa. As one sociologist put it, "Once they were non-whites, now they are non-blacks. In the past they were oppressed, now they fear the future. Sandwiched in the middle they don't know which way to turn."
Vivian Reddy though saw it as a challenge. He rapidly diversified into other areas like property development, switchgears, sub-stations and commercial and industrial electrification, becoming one of South Africa's leading businessmen. He has moved office to the swank Umhlanga Rocks that overlooks the beachfront and now drives around either in a Rolls Royce or a Bentley.
This February, when Vivian turned 60, he threw a massive birthday bash that included a gigantic cake that was 5 metres high and weighed 2.5 tonnes. Local papers said he spent close to Rs 60 million on the party that had the Who's Who of Natal circles attending. Vivian is unabashed, and says that on the same day he also fed 10,000 poor children. For him the biggest change since the end of apartheid "is the sense of freedom".
That sense of freedom is felt and appreciated by the vast majority of blacks and Indians in South Africa. Thulani, a black taxi driver, who drove me from Pietermaritzburg to Durban, said he still remembered how "whites only" boards were common when he was in school. As we drove on the highway he showed me leafy green avenues at Westville with villas that where once for "whites only" but are now increasingly owned by prosperous blacks and Indians.
Yet, close to 20 years after South Africa liberated itself from the oppressive white minority rule, its 51 million people still find themselves at the crossroads. The country has First World infrastructure such as sweeping super-fast highways but the majority of its people continue to live in Third World conditions.
Unemployment rates are running at a high 25 per cent that is causing increasing discontent across the nation. The economy remains sluggish with GDP growth rate pegged at a low 2.5 per cent. General elections are due in 2014 but with the African National Congress (ANC) still having the backing of the black majority, President Jacob Zuma is expected to cruise to victory and a second term.
To his credit, Zuma has implemented programmes that have seen most blacks like Thulani have a roof over their head and their children educated free of cost. But the ANC is facing internal divisions and like the Indian National Congress may soon split into various factions. For the ordinary people though what matters most is development. Thulani says, "We have freedom, and that is good. But now we need opportunities to grow." Only then will South Africans experience true freedom.
raj@tribunemail.com