HP INTUC chief gets bail
Kalka, March 30
Hardeep Bawa, president, INTUC, Himachal Pradesh, was given bail today by the Kalka judicial court in context with a case of intimidation and Arms Act. Police sources at the Pinjore police station confirmed that Bawa, who was facing trails in more than 12 cases, had surrendered in court on March 26, and was sent to judicial custody.
Woman murdered near Ambala
Ambala, March 30
A middle-aged woman was murdered in broad daylight at Ghel village near here today. The deceased, identified as Sunita (35), was the mother of five children. The police nabbed the accused, Jagtar, alias Billu, on the spot.
Murder of ASI
2 get life term
Ambala, March 30
Vimlesh Tanwar, Special Judge,Fast Track Court, Ambala, sentenced Kuldeep and Jasbir, both residents of Badaun in UP, to life in the murder case of an ASI today. The third accused, Mandeep, was acquitted as no direct evidences was found against him.
International recognition for Patiala professor
Patiala, March 30
The American Biographical Institute, US, has selected Dr JPS Walia, Professor and Head, Orthopaedics, Government Rajindra Hospital, Patiala, for the prestigious award of "Man of The Year 2012" for professional excellence.
Revolutionary Bhai Randhir Singh remembered
Patiala, March 30
Bhai Randhir Singh was a revolutionary freedom fighter of the Gaddar Movement who actively participated and led this movement in Punjab. He was imprisoned for life and stayed in jail for 16 years.
Govt teachers yet to get arrears
Patiala, March 30
Despite the fact that the Punjab Finance Department has sanctioned budget for releasing arrears to the government college teachers, the teachers have not yet received a single penny.


Attached cars of four UT officials released
Chandigarh, March 30
The court of District and Sessions Judge SK Aggarwal today ordered the release of attached cars of four UT officials after the Estate Officer (Defence), UT, submitted the enhanced compensation of Rs 38 lakh in lieu of land acquired from Behlana farmers a few years ago.



10 held for kidnapping youths
Panchkula, March 30
A day after three youths were kidnapped from the busy market of Sector 10, the Panchkula police arrested 10 persons, including a former councillor of Kurukshetra. Councillor Anil Kumar was sent to judicial custody. The police is yet to arrest eight accused, including head constable of Kurukshetra Vishpal.
The accused at the district courts in Panchkula on Saturday. Tribune photo: Nitin Mittal


Rs 1.5 lakh, gold stolen
Chandigarh, March 30
Two theft incidents were reported in different parts of the city. Thieves managed to decamp with cash and gold jewellery. In a theft incident reported at Indira flat, Mani Majra, Satish Kumar, owner of the house, reported that the theft took place while he was out of station.
Three booked for eve-teasing
Chandigarh, March 30
The Chandigarh Police arrested three persons for eve-teasing and threatening a girl near Sector 40. The police stated that a compliant was received against occupants of a Santro car identified as Ravi Lal, a resident of Phase IV, Mohali, Jatinder Singh, resident of Arya College road, Kharar, and Taranveer Singh of Rasoli village in Patiala district.


T20: Punjab enter final
Chandigarh, March 30
A fine contribution by both batsmen and bowlers helped Punjab to book a berth in the final match of Syed Mushtaq Ali T20 Cricket Cup. In the semifinal encounter, the team defeated the Uttar Pradesh Cricket Association (UPCA) by 51 runs, to lead the points table with 12 points. The team will face Gujarat in the title clash tomorrow in Indore.


Rickey's all-round performance helps Mohit Warriors club win semifinal
Chandigarh, March 30
On the third day of the ongoing cricket tournament for the 'Youth against Drugs' trophy, Mohit Warriors Cricket Club defeated Yuvi-XI Cricket Club in the first semifinal encounter. After winning the toss, the losing side posted 138 runs. Ricky and Anil scored 30 and 32 respectively.

Players in action during a match between Mohit Warriors Cricket Club and Yuvi-XI Cricket Club at Sector 26 in Chandigarh on Saturday. Tribune photo: S Chandan

Of carrom men and a queen: Pocketing the best from the game
Chandigarh, March 30
At the age of 19, when youngsters are facing the rigmarole of career and personal life, V Srinivas is surging ahead with confidence. The current national carrom champion from Hyderabad, Srinivas is working with the Indian Oil Corporation Limited and representing the organisation at various national and international tournaments.
(Clockwise from top): Carrom players V Srinivas, YU Perdesi and Apoorva. Tribune photos: Parvesh Chauhan


Dr Gurdip new president of PU sports committee
Chandigarh, March 30
Dr Gurdip Sharma, principal of GGDSD College, Hariana (Hoshiarpur), has been elected as president of the Panjab University Sports Committee (PUSC) during the general meeting of the executive committee held here today.
Chess: Tejas, Yash Raj lead points table
Chandigarh, March 30
The Chandigarh Open Chess Championship for Boys and Girls (U-17) started today at St Xavier's Senior Secondary School, Sector 44. In the boys' (U-17) category, Tejas Nagpal and Yash Raj Kapoor lead with 3 points. Among girls, Arunima Goyal and Simranjeet Kaur claimed lead with 2.5 points.


Jaishvin clinches tennis title
Mohali, March 30
Jaishvin Singh clinched the boys' (U-12) title defeating Neel Singh in the ongoing Paragon Total Tennis Championship at Paragon Senior Secondary School, Sector 71. He won the match in straight sets: 6-4, 6-3. In the boys' (U-16) semifinal encounter, Nikhil Sandhu defeated Sahil Yadav 6-3, 6-1.


Jaishvin Singh in action at Paragon Senior Secondary School in Sector 71, Mohali, on Saturday. Tribune photo: Parvesh Chauhan

Guru Nanak school beat GMSSS-19
Chandigarh, March 30
Guru Nanak Khalsa School, Sector 30, defeated Coaching Centre of Government Model Senior Secondary School, Sector 19, 35-32 in the sub-junior boys' category of the ongoing sixth Junior Boys and Girls Handball Championship being held at Government Model Senior Secondary School, Sector 19, today.
Students of Guru Nanak Khalsa School in a jubilant mood after winning a match during the Junior Boys and Girls Handball Championship at Sector 19 in Chandigarh on Saturday. Tribune photo: Pradeep Tewari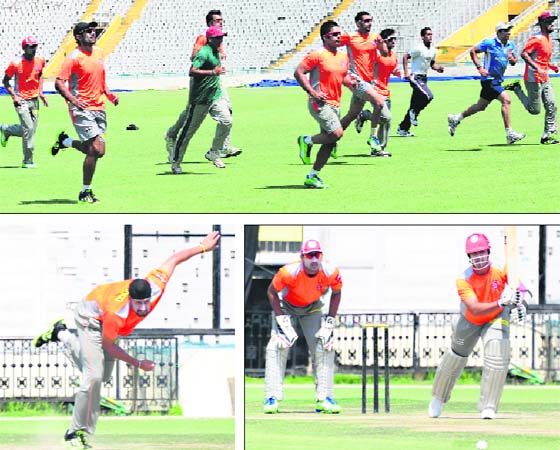 Get Set Go Kings XI Punjab players attend a practice session followed by a practice match at the PCA Stadium in Mohali on Saturday. Tribune photos: Parvesh Chauhan