Mahendra Singh Dhoni surveyed his hotel room with alarm — it was a wreck. The night after India crushed Australia in the third Test in Mohali, Chandigarh was the epicentre of the biggest party in India. It was a wild party. Dhoni was left surveying the debris strewn around his room — it was a bittersweet feeling, for the wreck reminded him of the state of the Australian team.
VINDICATED: Captain MS Dhoni; R Ashwin and Ravinder Jadeja exhibited some fine cricket; and Sachin Tendulkar played vital innings in the first Test.

The party was orches-
trated by the youth of the team. "These youngsters, they are crazier than all of us," he later said. India's crushing triumph in the series, won 4-0 after another commanding performance in Delhi, was orchestrated by the youth of the team, too.
This was certainly the weakest Australian team to visit India, and it did enough to earn incontestable rights to that tag. It also was a divided team, rife with indiscipline serious enough to cause four players to be banned. Their thinking was muddled, their strategy in complete divorce with reality. They overestimated their hand, expected too much of their pace bowling. They wanted to win with pace bowling, but did not have the personnel or the firepower to accomplish the task. The ban on four players left them only 12 players to select their XI from in the Mohali Test. Through the series, they had only one competent spinner, Nathan Lyon, who too was often made to look ordinary by the Indian batsmen. On pitches designed to spin early and often, their spin was starkly inadequate.
Yet, it was a good win, worthy of the celebrations it caused. India lost the toss in all four matches, handing Australia the advantage of batting first when the conditions were best to bat on. Then, the triumph was not owed to only a few individuals — almost the whole team played a part. Dhoni, Murali, Cheteshwar Pujara, Shikhar Dhawan, Ravichandran Ashwin, Ravindra Jadeja and Virat Kohli played significant roles; Sachin Tendulkar played a vital innings in the first Test; Bhuvneshwar Kumar, Ishant Sharma and Pragyan Ojha accounted for 20 wickets. There were only three men who did not shine: Virender Sehwag and Harbhajan Singh who played only two Tests each; Ajinkya Rahane was the debutant in the fourth and final Test.
Dhoni's leadership
Having presided over the stunning defeat to England in November-December, Dhoni did not have long to turn things around. Fortunately, Australia did not present that sort of challenge.
Over the last two years, Dhoni's world has rocked and quaked. On the night of April 2, 2011, he was the king of Indian cricket, finishing off Sri Lanka in the World Cup final with an incredible innings, ending it with a six. Then followed the crushing defeats in England and Australia; and the 2-1 defeat to England in India. The horror era that had been long predicted — India without Rahul Dravid, VVS Laxman and Anil Kumble, and the declining Harbhajan Singh, Virender Sehwag and Zaheer Khan — seemed to have arrived.
When Kumble, Dravid and Laxman were around, Dhoni was a less hands-on captain. "My job is easy, I just take the pressure and hand it over to the players," Dhoni told this writer after he became captain.
But now Kumble, Dravid and Laxman are gone; and Zaheer, Sehwag, Gambhir and Harbhajan are out of the picture. For the initial part of his captainship, Dhoni had led a team of proven performers. Now is the time for him to emerge as a leader of men and forge his own team. He is trying to do that, picking his men, trying to be more assertive. "I had to change a bit. The batting line-up has changed a lot, almost completely," Dhoni conceded. "That means you have to tell youngsters what needs to be done, what went wrong."
With experienced players, Dhoni said, he did not have to be vocal. "But with the new side you often have to talk to them, keep telling them what needs to be done, what are the faults," he said. It helped that Dhoni played a match-winning in Chennai, the 224 that set the series up, and possibly crushed the spirit of the Australians. He turned the match around with a partnership of 128 with Kohli, and won it with a partnership of 140 for the ninth wicket with Bhuvneshwar. After the loss to England, with recriminations and blame flying around, a 4-0 win over even a weakened Australia deserves credit.
Selection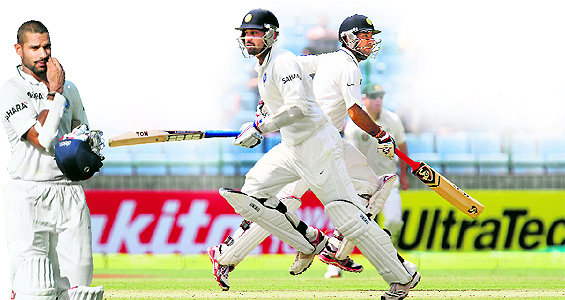 NEW KIDS ON THE BLOCK: Shikhar Dhawan, Murali Vijay and Cheteshwar Pujara. Tribune Photos: Pradeep Tewari, Mukesh Aggarwal

The selectors and the captain took some important calls. The most difficult one was to drop Gautam Gambhir. He had averaged 43.57 against England recently, the third best in the team. Only two men had made more runs than his 251. Yet, he was sacked. The man who replaced him for the first two Tests, Murali Vijay, had not had a great first class season. He had got into the India XI on the back of the 116 in the Irani Trophy in January, after a horror Ranji season, in which he made 138 runs in eight innings. He failed in the first Test, but then effected a startling turnaround. Five Indian batsmen scored centuries in the series, but Vijay was the only one to hit two of them, and was the highest scorer among both teams with 430 runs. He was involved with two partnerships that crushed Australia — 370 with Pujara in Hyderabad and 289 with Dhawan in Mohali.
Vijay had played Tests before, Dhawan had not. It did not seem so when he made a stunning debut in Mohali after Sehwag was dropped. Dhawan made it count, scoring runs with batsmanship of rare ease. The 187 runs he made were scored with Sehwagian speed, but his knock had beauty quite different from Sehwag's brutal splendour.
Jadeja had played one Test against England in Nagpur, and was the subject of ridicule — his monster scores in Ranji Trophy make him primarily a batsman, but he had to be shielded in Test cricket by Dhoni. His bowling was thought to be competent without being menacing. But on tracks that helped him, Jadeja was India's surprise weapon, answer to Dhoni's desire of an allrounder who added depth to the side. He was the team's fifth bowling option but punched above his weight, finishing with 24 wickets at 17.45. He also got Australia's best batsman, Michael Clarke, out five times in the six innings the Australian captain batted. He also managed to score a few runs — first during the nervy chase in Mohali and then in India's first innings in Delhi when the team was in trouble.
Bhuvneshwar, another debutant, bowled well, making the ball dart sharply off the pitch. In Mohali, his three early wickets were crucial. He proved to be a useful No. 9 batsman.
Dropping Sehwag and Gambhir — the second and third highest scorers for India against England — was a brave decision. On home turf, it worked. "The guys who won the games for India were youngsters. All in their 20s with almost eight-10 years to go," Sunil Gavaskar said. "I think they are ready to take on the tough world of Test cricket. Certainly what has happened is the development of a lot of players."
Pitches
The four pitches used in the Test series helped spinners. With the exception of the Mohali track, the wickets helped spinners from day one. Even before they were used, they seemed like they had been played on — it looked like they had been used for three days in the case of Chennai, four days in the case of Delhi, according to experts.
Australia's inexperienced batting line-up was clueless. Their first instinct is to attack, but they do not have the ability to do that now. An Australian batsman (Clarke) scored a century on the first day of the series. They did get 12 half-centuries, which meant the starts they got were not capitalised upon. The batsmen averaged just 25.89 against India's 43.80. Their top seven batsmen averaged 27.40. Australia's openers put up 438 runs at an average of 27.37; India's openers racked up an unbelievable 806 runs at 62. Australia had only three 100-plus partnerships against India's six.
India's spinners were unplayable for Australia for most of the series, taking 65 out of the 78 wickets to fall to bowlers. More embarrassing was their failure to tackle the seam movement extracted by Bhuvneshwar, especially in Mohali.
Should India have provided tracks that were deteriorated, rather than the ones which deteriorate through the match? That is open to debate, but there is no doubt it was through design rather than by accident. The curator of the pitch for the first Test, K Parthasarathy, said: "We started by making the entire pitch firm. We watered it selectively. The areas on either side of the stumps were kept dry, and so turned out to be loose. The line of the stumps was watered and rolled. It stayed firm," he said.
It is no secret Dhoni has demanded turning wickets in India, and it is no secret either that he is not a man to be opposed. It is probable the pitches were made to help home spinners because India had lost 0-8 to England and Australia in 2011-12.
Australia's spinners took 27 off the 49 Indian wickets, or 55 per cent; the Indian spinners (with 65 out of 78 wickets) accounted for 83.33 per cent of Australia's batsmen. That is a massive difference — clearly, even on very helpful tracks, Australia's spinners were unable to make a difference.
The Australians were hobbled by the lack of a good spinner. England had no such weakness and won because they had two very good spinners, Graeme Swann and Monty Panesar. England's spinners had taken 39 of the 55 Indians wickets, nearly 70 per cent. That was a gamble India and Dhoni had taken in the eight Tests of the home season. The gamble failed horribly against England; against the weaker Australians, it came off.
Weak Australia
This proved to be the weakest team to visit India and endured the worst result by any nation in 70 Test series in India. Australia also suffered their worst series defeat since losing 1-5 to England in 1978-79.
Michael Clarke's team was disjointed. Clarke is a tough leader who does not brook opposition, insiders say. But the action against four players suggested things had been allowed to drift for long. If the remedial action was a ban on four players — for a series of minor transgressions culminating in their not submitting their homework on how to play better — it says as much about the four as about the leadership of the squad. Clearly, there was deficit of efficient leadership, resulting in the need for harsh action. It speaks of poor player management.
The Australian pace bowling attack had only one real threat, James Pattinson. Their spin bowling attack had only one minor threat, Nathan Lyon. They failed to trouble Indian batsmen, even though the Indians were at a disadvantage of never having the first use of the wicket.
"It would have been closer if Australia had been able to bat better," says Rahul Dravid, former Indian captain. "Their inexperience, their inability to construct any big score on wickets like these let them down very badly."
The road ahead
India proved tigers at home, but the road ahead is rocky. They next play a Test at home only in October 2014. India are scheduled to tour South Africa late this year, followed by tours of New Zealand and England next year, for a total of 11 Test matches.
It might be useful to play the cynic and relook the negatives of the current win — India won on very helpful tracks against a very weak Australian side.
If we have to do well in the three series abroad, we need to be realistic. The pitches in South Africa will be hard and bouncy. The pitches in New Zealand and England will help swing and seam bowling.
"We are not going to win in South Africa with the bowling attack that played here," says Rahul Dravid. "Three spinners won't work. I don't think the wickets there are going to support any spin. We need four or five fast bowlers. Identify them, make sure they are fit."
"The first thing the selectors, Dhoni and coach Duncan Fletcher have to do is identify the players who are going to be on that trip," he says. "Ensure they are prepared. Communicate to them the challenges they are going to face and how they can practice. Ensure they have enough practice," he says.