Paddy need not mean ground water loss
The growing area under paddy in Punjab is blamed for the steep decline in the water table in the state. The fall can, however, be arrested and even reversed by getting the timing of paddy transplantation right. Correction since 2005 is evidence.
Gurdev Singh Hira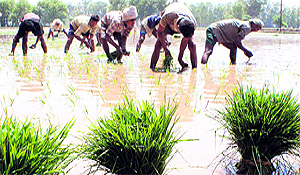 Paddy is water guzzler only if it is transplanted before the onset of monsoon. Tribune file photo

The UN General Assembly has declared 2013 as the International Year of Water Cooperation. Fresh groundwater is fast depleting in the food security zone of Punjab, Haryana and western UP. On March 1, 2013, the Central Groundwater Board issued notices to the Deputy Commissioners of Sangrur, Ludhiana, Barnala, Moga and Fatehgarh Sahib for blatant misuse of water in 38 blocks showing a steep fall in water table, under the Environmental Protection Act.
Diversification of the monoculture of rice-wheat cropping system is being debated at all levels of scientific planning and implementation. The disastrous consequence of the rice-wheat cropping sequence is rapidly falling ground water table and degradation of soil and environment. Rice is considered a major culprit. Ground water decline is the most serious as it affects freshwater resource.
In 1986, the Punjab Government appointed a Committee for Diversification of Agriculture. The committee recommended the area under rice be reduced by 20 per cent. The area under rice, which was 2.3 lakh ha in 1960-61, increased to 26.1 lakh ha in 2000-01, and thereafter plateaued with 28.3 lakh ha in 2011-12. During the last five decades of Green Revolution, the area under rice increased by 1250 per cent whereas that under wheat by 250 per cent. Thus, despite the recommendations of the committee for diversification, the area under rice further increased by 65 per cent.
Historical perspective
Rice crop was introduced in 1940s and 1950s as it grew under water-logging conditions and could reclaim saline alkali soils. Subsequently, during Green Revolution, rice was successfully grown by farmers and in due course it replaced maize, pulses, cotton and groundnut crops because of higher profitability. Sand dunes, which covered about 15 per cent of the area of the state during 1960s, have now virtually disappeared as a result of rice cultivation over large areas.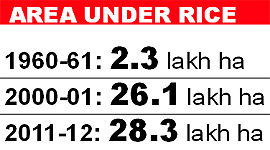 Rice is the most suitable crop during monsoon in areas receiving high and well-distributed rainfall. Initially, when rice was introduced in Punjab, farmers used to start its transplantation from the first of July so that it coincided with the onset of rains in the northwest part of India (Punjab, Haryana and western UP). The optimum time for transplanting rice as recommended by Punjab Agricultural University (PAU) was the first fortnight of July (until 1985). Farmers gradually advanced rice transplanting to June because of the availability of good quality groundwater at shallower depths.
Centrifugal pump technology was commonly used to draw ground water for irrigating the crop. Cost wise, installation of centrifugal pumps was generally within the reach of every farmer. By 1993, farmers advanced rice transplanting to May-end. May and June being hot and dry months with very high water evaporation rates led to higher irrigation demand and farmers resorted to irrigation even daily. This led to overexploitation of ground water and the consequence was drastic fall in water table, particularly in the central districts of Punjab.
Water conservation by law
As the time of rice transplanting advanced towards the end of May, the rate of water table fall (WTF) also increased rapidly. The effect was more in the central districts where rice was the main crop during kharif season. On an average, the WTF in the central districts was 18 cm per year during 1982-87. It increased to 74 cm per year during 1998-2005.
This advancing of rice transplanting also led to increase in the relative humidity in air during the month of June. This brought the second and third generation pests, the attack of which was more severe on the timely sown rice due to the tender leaves of younger crop. Every farmer advanced the transplanting of rice to prevent yield losses induced by insect-pest attack. Based on the recommendations of the PAU from 2006 onwards, the Punjab Electricity Board (now Power Corporation) started supplying regular eight-hour supply of electricity to tube wells from June 10. During this period, the PAU educated farmers through mass campaign and posters. In 2008, the Punjab Government issued an Ordinance to disallow early rice transplanting and in 2009, it passed the Preservation of Subsoil Water Act.
Delaying transplantation
The impact of the aforementioned efforts in halting the decline in ground water table was assessed using the data of ground water observation wells gathered by the Directorate of Irrigation and Environment, Punjab. On an average, the WTF in Punjab prior to the efforts (1998-2005) was 54 cm per year and the WTF decreased to 32 cm per year during the period 2005-11. Delaying the rice transplanting to June 10 arrested the WTF by 22 cm per year, without reducing the area under rice. During 1998-2005, the WTF was observed in near-total (99 per cent) area of the Punjab and this area of falling water table decreased to 75 per cent during 2005-11. Thus, it is clear that these efforts have resulted in reducing pressure on ground water resource, thereby preserving fresh water. In the recent years, the GWT has started rising in 25 per cent area of Punjab, which earlier was only 1.5 per cent.
Based on these, it can be projected that if rice transplanting starts from June 20, the GWT will rise in 53 per cent area of Punjab. This delay in rice transplanting is expected to further decrease the GWT decline by 25 cm every year. There are indications that the GWT is expected to start rising in 10 districts of Punjab. These are Gurdaspur, Hoshiarpur, Ropar, Mohali, Amritsar, Tarn Taran, Jalandhar, Muktsar, Faridkot and Ferozepur. Finally, if rice transplanting is further delayed and restricted to the monsoon period, the GWT will start rising in 67 per cent area of Punjab.
On the other hand, if the presently enforced time of rice transplanting (June 10) is continued, it is projected that by the year 2025, the GWT in many areas of Barnala, Sangrur, Patiala, Moga and Fatehgarh Sahib would be lowered to 40-55 m. In these districts, the average WTF ranges from 59 to 98 cm per year. In three districts (Moga, Sangrur and Barnala) there are chances of reverse flow of saline ground water from the south-western parts, and of deterioration of tube well water quality.
In large areas of Punjab, inclusive of the other districts, Shaheed Bhagat Singh Nagar, Kapurthala, Ludhiana, Jalandhar, Amritsar, Tarn Taran — with the average WTF ranging from 20 to 51 cm per year — the farmers will have to replace the centrifugal pumps with submersible pumps. This is going to aggravate the electricity demand for tube wells and further burden the pockets of farmers. This will lead to an increase in the indebtedness of Punjab farmers, which at present stands at Rs 35,000 crore. Farmers must understand that free power to tube wells is a sweet poison because it is one of the reasons behind the rapid fall of water table and their indebtedness. Now is the time for farmers, high irrigated northern states of India, and the Central government to act to arrest the ground water table fall in Punjab, Haryana and western UP, or wait for the doom's day to arrive, which is not far away.
Myths on rice culture
It is generally held and propagated that rice is a water-guzzler crop. It must be known that the crop is water guzzler only if it is transplanted earlier than the onset of monsoon rains. Rice crop is certainly an energy guzzler (60 per cent of annual electricity is supplied to tube wells for rice cultivation), which could be reduced by technologies, namely laser land levelling, alternate wetting and drying (both fixed-day interval and tensiometer-based irrigation), zero tillage transplanting, direct dry seeding, aerobic rice, transplanted rice on fresh beds, etc. It has now been proved that these technologies have negligible effect on the rate of ground water decline. The technologies such as delayed transplanting coinciding with monsoon rains and short duration rice cultivars can only have large reductions in the rate of ground water decline.
The other common myth is that the rice culture has degraded the soils, which is not true. The available information has shown that over the years organic carbon status of Punjab soils has increased from 0.29 to 0.40 per cent in soils under rice-wheat crop rotation. As regards the environmental degradation due to the burning of rice straw, it can be checked if wheat is sown with Happy Seeder machine, for which Central and state governments should provide large subsidies. The other options available for rice straw management include in situ incorporation, composting, use as bedding material under cattle, baling for transportation, use for biogas generation, use as substrate for mushroom growing, etc. Its burning needs to be curbed.
Crop diversification
Diversification of rice and wheat appears to be an uphill task unless high-yielding or high-value crops requiring less water along with their assured market returns are provided to farmers. To achieve this objective, the Centre and state government will have to invest heavily both on research and development of infrastructure for alternative crops, as research institutes are the backbone of overall development (a typical example is of the PAU and its role in Green Revolution).
The process of diversification is time consuming. The short-term solution or immediate task should be to diversify the rice culture using improved technologies. We need to revert to the rice culture of the 1970s, i.e. growing rice only during the monsoon period. This will reduce excessive ground water withdrawals. This would be possible as the PAU has released high-yielding and short-duration varieties of non-basmati rice. These are PR 121 (140 days to mature), PR 122 (147 days to mature) and Punjab Basmati 3 and Pusa Punjab Basmati 1509.
Reverting and restricting the rice culture to rainy season will gradually lead to diversification. To begin with, during their free time in May-June, farmers can apply farmyard manure (FYM) and undertake sowing of maize hybrids, which respond well to the FYM. Profitability of maize may approach that of rice crop as both maize grain and stalks are excellent dairy cattle feed. Thus, replacing rice with maize and wheat with 'berseem' fodder will help in encouraging two-way diversification as maize has multiple uses and 'berseem' is the most favoured fodder for dairy.
Later, farmers themselves will gradually shift to the sowing of other high value crops such as vegetables, cash crops, pulses, etc. The diversification efforts can succeed if area-specific cropping pattern is planned and implemented depending on the needs of agro-climatic zones. The setting up of nutritional gardens in each of the 12,600 villages of Punjab will serve the purpose of nutritional security as well as diversification. Farmers need to be educated about alternative crops, along with their production, protection and marketing technologies.
Water-wise
Advancing rice transplanting to May-end has led to a drastic fall in the ground water table (GWT) in central districts of Punjab.
If the present transplanting time of June 10 is continued, by 2025, the GWT in many areas of Barnala, Sangrur, Patiala, Moga and Fatehgarh Sahib would be lowered to 40-55m.
If transplanting starts from June 20, the GWT will rise in 53 per cent area of Punjab. It will decrease the GWT decline by 25 cm every year.
If transplanting is restricted to monsoon, the GWT will start rising in 67 per cent area of Punjab.
— The writer is former Additional Director of Research (Agriculture), PAU, Ludhiana