The British postal service, Royal Mail, is investigating a letter that was opened and resealed with a racist taunt before it was sent on to an NRI working as a nanny in the Southall area of West London.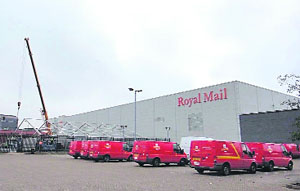 The police suspects the letter was opened by someone working for Royal Mail
"Get out of my country you smelly PakiB….." was the provocative message scrawled inside the letter before it was sent on and delivered in the post.
Royal Mail is investigating after a letter sent to an Asian nanny was opened, graffitied with a racist message, before being resealed and delivered in the post. A Swastika and the symbol of the National Front symbol were added below in the letter addressed to 33-year-old Gurinder Kaur.
Police detectives from Scotland Yard, who are dusting the letter for finger prints, suspect the letter was probably handled and opened by someone working for the postal service. This is also the theory of the employment agency that sent the letter.
A spokesman for the agency commented to the British media, "The racist comments were handwritten and we believe they were added to the letter after it had been mailed by our staff since the letter appears to have been opened and resealed prior to final delivery."
For her part Ms Gurinder explained, "I noticed straight away that the letter had been opened before it got to me as the sticky part had come away.
"When I opened it I was taken aback by the message. It has caused a lot of shock to my family and friends but I am not so worried about it. I have to try to think that it was a one-off and completely random.
"Hopefully it was someone just having a bad day and that's the end of it. They probably saw my name is Asian and just did it."
She went on, "I know there have been cases where envelopes are opened and cash is taken from inside but I've never heard of anything like this. I would like to know if it has happened to others.
" I've not had any problems with racism in the past, I have even lived in areas where I was in the minority and there was nothing like this."
The London police and the Royal Mail have each confirmed they are investigating reports of racial harassment.

Punjabis try for FM radio licence
A Punjabi language radio station has submitted an application for a coveted FM radio licence to broadcast in the Coventry area of the UK. Headquartered in Hayes, London, Panjab Radio targets audiences in currently broadcasts on DAB Digital Radio across the West Midlands as well as London, the North East and West Yorkshire. It describes itself as "an energetic business offering entertaining radio programmes to listeners throughout the UK, Europe and worldwide on different platforms."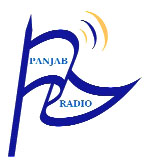 This is the first time Panjab Radio has bid for an FM licence, or proposed a purely local version of its successful Punjabi-formatted radio station.
Backers say its mission is to "provide a high quality broadcast service that informs, entertains and actively represents and promotes the Punjabi language, heritage, culture, traditions, music and artistes, acting as an agent of cohesion through which all Punjabis can unite and flourish."
Currently, Sikh religious programmes are broadcast everyday between 3am and 12 noon as well as from 6pm to 8pm. In keeping with Sikh principles the radio station does not endorse products – like alcohol and tobacco – that go against the community beliefs.
"With nearly 50,000 Asians in the Coventry area we've been asked time and again why there isn't a radio station for this community", says Managing Director Surjit Singh Ghuman, MBE.
"FM licences rarely become available, so we've spent the last six months working with the community to devise plans for a perfect radio station. We've also commissioned independent research into the tastes and interests of Coventry residents and analysed the output of the existing local radio stations. If there was ever the time for a Punjabi radio station, this is it!"
The 96.2 FM frequency is currently occupied by Touch FM which has just 18,000 listeners each week compared to Free Radio Coventry (previously Mercia FM)'s  101,000 and BBC Radio Coventry & Warwickshire's 73,000.
Panjab Radio's research shows that 90% of the artistes and 82% of the songs played on Touch FM were also played on either Free, Free 80s, Heart, Smooth or Kerrang!
Mr Ghuman adds,  "The 96.2 licence whether as Kix 96 or Radio Harmony has historically been occupied by specialist radio stations, its current incarnation as a mainstream station offers nothing new to Coventry and clearly their current listening figures bear that out.
"Panjab Radio Coventry is led by an impressive local team of Directors who bring with them a proven track record and extensive knowledge in business, marketing, accountancy and the Coventry community, together with experience with local radio broadcasting and advertising, which will provide excellent support as we build the radio station with integrity and commitment in delivering a high quality, consumer-led service to our proposed FM listeners."
A support letter received from local Coventry  Councillor Philip David, Townshend Cabinet Member, Community Safety and Equalities, says,  "as the Cabinet Member responsible for Equalities in Coventry, there is quite clearly a demand from the city's 50,000-strong and vibrant Asian communities for a Punjabi music radio station. Panjab Radio Coventry will broaden the media mix in Coventry so that certain communities are no longer disenfranchised from local radio. It will be good news for the city of Coventry should the Panjab Radio bid be successful, and I wish to lend my unequivocal support to their application for a licence".

fortunately, some NRIs in the UK also have good news stories to share with the wider community. One of them is Dr Farhan Nizami, Director of the Oxford Centre for Islamic Studies, which is due to welcome its first intake of graduate students later this year.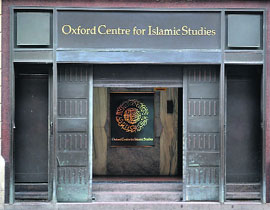 Oxford Centre for Islamic Studies, which is due to welcome its first intake of graduate students later this year.
The £80 million Centre, which raised funds from across the Muslim world and is open to all Islamic schools, sects and traditions, has the backing of Prince Charles, who said he supported an institution "which can remind the Islamic world and the West of those universal principles of harmony enshrined within Islam that the world needs so urgently to rediscover in the battle to preserve the world for our descendants."
Although not due to formally open until next year, the highly regarded Centre in the City of the Dreaming Spires is active and functioning. It publishes the journal of Islamic Studies and has hosted all manner of big name lecturers, including Sonia Gandhi, Kofi Annan and Nelson Mandela.
Dr Nizami is the son of the late KhaliqNizami, a fomer Vice Chancellor of Aligarh Muslim University, and is himself a first class graduate of Aligarh Muslim University from where he obtained his degree in 1977 before winning an Oxford Overseas Scholarship. He obtained his doctorate from Wadham College, Oxford, in 1983 and was made Commander of the Order of the British Empire (CBE) in 2006.
A few years ago he charged British Muslims with not doing enough to make sure their children learn to speak English or providing enough support for their education.
In an interview with the Daily Telegraph newspaper, he commented, "Muslim families have to realise the importance of education for their children and make an effort to push them into achieving more.
"They need to make them aspire to things higher rather than just being self-employed and looking for small-jobs."
Commenting on the security threat to UK society said to be posed by some foreign-born imams, he was quoted as saying, "The assumption that foreign imams equal something undesirable is not always true. In fact, some of the more radical elements of British society are British-born. This is not an issue that needs to be seen in terms of religion, but in issues of alienation and deprivation."

social analysts like to argue that the UK today is a more tolerant society than it has ever been, but, sadly, as Ms Gurinder's experience demonstrates, that is not always the case.
North of London, in Nottingham, a 35-year-old NRI teacher is claiming damages from a school where he claims he was subjected to racist abuse from pupils and staff.
He claims that two offensive notes -- one reading "Farewell Bollywog" , and another that saying "Goodbye turbanator" -- were left in his staff pigeonhole shortly before he was dismissed from his job in 2008. Sood is claiming damages for lost earnings and damages to his feelings.
Sadder still is the story of a 56-year-old NRI from Manchester who was racially abused and beaten up in a tram while fellow passengers just stood by doing nothing.
Prakash Patel had been to a football match with his daughter Devyani and both were on a tram returning home when half a dozen men started making "indecent racist comments."
After Mr Patel told then to behave, they started punching him on the face and the back of his head. In his published testimony Patel says, "There was one in front of me and one behind me both punching me in my face and on the back of the head. They were hitting me in the face, the eyes, the head. After two punches I think I blacked out but the carriage was so full that I was unconscious while standing up. Nobody did anything or said anything, they all just stood and watched us.
"Nobody did anything to stop them or help me afterwards. My daughter was the only one who helped me.  She managed to push one of the men off and then the other stopped. It seemed like the other passengers just wanted the drama.
"I had concussion and I needed a CT scan and was off work for two weeks. My wife had to stay off too to look after me. Now I can't walk outside on my own and I will never go on public transport again and I will only ever watch Manchester United in a box, never again will I sit in the stands. I lost 3kg in the two weeks after the attack."
Since the attack the Manchester police has appealed for witnesses to come forward. They say policing on public transport will be reviewed.
A spokesman for Transport for Greater Manchester said, "Our thoughts go out to Mr Patel and his daughter after their truly harrowing experience. Any criminal act, attempted or otherwise, on a Metrolink tram is for GMP (Greater Manchester Police) to consider and investigate."