'Punjab fit case for President's rule'
Patiala, April 1
Newly appointed PCC president Partap Singh Bajwa has said Punjab is a "fit case for President's rule as even policemen are not safe in the state". He said he had already made an appeal to the Union Home Minister in this regard and would soon meet the Punjab Governor.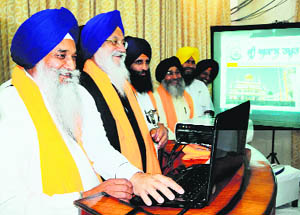 Akal Takht launches its website
Amritsar, April 1
Akal Takht, the highest temporal seat of Sikhs, has gone tech savvy with the launch of its website www.akaltakhatsahib.com here today.




Akal Takht Jathedar Giani Gurbachan Singh (left) and SGPC president Avtar Singh Makkar (2nd from left) launch the website in Amritsar on Monday. Photo: Vishal Kumar

Thin crowd greets Anna in Ludhiana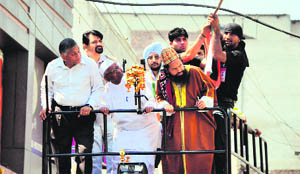 Ludhiana/Jalandhar, April 1
Disappointed over thin crowd at his rallies in Ludhiana, social activist Anna Hazare said: "Main akela bhi chalunga" (I will also move alone). Anna addressed his supporters at six separate programmes in the city. He, however, failed to attract the public as per his expectations.

Anna Hazare's cavalcade passes through a street having low lying wires in Ludhiana on Monday. Tribune photo: Himanshu Mahajan

Morale takes a beating as 3rd ASI killed in a month
Chandigarh, April 1
With the state witnessing third death of an Assistant Sub-Inspector in a month, and the fourth in recent past, the morale of low-rung officers in the Punjab Police has been affected.
Election time again
Panchayat polls likely next month
Chandigarh, April 1
Punjab will soon be heading for another poll, this time to elect representatives to about 13,100 panchayats, 145 panchayat samitis and 22 zila parishads.


Championing a cause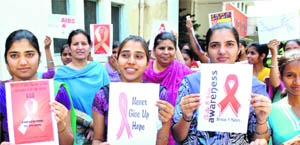 Members of the GCG Red Ribbon Club hold an awareness rally on AIDS in Patiala on Monday. Tribune photo: Rajesh Sachar
Erring sarpanches
State to regulate appointment of administrators
Chandigarh, April 1
The Punjab Government has issued instructions to regulate the appointment of administrator. They will now be appointed strictly in accordance with Section 200 of the Punjab Panchayati Raj Act, 1994. As per the Act, Section 200 can be invoked to appoint administrator "in case of any default".
Fearing for life, lovebirds refuse to step out of jail
Faridkot, April 1
Fearing reprisal from their parents, a 22-year-old boy and his 20-year-old girlfriend are not stepping out of the Central Jail here for the last over three weeks. They were arrested by the police for the alleged offence of not disclosing their identity.
Govt to make payments via online transfer
Chandigarh, April 1
The state government today started making all payments from the treasury through electronic clearing system (ECS) across the state. "Henceforth, no payment from the state treasury will be made through cheque, cash voucher or any other mode involving paper work," said Satish Chandra, Principal Secretary, Finance, who will relinquish his charge tomorrow to join his new posting with the National Highway Authority of India.
Neglected stadiums turn into safe haven for drug addicts
Tarn Taran, April 1
Even as the state government boasts of promoting sports and creating infrastructure at the village level, most of the stadiums in rural areas in this border district have become a safe haven for drug addicts.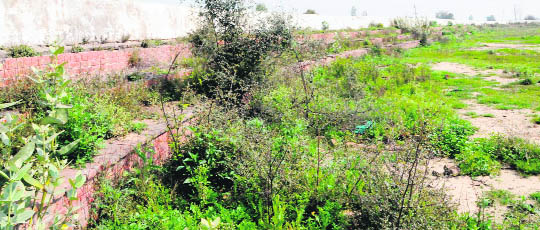 Wild growth covers the playing area of a stadium at Naushera Pannua village in Tarn Taran. Photos: Vishal Kumar
Petrol to cost less in state
Amritsar, April 1
With oil companies deciding to slash petrol prices by 85 paisa from Monday midnight, the petrol in Punjab is expected to be cheaper by Rs 1.05 to Rs 1.10 per litre, bringing respite for the common man reeling under inflation.
Late harvest delays wheat procurement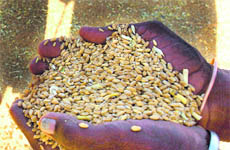 Chandigarh, April 1
The wheat procurement season officially began today but it will take another 10 days for farmers in Punjab to see their wheat crops ripen and get ready for harvesting. As a result, no wheat arrivals have been reported in any of the 1,770 mandis of the state today.


A farmer hands out his wheat produce to an arhtiya. Tribune photo: JS Virdi

Ropar nature trail in shambles

Ropar, April 1
Sadabrat Nature Trail that was inaugurated four years ago here to promote eco-tourism is in a shambles due to the apathetic attitude of the authorities concerned. The trail was set up at a cost of Rs 20 lakh on 72 acres in the Sadabrat Forest that lies on the bank of Sirhind. It now lays covered in wild grass with all of the medicinal saplings planted on either side of the 1.5-km long trail dried up.
The Sadarat Nature Trail in Ropar. A Tribune photograph

Real investment far less than proposed
Chandigarh, April 1
Punjab has received about 20 per cent of the proposed investment amounting to Rs 63,852.40 crore with mega housing and industrial projects cornering the major share since 2007-08.


Rapist gets RI for life
Sangrur, April 1
Additional sessions judge Virinder Aggarwal today sentenced Navdeep Singh (20), resident of Mandvi village, Khanauri, to rigorous imprisonment (RI) for life for raping a woman and circulating an obscene video of hers'.
IAS officer's plea against transfer dismissed
Chandigarh, April 1
The Punjab and Haryana High Court today dismissed an appeal filed by retired IAS officer BK Srivastva. He had challenged Punjab Government's decision to take from him the charge of Punjab Board of Technical Education and Industrial Training chairman.
Recruitment of constables
Petition challenging cancellation of candidature dismissed
Chandigarh, April 1
The Punjab and Haryana High Court has made it clear that the word "etc" used in the advertisement for recruiting 100 constables in the Punjab Police does not include private, non-recognised computer training institutes. With this, a candidate's attempt to take advantage of the word "etc" in the advertisement has failed to find favour with the High Court. He had tried to show that a candidate with a certificate or diploma in computer application from the private institute would also be eligible for recruitment, due to the use of word "etc" in the educational qualification for the post.



Man assaults 6-yr-old son, burns him with cigarette butts
Patiala, April 1
Six-year-old Rajatdeep Singh from Bahadurgarh has been admitted to the surgery ward of Government Rajindra Hospital, Patiala, after he was repeatedly attacked by his father.