Non-resumption of Toronto flight setback for Amritsar airport
Amritsar, April 2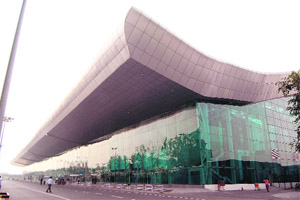 The Air India's decision not to resume the Amritsar-Delhi-Toronto flight this summer season as well has drawn flak from various quarters. Those who have come out against the decision say it will cause further loss to Shri Guru Ram Das Jee International Airport, Amritsar, which is already in the red.
Airport well-equipped, but in losses: The airport, whose annual loss has mounted to Rs 55 crore, is high on infrastructure as it has been renovated with major capital. It is CAT-II compatible and can handle over 1,200 passengers at a time. It is capable of handling wide-bodied aircraft and has 14 parking bays. The growth in traffic was 22.7 per cent in 2009 when the new airport complex was established. Domestic and international traffic peaked to 9 lakh by 2012. The airport also has perishable cargo handling facility as well.

Amarinder Bajaj is Patiala Mayor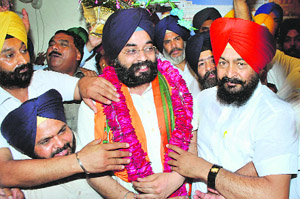 Patiala, April 2
Shiromani Akali Dal (SAD) president and Deputy Chief Minister Sukhbir Singh Badal today appointed two-time councillor Amarinder Singh Bajaj as the Mayor of Patiala. Bajaj (34), the fourth person to head the local Municipal Corporation, was elected unanimously in the presence of Cabinet ministers Surjit Singh Rakhra and Sikandar Singh Maluka.
Patiala Mayor Amarinder Singh Bajaj with his supporters on Tuesday. Tribune photo: Rajesh Sachar

Congress vice-presidents take charge
Chandigarh, April 2


Punjab Pradesh Congress Committee (PPCC) president Partap Singh Bajwa today said his party would now, after having registering a "victory" by stalling the implementation of property tax, go after illegal mining in the state.
(From left) Congress vice-presidents for Malwa region Charanjit Channi and Gurpreet Kangar, CLP leader Sunil Jakhar, PPCC chief Partap Singh Bajwa, vice-presidents OP Soni (Majha) and Tarlochan Soondh (Doaba) after their installation in Chandigarh on Tuesday. Tribune photo: Manoj Mahajan

Sukhbir: Demand for President's rule a joke
Bathinda, April 2
Ridiculing the call for President's rule in Punjab by the Congress, Deputy Chief Minister Sukhbir Singh Badal today said the dream of the Congress to rule the state "through proxy" by imposing President's rule would not come true and advised them to come out of such illusions.
BJP all set for Lok Sabha poll: Kamal
Sujanpur (Pathankot), April 2
Punjab BJP president Kamal Sharma has said the party is in a state of full preparedness to contest the parliamentary elections from all the three Lok Sabha seats allotted to it in Punjab.


Rs 484-Crore drug haul case
Police may issue lookout notice for Ram Singh's relative
Fatehgarh Sahib, April 2
The district police will soon issue a lookout notice for boxer Ram Singh's brother-in-law and proclaimed offender (PO) Ravicharn Singh alias Ravi Deol, whose name figured in the Rs 484-crore drug haul case. Sources said the police was yet to make any headway in arresting Deol and the other two accused, Satinder Singh alias Dhama, resident of Panchkula and Avtar Singh of Patiala.

Pakistan repatriates Indian girl
Abohar, April 2
In a goodwill gesture, the Pakistan Rangers handed over a six-year-old girl, Pooja, to the Border Security Force (BSF) late last evening after a flag meeting near the border outpost (BoP) Neelkanth in Khajuwala segment in Bikaner. The minor had inadvertently crossed the border while collecting wood on Friday.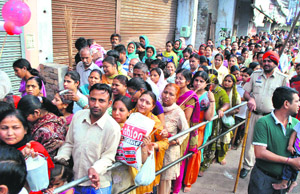 Day of the faithful: Devotees queue up to visit the historical Mata Shitala Temple in Patiala on Tuesday. Tribune photo: Rajesh Sachar

Property tax: Govt devising new formula
Chandigarh, April 2
The property tax will be charged on the basis of a new formula being worked out by a high-level committee, senior BJP leader and Cabinet Minister Madan Mohan Mittal said here today. Mittal said the committee had been set up after discussing the tax issue with Chief Minister Parkash Singh Badal, who himself was keen on simplifying the existing formula, which was being seen as a complicated one and beyond comprehension of the common man. Even small shopkeepers would have ended paying hefty tax.
Cops under attack again
Amritsar, April 2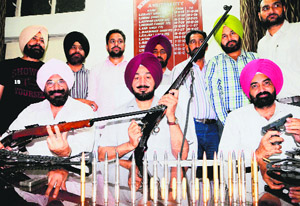 A day after an Assistant Sub-Inspector was shot dead by drug smugglers on the Jalandhar-Phagwara highway, four car-borne youths fired at a police party near Dhapai railway crossing here today after the vehicle was signalled to stop. In the action that ensued after the firing, two of the youth, Ranbir Singh Rana of Kandhowali village and Jagroop Singh of Romana village, were arrested.
Police officials show the weapons seized from the accused, in Amritsar on Tuesday. Photo: Vishal Kumar

No headway in ASI murder case
Phagwara, April 2
It's been more than a day since Assistant Sub-Inspector Gurdev Singh was shot dead on the New Delhi-Amritsar National Highway here at 2:45 am on Monday. The police, however, is yet to make any arrests in the case.
Anna calls for unity against 'corrupt system'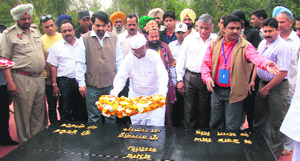 Faridkot, April 2
Accompanied by former Army Chief General VK Singh, social activist Anna Hazare today reached Faridkot with an endeavour to mobilise people in his fight against corruption and the "inefficient" political system in the country on the second day of his "Jantantra Yatra" in Punjab.
Anna Hazare pays tributes to martyrs at the Hussainiwala memorial in Ferozepur on Tuesday. A Tribune photo

Right to Service: Erring officers in line of fire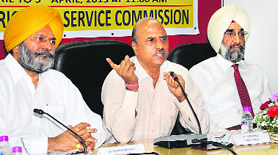 Chandigarh, April 2
Setting an example for erring officers not providing services within the prescribed time limit, the Punjab Right to Service Commission (PRSC) has fined several officers in the state during the past little over a year since it was commissioned in late 2011.
(From left) RTS Commissioners Dalbir Verka, SM Sharma and HS Dhillon at a press conference in Chandigarh on Tuesday. Tribune photo: Manoj Mahajan

Swine flu: Rajindra Hospital violates safety norms
Patiala, April 2
Though seven people have died of swine flu in the past three months and 22 have tested positive for the same in Patiala district, Government Rajindra Hospital, Patiala, chooses to expose its patients to those suspected to have swine flu in its Intensive Care Unit.
IT Dept to crack down on companies not remitting TDS


Ludhiana, April 2
The Income Tax Department will crack the whip on big companies and organisations that do not remit Tax Deducted at Source (TDS) even after doing the same to their employees' salaries. Fifty such cases have been sent to court. The Central Board of Direct Taxes (CBDT) has asked all IT ranges to identify such organisations and initiate prosecution against them in court.
Farmers urged to bring dried produce to mandis
Patiala, April 2
The district authorities today appealed to farmers to bring their produce to the mandis only after it was dry as some farmers had brought in their harvest that wasn't properly dried up.
Basic amenities missing at mandis in Muktsar district
Muktsar, April 2
Though the wheat procurement season formally began on Monday, proper arrangements are still not in place in the majority of the grain markets in the district.
Amritsar-Chandigarh flight discontinued
Amritsar, April 2
Within nine months of its launch, Air Mantra has withdrawn its Amritsar-Chandigarh flight, apparently due to lack of passengers. Incidentally, it was the only flight connecting the state's capital to the holy city.
Sangrur residents stage dharna against police
Sangrur, April 2 Several people today took out a protest march in Lehragaga and held a dharna in front of the police station, demanding the inclusion of Section 307 of the IPC to the FIR, registered against Patwari Balkar Singh. Singh had allegedly stabbed a 50-year-old woman from Jhaloor village with a knife at Lehragaga on March 22.


Bailable warrants issued against Bollywood actor Jimmy Shergill
Sangrur, April 2
The sub divisional judicial magistrate (SDJM), Sunam, has issued bailable warrants against Bollywood actor Jimmy Shergill and nine others to ensure their presence in the court on June 6, 2013.