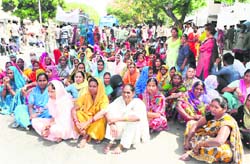 Up in arms: Residents of Colony No. 5 block the road separating sectors 44 and 45 to press for their demands in Chandigarh on Tuesday. tribune photo: parvesh chauhan
Money can't bring Anupama back, says father
Chandigarh, April 2
Though the Consumer Disputes Redressal Commission today penalised the PGI and the CTU for deficiency and negligence, leading to Anupama's death, her parents say their loss remains irreparable. "We are grateful to all those who supported us and ensured that the PGI and the CTU were penalised. The amount of compensation is heavy. But can it bring back our beautiful daughter?" asked Amit Sarkar, Anupama's father with moist eyes.
Hospital fails to implement panel's recommendations
Chandigarh, April 2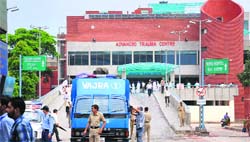 Three months after an external committee probing the cause of Anupama's death submitted its report along with recommendations, the PGI has failed to ensure the proper implementation of the recommendations.


A file photo of the Advanced Trauma Centre, PGI
Don't engage langurs, Admn tells residents
Chandigarh, April 2
City residents will now not be able to engage langurs to deal with the monkey menace.
SC verdict a welcome dose, say cancer patients
Chandigarh, April 2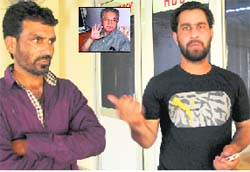 Their strength to battle the deadly disease has got a boost and overcoming it now seems easier as well as affordable. The decision of the apex court rejecting Swiss pharma giant Novartis' plea for a patent on cancer medicine Glivec has ensured the availability of the low-cost generic drug for hundreds of cancer patients at the PGI. The monthly dose of a generic version of Glivec, which costs nearly Rs 8,000, would have gone up to Rs 1.25 lakh had the patent been allowed.
Relatives of a cancer patient, Sajad Ahmad, at the PGI in Chandigarh on Tuesday. Tribune photo: Pradeep Tewari (inset) MK Bareja, a cancer patient
CTU adds 15 buses for schoolchildren
Chandigarh, April 2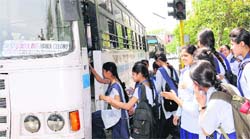 Anupama's tragic death has not gone waste. The number of separate buses for government schoolchildren has now increased to 40 after the Chandigarh Transport Undertaking, in coordination with the Education Department, yesterday started 15 new buses to ease the transportation problem.

Students board a school bus in Sector 18, Chandigarh, on Tuesday. Tribune photo: Manoj Mahajan




UT shuts eyes to encroachment
Chandigarh, April 2
The Chandigarh Administration's zero tolerance to encroachments, especially on government land, seems to be on paper only. It has turned a blind eye to a glaring encroachment that has literally come up "overnight" on a prime chunk of land worth crores of rupee in Kajehri village.



The encroached land in Kajehri village in Chandigarh. Tribune photo: Parvesh Chauhan
Three protesters hurt in lathicharge at Kharar
Mohali, April 2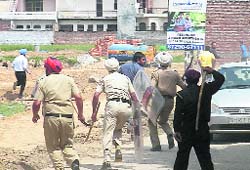 Three persons sustained injuries in a police lathicharge on the employees of Punjab Animal Husbandry, during their protest at Kharar here this morning. The injured persons, identified as Manjit Singh, Shaukat Ali and Gurmeet Singh have been admitted to the local Civil Hospital today. The police had also arrested around 10 persons for creating ruckus, who were later released by the local court.

Policemen chase protesters at Kharar on Tuesday. A Tribune photograph
Police introduces wrong section in Jyoti murder case
Panchkula, April 2


In a major goof up in the Jyoti murder case, the Panchkula police introduced a wrong Section 4 of the SC and ST Act in the case, despite the fact there was no relevance of the same. However, after the formation of Special Investigation Team (SIT), they admitted their mistake and deleted that Section and introduced Section 3 of the SC and ST (Prevention of Atrocities) Act-1989 and 120B (Criminal Conspiracy) of the Indian Penal Code.
Killer road stretch: Mohali residents hold protest
Mohali, April 2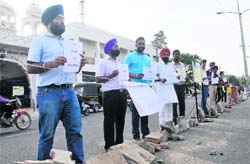 In a surprise move, the residents of Phase 5 blocked an approach to the road by putting huge stones and tying up a rope near Sahibwara Gurudwara, here today.






Residents protest in front of the Phase V gurdwara in Mohali on Tuesday. Tribune photo: Vicky Gharu
Hike in collector rates to add to P'kula residents' woes
Panchkula, April 2
Even before the first bill of the property tax will reach your home, be prepared to shell out extra money from your pocket as administration has announced an increase in the collector rates of the property. It's a general presumption that hike in collector rates will only affect the new buyers but the reality is that it will also affect the budget of every household.
Industrial unit sealed
Chandigarh, April 2
The enforcement staff of the UT Estate Office today sealed an industrial unit in Industrial Area, Phase I, here after eviction orders were passed by the court of the SDM (East) under the Public Premises Act.
Team inspects work at railway station
Chandigarh, April 2 To speed up the ongoing works at the Chandigarh railway station, an inspection team, headed by Divisional Railway Manager (DRM) PK Sangi today visited the station. The DRM directed the officials to speed up the ongoing construction of parcel rooms and waiting rooms.
e-Aadhaar letter valid as proof
Chandigarh, April 2
An electronically generated version of the Aadhaar letter, e-Aadhaar letter, will be treated on a par with the original Aadhaar letter and considered a valid proof of identity and address.


SOPU members stage protest at UIET
Chandigarh, April 2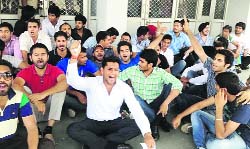 Members of the Students Organsiation of Panjab University (SOPU) today staged a protest at the University Institute of Engineering and Technology (UIET) to press for their demands made by students for allowing them to appear in the compartment exams of odd semesters in even semesters.
Members of the Students Organsiation of Panjab University stage a dharna in front of the UIET Director's office at Sector 25, Chandigarh, on Tuesday. A Tribune photograph
Education staff demand rollback of decision
Chandigarh, April 2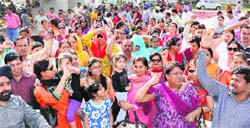 Members of the UT Cadre Educational Employees Union staged a protest against increasing the working hours of teachers outside the District Education Officer's (DEO) office, Sector 19, here today.

Government teachers hold a protest outside the DEO's office, Sector 19, in Chandigarh on Tuesday. Tribune photo: Manoj Mahajan
Panjab varsity fails to take action on inquiry report
Chandigarh, April 2
Diluting the importance and urgency of the complaint of sexual harassment made by teachers of the Guru Tegh Bahadur Khalsa College for Women, Dasuya, against the superintendent of an examination centre, Panjab University has failed to take any action on the report that was submitted by a four-member committee on March 8.
Parents forced to buy notebooks from particular shops
Chandigarh, April 2
Besides textbooks and stationery items, parents are now being forced to buy school diaries and notebooks from particular bookshops.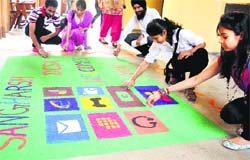 Contests mark IT fest
Chandigarh, April 2
The Department of Computer Science and Applications (DCSA), Panjab University, organised a one-day IT fest "Sangharsh- 2013" here today on the university campus.


Students of the department of computer science and applications, Panjab University, take part in a rangoli-making competition on Tuesday. Tribune photo: Pradeep Tewari