Ministers away, Sectt wears a deserted look
Chandigarh, April 8
With all ministers away for the SAD's Goa Vichar Manthan, the Punjab Secretariat here wore a rather deserted look on the first working day of the week. This reporter, walking from the security checkpoint to the main building, encountered only one visitor this morning. There was no change in the scenario in the afternoon.
Departments pulled up for incomplete replies in court
Chandigarh, April 8
Peeved about being repeatedly asked by courts to file affidavits in his official capacity on account of "improper" or "incomplete" replies by different departments, the Punjab Chief Secretary has asked administrative secretaries to fix responsibility for each legal document.
Now on, SGPC to be more cautious
Amritsar, April 8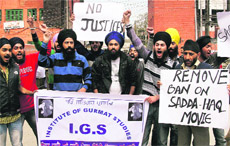 Avtar Singh Makkar, SGPC chief, said here today that the SGPC had backed the Punjabi movie, 'Sadda Haq', after viewing it from the religious perspective. "Henceforth, the SGPC will think twice before giving the green signal to any movie," he added.



Members of the Institute of Gurmat Studies protest against a ban on the release of Punjabi film 'Sadda Haq' in Srinagar on Monday. — PTI

JP Dutta to make film on Moga Armyman's heroic saga
Moga, April 8
The Union Ministry of Defence has decided to help Hindi film producer JP Dutta make a movie on the heroic saga of Subedar Joginder Singh who sacrificed his life while defending the Tawang sector in the India-China war of 1962.
Drug dealers' escape
Dy Jail Supdt suspended for negligence
Patiala, April 8
The Punjab Home Department has suspended Deputy Jail Superintendent Daljit Singh Bhatti for gross negligence in carrying out his duty at Ferozepur Central Jail. He was held responsible for the escape of two drug dealers in January, 2013 from the jail.
DPS branch opens in Sangrur
Sangrur, April 8
A branch of Delhi Public School (DPS) was inaugurated by Ashok Chandra (a retired IAS officer), chairman of the Delhi Public School Society, New Delhi, here yesterday.
SGPC fumes as Pak dithers on visa to pilgrims
Amritsar, April 8
Uncertainty looms large over the visit of an SGPC-led Sikh jatha of pilgrims to Pakistan to celebrate Baisakhi. SGPC president Avtar Singh Makkar today said they might consider not sending the jatha, "if Pakistan doesn't give a certain number of visas to the pilgrims who have applied with them".
More in dock for encroaching on Rajasthan land in Faridkot
Faridkot, April 8
Three days after the Faridkot police booked a retired IAS officer on the directions of the Punjab and Haryana High Court for selling a piece of land belonging to the Rajasthan Government, the district administration has identified several illegal occupants of the neighbouring state's land.
Shopkeepers block traffic in Sangrur
Sangrur, April 8
In protest against the slow pace of the road construction, a large number of shopkeepers today blocked the traffic at the Traffic Lights Chowk near the main bus stand here.
IT Dy Commissioner, CA sent in remand
Patiala, April 8
A local CBI court today sent Income Tax Deputy Commissioner PK Bhattacharya and Jalandhar-based chartered accountant (CA) Ashwini Gupta, arrested in a bribery case, to 14-day judicial remand. The two were arrested by CBI officials on April 3, for allegedly taking a bribe of Rs 6 lakh.
Leprosy cases on the rise
Sangrur, April 8
Until recently, most Punjabis didn't suffer from leprosy. Most of those affected by leprosy in the state were migrants. But in the past three years, 21 Punjabis have contracted the disease. Eighty cases have been detected in Sangrur district in the last three years. Doctors say Punjabis should avoid contact with migrants afflicted with the disease to prevent the disease from spreading in the community.
108 service: Govt yet to remove Badal's photo from ambulances
Jalandhar, April 8
The state government has failed to pay heed to the Centre's direction seeking removal of Chief Minister Parkash Singh Badal's photographs from the ambulances belonging to the 108 service.
HC notice to UT, Punjab on PIL
Chandigarh, April 8
The Punjab and Haryana High Court today issued notice to the Centre and authorities in Punjab, Haryana and Chandigarh on a public interest litigation seeking a ban on cancer-causing agents.
HC order summoning Chief Secy set aside
Chandigarh, April 8
A Single Judge's order summoning Punjab Chief Secretary, after taking cognisance of the state government's alleged failure to pay salaries to employees on time in "several" cases, has failed to find favour with a Division Bench of the Punjab and Haryana High Court.
Notice issued to Centre on PIL against Henry
Chandigarh, April 8
The Punjab and Haryana High Court today issued a notice to the Union Home Ministry on a PIL filed by Jalandhar-based RTI activist Ajay Seghal for becoming party to the revision petition filed by former minister Avtar Henry against the termination of his Indian citizenship. Sehgal had brought Avtar Henry's citizenship issue under the judicial scanner.
MLA's son-in-law held for posing as CID agent
Ludhiana, April 8
The city police has booked Mohammad Yasin, son-in-law of Congress MLA from Bhadaur Mohammad Sadique, for allegedly posing as an undercover agent of the Crime Investigation Department (CID).