Losing the race with slow decisions
The existing system of laws and governance locks up our decisiveness in checks and balances created by the British. It hampers efforts of young Indians running in the fast lane to achieve their goals with an intensity never seen before
Surinder Singla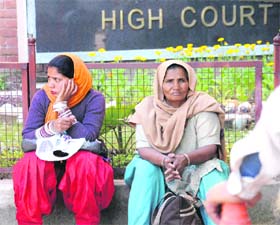 Long wait for justice: Lawyers often take unnecessary adjournments and judges cave in to such requests. Tribune photo: Manoj Mahajan
THE Union Cabinet has approved a Bill to promote transparency and accountability in the government delivery system so that people get entitled to receive, say passports, birth/death certificates, ration cards and driving licences, within a stipulated period. This realisation has dawned upon the political establishment after decades of people's suffering at the hands of the government. The BJP, in its immediate reaction, has expressed the fear that it will take away powers of the states. One would have thought if political parties are keenly interested in providing government services to citizens quickly and without any hassle, they would have welcomed a long-awaited initiative even if states surrender their power for the benefit of the people.
Delayed decision-making
"Procrastination -- a thief of time" is quite an appropriate quote to describe our government machinery; barring some exceptions of course. One such notable exception that comes with a whiff of fresh air happens to be the recent announcement by India's Environment Minister that she is fast-tracking decisions on the clearance of infrastructure projects. Not within the charter of her Ministry, she is, in fact, going beyond the call of her duty and obliging us by taking an extra load of work and trying her bit to turn around the culture of "sleeping over or shirking away".
While delaying decision-making has become a norm of our public life, fast-tracking of such decisions in the present scenario did come about after a long wrangling at one of the Cabinet committees. An idea of the Cabinet Committee on Investment was challenged on the basis that it was usurping away the power of the Ministry when the responsibility to respond to Parliament is the rostrum duty of the Minister concerned.
On the other hand, it also meant that the Cabinet potentially had no jurisdiction on the core functioning of the Ministry and the entire turf of the Ministry cannot be interfered with. Letters to the Prime Minister were addressed, including one by the former Minister for Environment, and the overall result was a delay in the formation of the Cabinet committee.
Conceptually, the speed and alacrity with which a decision needs to be taken in public interest is paramount to its effectiveness. If that be so, is it not a fact that every decision has to be as quick as possible to be effective in the circumstances? Do we lack the will to take prompt decisions? Is it true that we Indians lack the vital instinct to take quick decisions? In other words, do we lack a racing genre of some kind or is it something else?
Policy paralysis
The crisis behind the formation of the Cabinet committee speaks volumes of policy paralysis that Indian people have been clamouring about and rightly so. The acute state of inertia exists with almost every decision-maker and at every level. Of course, there may be notable exceptions here and there. However, it has spread like venom in our public systems and processes.
Let me illustrate a few cases that pertain to institutions and projects of paramount importance and their plight as a result of poor decisions at various levels. Let me start with a case of POSCO (a multinational company in steel manufacturing), a celebratory FDI project that was approved nearly a decade ago, but is still struggling to have a piece of land for setting up its plant.
At different points of time, the State Government took initiative to acquire land, however, only to surrender to obstructionists without taking a final call on it. The project seems to be taking off now. However, if one would calculate its multiplier effect had the project been implemented in time, the opportunity cost has been horrendously staggering. The initiation of the project, say six-seven years ago, would have given direct and indirect jobs of thousands and added not only revenue to the State and Central Governments but also provided raw material to a plethora of industries. It would have halted imports and could have even added a percentage point to the GDP.
It may not be out of context to suggest that this unit could potentially have provided a new railway track for having high speed trains as an extension to this project; another dream that we Indians could have aspired for. It is only natural that every achievement or a new milestone does trigger a newer and higher dream to aim for. That's what we call a cycle of achievements. However with such procrastination, such a chain gets broken and the momentum gets lost. On the basis of the project implementation agencies' report last year, delays in core projects' completion in various sectors led to cost overruns of Rs 52,445 crore.
Foreign Universities Bill
Let us look at another institution, our esteemed Parliament. There are numerous Bills that remain pending for clearance for decades and more. The Foreign Universities Bill, which was introduced way back in 1995 and reintroduced in 2010, is still languishing somewhere in its corridors. In every economy, be it the developed or developing, when the population of those countries enjoys good education resources, particularly university graduates, it plays a huge role in the growth of the economy.
Let's compare educational resources at the graduate level between India and China. China is far ahead of us as India is sending only 11 per cent of school pass-outs to universities whereas China is sending 23 per cent of its population of its school-leavers. Opposing foreign universities in India could have, at least, provoked policy-makers to go in for Indian universities to step up the momentum of giving university education. But it did not happen until recently the Government of India took a bold and imaginative decision to open Central universities and IITs in every State. But given the quality of education in some of the best universities in the world, India has denied itself its access as it failed to pass the Foreign Universities Bill. Aspiring Indians who are looking to compete internationally and emerge economically powerful find themselves pessimistic and cliquish.
Look at the institution of judiciary. The Indian judicial system that ensures the rule of law takes a heavy toll on time. It not only delays justice but also slows economic activity in various sectors as a necessary corollary. The reasons range from paucity of judges, resulting in heavy workload, to not enough administrative backups in terms of infrastructure and technology. There is no fixed time limit either for the disposal of cases or differentiated responsibility to settle cases at various levels. Lawyers connive to take unnecessary adjournments and many a time judges are ill-prepared for the case and willingly cave in to such requests.
There are stories of endless delay in decision-making in every human activity in India and they keep repeating with a unique flair and pride with no regard to the opportunity cost. It seems we neither have any value for time nor appreciate the results that a timely decision can bring about. There is no attempt to standardise and automate the processes. Rather the processes that are standardised are not followed.
Bureaucratic delays
Reinventing the wheel is a national passion where every layer of bureaucracy is analysing the case and sending it up without an attempt to take timely decisions at their own level. Before the final decision, there are numerous layers expressing merits and demerits on the decision being taken. It not only slows down the process but also gets seeped into cynicism expressed in green notings of pros and cons. Is there not a need to scrap such multiple and repetitive notings with minimal relevance? These notings leave only a very few top-notch bureaucrats responsible for decisions even if they are the most mundane ones.
Naturally, these are justified and valid everyday happenings that outside world often comment about and describe India as an archaic State and non-functional. They tell us that we don't have a sense of speed. For us tomorrow is everything whereas for the world it is today and there is no tomorrow.
Does that mean we do not have a racing gene that spurs us up for speedy action? Hope not. We may not have invented world scale innovations but, certainly, our new generation of young Indians seems to be running in the fast lane to achieve their goals with an intensity never seen before. Yet, it is the system of laws and governance that locks up our decisiveness in the checks and balances of the administration created by the British. Considering this as the new reality of emerging India, is it not possible to remove such frustrating and inhibiting bottlenecks as described above?
However, to accomplish this gigantic task, what is crucial is the Indian mindset that must acquire a new sense of speed. India is now being seen as a new addition in a leadership role at the world stage and potentially being looked up internationally as a precursor to growth and development. The present Finance Minister has launched a Government initiative to move "faster with confidence", which will only have a substantial meaning if we develop a sense of speed and latent urgency that will propel and accelerate India's growth story in its true sense.
The writer is a former Finance Minister of Punjab