Gorkha community members protest against BJP MLA's statement
Dharamsala, April 8
Members of the Gorkha community of Dharamsala protested against the statement of former minister and BJP MLA from Dehra Ravinder Ravi that hurt their religious sentiments and allegedly brought the community in bad light here today.


Activists of the Punjab and Himachal Gorkha Association burn an effigy of BJP MLA Ravinder Ravi in Dharamsala on Monday. Photo: Kamaljeet
NWI condemns statement
Shimla, April 8
National convener of the Nature Watch India (NWI) Rajeshwar Negi has condemned the statement of senior BJP leader Ravinder Ravi suggesting that Naga and Gorkha Regiments should be invited to eliminate the increasing monkey and stray dog menace in the state.
Lone drug testing lab in state without analyst
Solan, April 8
The Kandaghat-based lone composite testing laboratory, which tests drug samples, is operating without a drug analyst ever since a government analyst retired on March 31. This has put all the drug testing work on halt and samples sent from various drug inspectors can neither be received nor examined in the absence of a government analyst now.
246 cases of violation under Section 118 registered during 2010-12
Shimla, April 8
As many as 246 cases of violation of Section 118 of the Land Reform and Tenancy Act have been registered during 2010-12. The government granted over 900 permissions to non-agriculturists to buy land during the past three years. Section 118 debars the non-agriculturists from acquiring agricultural land in the state without prior permission of the government.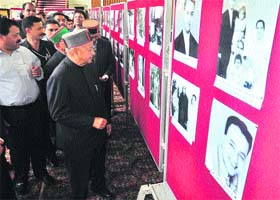 Chief Minister Virbhadra Singh takes a look at photographs during an exhibition on the completion of his 30-year association with the HP Vidhan Sabha in Shimla on Monday. Photo: Amit Kanwar
Patients return without ultrasound, forced to visit private clinics
Nurpur, April 8
A large number of patients from far-off places were forced to return without ultrasound tests yesterday after a prolonged wait of a fortnight. A radiologist from the Zonal Hospital, Dharamsala, was deputed to visit the hospital once a week by the Director, Health and Family Welfare, as a time-gap arrangement a few months earlier after the transfer of the hospital radiologist last year.
PCC chief for zero tolerance against corruption
Nahan, April 8
Pradesh Congress Committee (PCC) president Sukhvinder Singh said today that his new team would comprise leaders having a clean image. Addressing mediapersons at Nahan today, he said this would not only further the resolve of their party towards zero tolerance against corruption but also help in instilling accountability.
Centre provides Rs 2.17 cr for cocoon sheds
Bilaspur, April 8
The Centre has provided a grant of Rs 2.17 crore to 250 silk cocoon rearing families of Ghumarwin area for the construction of cocoon sheds during the last year. Recently, the Centre has opened a new Regional Silk Research Centre at Ghumarwin where 30 to 40 employees are being posted soon for giving training and encouraging production of quality silk thread with the cocoon produced in the area.
Hamirpur Nagar Parishad passes budget of Rs 6.08 cr
Hamirpur, April 8
The Hamirpur Nagar Parishad passed its 2013-14 annual budget of Rs 6.08 crore in its general house meeting held here today. The parishad has not proposed to levy any fresh tax in the budget. The budget proposals recommend spending a major portion of the budget on the completion of development works like construction of a parking lot in Hamirpur.
HPU withholds interview result of 37 teachers
Shimla, April 8
The Executive Council (EC) of Himachal Pradesh University (HPU) has decided to put on hold declaration of result of interviews held for filling over 37 teaching posts in various departments. The emergent meeting of the EC was held under the chairmanship of Vice-Chancellor Prof ADN Bajpai here today.
Cong misled people during elections: BJP
Shimla, April 8
The BJP has alleged that the Congress had misled the people during the elections and its "lies" were being now nailed by the information being provided in the Vidhan Sabha by the government.
'Ensure safety of people in border areas'
Chamba, April 8
Indiscipline and negligence on the Chamba borders in the state will not be tolerated at all and stern action will be taken against the erring security personnel, Chamba SP BM Sharma stated this while addressing a district-level joint advisory and welfare meeting here on Friday. The meeting was attended by officials of the police and security forces.
Chaitra Navratra fair
Section 144 imposed in Kot area
Bilaspur, April 8
Deputy Commissioner-cum-District Magistrate Ajay Sharma has issued a notification enforcing Section 144 of the CrPC in entire Kot police station area of the Naina Devi constituency here today.
Dharamsala to host summer carnival
Dharamsala, April 8
The summer carnival of the Kangra district will be organised in Dharamsala at the end of May. A decision to this effect was taken at a meeting of district officials, chaired by Deputy Commissioner, Kangra, C Palrasu.
Insurance firm told to pay Rs 3.70 lakh to complainant
Mandi, April 8
The district Consumer Grievance Redressal Forum, Mandi, has directed the National Oriental Insurance Company to pay a compensation of Rs 3.70 lakh to a complainant whose car was stolen from a repair shop and was insured with the company.
Training programme for faculty of polytechnics
Sundernagar, April 8
A five-day induction training programme for the faculty of polytechnics started at the conference hall of the Directorate of Technical Education here today. As many as 25 faculty members representing various government and private polytechnics of the state and officials of the directorate are attending the training programme.
Vivek is director of rural development bank
Bilaspur, April 8
The state government has appointed Vivek Kumar, state general secretary of the HP Youth Congress, as the director of the HP State Co-operative Agriculture Rural Development Bank. The government notification was received here today.
Ornaments, cash worth Rs 10 lakh stolen
Palampur, April 8
Ornaments, cash and other valuable worth Rs 10 lakh were stolen in two different incidents at Kona village near Thrual on Friday night. This is a major incident of theft in the Palampur region in the past one year.
Man imprisoned for eve-teasing
Mandi, April 8
The Judicial Magistrate (first division) Mandi, Upasana Sharma, today sentenced an eve-teaser Labh Singh to simple imprisonment of one and a half years. The judge also imposed a fine of Rs 3,000 on him after he was proved guilty of teasing, thrashing and threatening the victim, a resident of Bari Gamuni village in Mandi Sadar.
Youth killed in accident
Nurpur, April 8
Gaurav Kumar, son of Satish and a resident of Pathankot a pillion rider of motorcycle succumbed to injuries last evening at a private hospital. The deceased was riding pillion on the motorcycle on Kandwal- Lodwan link road in this sub division on Saturday evening.