Non-bailable arrest warrants issued against Ludhiana SSP
Gurdaspur, April 10
The court of Gurdaspur Sessions Judge Sanjeev Kumar Garg has issued non-baliable arrest warrants against Satinder Singh, Senior Superintendent of Police (SSP), Vigilance, for not appearing before the court in a case pertaining to the alleged murder of hotelier Gurkirat Singh Sekhon. The next date of hearing has been fixed as May 1.
Wedding function held on Patiala hospital premises
Patiala, April 10
On Tuesday night, when Patiala resident Karamjit Singh went to Government Ayurvedic Hospital to meet his ailing friend, he was in for a surprise. The hospital was lavishly decorated; a disco jockey was blasting the music; and huge tents had been pitched on the hospital premises. The hospital staff was busy attending the event organised for a staff nurse's relative due to get married soon. The staff nurse resides on the hospital premises.


A party underway at Government Ayurvedic Hospital in Patiala on Wednesday; and (right) the hospital entrance. Tribune photos: Rajesh Sachar

State to limit use of red beacons atop vehicles
Patiala, April 10

The government has initiated a process to limit the use of red beacons atop vehicles in the state. DS Bains, Principal Secretary, Home, said the government would soon prepare a draft in consultation with the transport wing and the IG, Traffic. "The proposal is to allow the use of red beacons only to those holding constitutional posts. The state cabinet will soon issue a formal notification in this regard," he said. "There are complaints that local transporters demand Rs 15,000 or more for a faster movement of trucks to Pakistan," said the spokesperson.
Security pruning leads to withdrawal of 5,000 cops
Chandigarh, April 10
Seeking to exorcise the ghost of terrorism, the Punjab Police has pulled out more than 5,000 personnel from the security of politicians, bureaucrats and other protectees over the past one year. More than 2,000 personnel were withdrawn in the last three months alone.
Bajwa seeks special status for border areas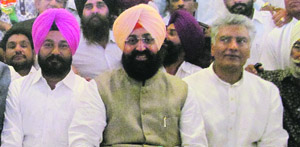 Ferozepur, April 10
Aiming to attract the residents of border areas ahead of the panchayat elections, Punjab Pradesh Congress Committee (PPCC) chief Partap Singh Bajwa today demanded a "special status" for areas sharing international boundary with Pakistan.
PPCC chief Partap Bajwa (second from right) with CLP Leader Sunil Jakhar (right), MLA Rana Gurmeet Sodhi (extreme left) and other leaders in Ferozepur on Wednesday. A Tribune photo

Consumers footing govt's power subsidy bill
Chandigarh, April 10
The "generosity" shown by the Punjab State Electricity Regulatory Commission while revising the power tariff has considerably lessened the state government's farm subsidy burden.
All is not well at ICP, alleges trader body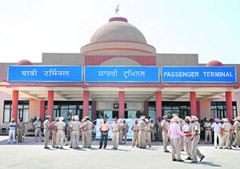 Amritsar, April 10
The Confederation of International Chamber of Commerce and Industry has said the traders have been let down by the ICP authorities on account of various issues. A chamber spokesperson said: "The most nagging issue is of the transporters. The truckers' union acts as a self-styled agency to monitor the movement of trucks coming from various parts of the country."
Verdict in Tytler case
First victory in 3 decades: Sukhbir
Chandigarh, April 10
Shiromani Akali Dal (SAD) president and Deputy Chief Minister Sukhbir Singh Badal has welcomed the judgment of a Delhi court whereby it has rejected the CBI's closure report in an anti-Sikh riots case.
SGPC seeks trial in fast-track court
Amritsar, April 10
Reacting to the reopening of the 1984 anti-Sikh riots case against Congress leader Jagdish Tytler, SGPC chief Avtar Singh Makkar today said there had already been much delay in these cases.
1,140 pilgrims leave for Pak to celebrate Baisakhi
Amritsar, April 10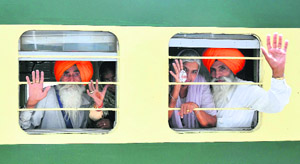 While the SGPC could not send its jatha to Pakistan due to denial of visa by its High Commission in New Delhi, around 1,140 pilgrims sponsored by other Sikh bodies today left for the neighbouring nation for celebrating the festival there in two special trains from Attari railway station.
Sikh pilgrims leave for Pakistan in a special train at the Attari railway station on Wednesday. Photo: Vishal Kumar

Will write to PM on visa issue: MS Gill
Chandigarh, April 10
Former Union Minister MS Gill today said it was disappointing that SGPC was not able to send Sikh pilgrims from Punjab to Nankana Sahib in Pakistan to celebrate Baisakhi. He said it was regrettable that only 300 of the 1,400 Sikhs, who had applied for a pilgrimage to Nankana Sahib, were given visa. Likewise, of the 300 applications from Delhi, only 160 were cleared.
IPL bug bites jail inmates, but match timings play spoilsport
Ludhiana, April 10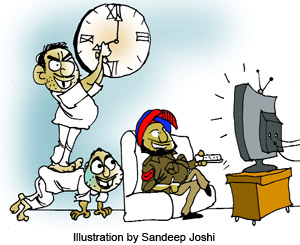 Such is the craze of the Indian Premier League (IPL) that even the walls of the city's central jail reverberate with the inmates' cheers whenever the ball is hit out of the cricket ground. However, the timing of the matches is proving to be a spoilsport for them. Since the inmates can only watch TV from 9 am to 9 pm, they get to see only one inning of the match. The matches start at 7pm. Several nail-biting matches this IPL have smitten many a prisoner. They have even requested the jail authorities to allow them to watch matches till the end. Sources said a group of inmates had approached the authorities on Sunday to extend the timings till late.
One killed in blast at junk dealer's house
Sangrur, April 10
One person was killed in an explosion at the house of a scrap dealer in Sekhupura Mohalla outside Sunami Gate here today. The incident took place when Tanuj Kumar (26), scrap dealer's son, and Mohammad Raja, a servant, were sorting the scrap. They were rushed to the local Civil Hospital from where they were referred to CMC Hospital, Ludhiana. Tanuj died on the way to Ludhiana.


Verdict on petition challenging Saini's appointment today
Chandigarh, April 10
The soundness of SAD-led Punjab Government's one of the first decisions after retaining power in the state last year --- appointing IPS officer Sumedh Singh Saini as Punjab Director-General of Police --- will be tested on the judicial anvil tomorrow.
Patiala ex-DC's bail plea rejected in land scam
Patiala, April 10
A local court today rejected the bail application of former Patiala Deputy Commissioner Vikas Garg, who is in jail following his arrest last month in the high-profile Patiala land scam.


Youths beat up cops to free drug peddler in Moga
Moga, April 10
At least 12 youths attacked a police team on the main square of the Moga city on Wednesday and set free a notorious drug peddler from their custody. The smuggler Swaran Singh Sona, son of Safaida Singh, resident of Daulewala village of Moga district, was an undertrial.
5.5 tonnes poppy husk seized
Bathinda, April 10
In one of the biggest hauls of poppy husk, the Counter-Intelligence wing of the Punjab Police has seized 5.5 tonnes of poppy husk worth Rs 65 lakh from the state's border. The poppy husk was seized when it was being smuggled into Punjab from Rajasthan in 135 bags. Jatinder Jain, Inspector-General, Counter-Intelligence wing, said two notorious smugglers from Tarn Taran were nabbed in the operation from near Dumawaali village.
Drug haul case
Transporter held for questioning
Ropar, April 10
The Fatehgarh Sahib police has rounded up a local transporter for questioning in the Rs 484-crore drug racket busted by it last month. The transporter, Raj Kumar Bhalla, was arrested from his resident in Giani Zail Singh Nagar. Fatehgarh Sahib Senior Superintendent of Police HS Mann confirmed that Bhalla had been picked up for questioning. His role in the case, however, was yet to be established, he said.