Agencies yet to lift produce in Moga
Moga, April 18
The state procurement agencies have failed to lift wheat from Moga, which has one of biggest grain markets in Asia. The grain market has started choking due to the sudden arrival of wheat.
BHULLAR CASE
Citing precedence, civil society petitions Pranab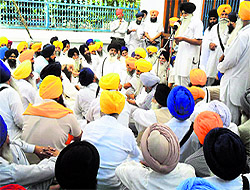 New Delhi, April 18
Calls for abolishing the death penalty became louder today with the civil society petitioning the President for reconsidering the mercy petition of Devinder Pal Singh Bhullar sentenced to death for killing nine bystanders in a car bomb blast in 1993.



SGPC delegation to meet Prez on April 20




Leaders gathered at a gurdwara in Fatehgarh Sahib on Thursday for the " Insaaf rally". A Tribune photograph


Contingency plan in place
Chandigarh, April 18
Despite denial of apprehensions on breach of security in the wake of the Bhullar row, the Punjab Police has left no stone unturned to enhance security in the state.

Assault case: Ladhar records statements of witnesses
Tarn Taran, April 18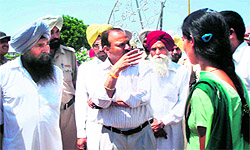 Divisional Commissioner SR Ladhar today visited Punjab International Marriage Palace in Tarn Taran where a girl of Usma village was assaulted by a policeman in full public view last month and recorded statements of eyewitnesses, including the victim.


Divisional Commissioner SR Ladhar (centre) visits the marriage palace where a girl was thrashed by policemen in Tarn Taran, on Thursday. A Tribune photograph


Drug haul case: Man held with Rs 5 cr drugs
Fatehgarh Sahib, April 18
The Fatehgarh Sahib police has arrested a close relative of Ravi Deol, who is one of the accused in the multi-crore heroin drug haul case. The police recovered five kg sudofadrine, a narcotic powder used to make Ice and heroin, worth Rs 5 crore from his Innova car.




Pak smugglers take to novel methods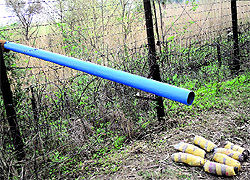 Jalandhar, April 18
Pakistan drug lords are trying to purchase land near the international border to galvanise their nefarious activities. Also, they are resorting to new methods to ensure smooth delivery of the contraband, mainly heroin, into the Indian territory.


A pipe insterted through the barbed wire fencing by the smugglers in the Ferozepur Sector. A Tribune photograph

Terror bodies using smugglers
Amritsar, April 18
The recovery of AK-47 shells after the heroin seizure at a border outpost yesterday has strengthened the suspicion of Indian agencies that smugglers, terrorists and Pakistan's Intelligence agency may be working in tandem with one another.
No compromise on voting rights, says Sehajdhari party chief
Amritsar, April 18
The Sehajdhari Sikh Party (SSP) today said there would be no compromise with the SAD on the voting rights of Sehajdharis and the legal fight would continue. However, the party was willing to save the new SGPC House from re-elections, said party president PS Ranu.
With groundwater unfit, hand pumps their sole supply line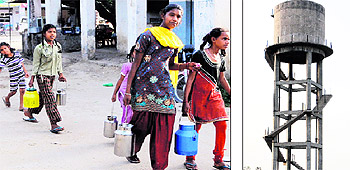 Tarn Taran, April 18
Residents of over 40 villages in Valtoha and Bhikhiwind blocks of the district are forced to fetch water from hand pumps installed outside their villages as groundwater in this area has been rendered unfit for use.


Children carry water at Baserke Hundal village, near Bhikhiwind, and (right) an overhead water tank that seldom supplies water to residents of Wan Tara Singh. Photos: Vishal Kumar

UNESCO team to visit Gurdaspur
Gurdaspur, April 18
The New Delhi-based cluster office of UNESCO, which takes care of heritage sites in India, Bangladesh, Bhutan, Nepal, the Maldives and Sri Lanka, has formulated "Punjab Cultural Heritage Policy and Heritage Action Plan' to safeguard the state's heritage sites.
PTU Dean loses post
Jalandhar, April 18
The suspended Dean (Distance Education) of the Punjab Technical University has been removed from his post after he was found guilty of misappropriating funds.
School board reinstates suspended officials
Mohali, April 18
The Punjab School Education Board (PSEB) today reinstated the five officials, who were suspended by the PSEB chairperson 48 hours ago, at the insistence of the Employees' Union. An inquiry into the charges is still pending.
Dhindsa seeks report into Founder's Day celebration
Patiala, April 18
Punjab Finance Minister Parminder Singh Dhindsa has sought a detailed report into the extravagant celebration of the Founders Day of the two power corporations, Punjab State Transmission Corporation Limited (PSTCL) and the Punjab State Power Corporation Limited (PSPCL), on Tuesday.
Patiala Health Dept face staff shortage
Patiala, April 18
The Health and Family Welfare Department in Patiala is facing a severe shortage of female Multipurpose Health Workers (MHW). The workload has, therefore, increased manifold, putting the MHWs under great stress.
DAV varsity set for launch tomorrow
Jalandhar, April 18
The DAV Management Committee is set to launch its first university in the country here on Saturday. The university aims at carrying out research work in a big way besides providing an ideal learning ground to students. It also plans to provide vocational training to produce skilled workers.
Verka to look into casteist remarks made at college
Patiala, April 18
Vice Chairman of the National SC/ST Commission Dr Rajkumar Verka will visit Patiala on Friday to inquire into the incident wherein an Assistant Professor of the Government Medical College, Patiala, allegedly made some casteist remarks at a student during his lecture.
Varsity to fill backlog of vacancies by Sept
Patiala, April 18
Subsequent to cases being filed in the Punjab and Haryana High Court against the delay in filling vacant posts of reserved category clerks and peons, Punjabi University, Patiala, has given an undertaking in the court that they will clear the backlog by September 2013.
Acting CJ suspends 3 Patiala court officials
Chandigarh, April 18
Inspections by the administrative judges of the Punjab and Haryana High Court are almost always a much talked about affair, with hectic preparations on for weeks before the assessment. But, Monday morning brought an unpleasant surprise for the Patiala district court officials as Acting Chief Justice of the Punjab and Haryana High Court, Justice Jasbir Singh, mingled with the crowd in casuals during a surprise check.
Wooden planks for ceremony at Attari
Amritsar, April 18
The Border Security Force (BSF) has been accorded approval to launch the "wooden strip" project for the Retreat ceremony at the Attari-Wagah border.
10-yr-old boy beheaded
Hoshiarpur, April 18
A 10-year-old boy, Balkar Singh, was beheaded at Jandoli village in the district late this evening.
Speeding car tries to run over 2 cops
Patiala, April 18
A speeding Zen car tried to crush two policemen on duty before hitting another car near Leela Bhawan Chowk late last night. The police has identified the vehicle and is trying to trace it. A police team later pursued the car in a Gypsy but the offender gave it the slip.
Four women peddlers held in Hoshiarpur
Hoshiarpur, April 18
The district police today arrested 23 persons, including four women, for drug peddling. They have recovered 5.075 kg of intoxicated powder, 80 gm of smack, 10 kg of poppy husk, 3,239 intoxicated capsules, 95 bottles of intoxicated syrup and 300 pills.