Complaint against CM, Makkar, for 'waging war against State'
Chandigarh, April 16
A day after Chief Minister Parkash Singh Badal sought clemency for Devinder Pal Bhullar, an advocate has moved the court and filed a complaint of "criminal conspiracy, harbouring prisoner and waging war against the country" under Sections 121, 121 A, 123, 130 and 120-B of the Indian Penal Code against the Chief Minister and SGPC chief Avtar Singh Makkar.
Delegation approaches German Embassy
New Delhi, April 16
A delegation led by Delhi Sikh Gurdwara Management Committee (DSGMC) chief Manjit Singh GK today submitted a memorandum to the German Embassy, asking it to put pressure on the Indian Government to grant clemency to Devinder Pal Singh Bhullar.
Charges up but services in govt hospitals still down
Chandigarh, April 16
The Punjab Government has increased service charges in public hospitals in the name of providing better medical care and meeting certain expenses. But reports from major cities in the state suggest that services in government hospitals are far from satisfactory.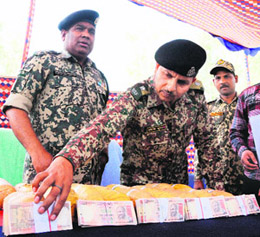 Another smuggling bid foiled, heroin worth Rs 90 crore seized
Amritsar/Ferozepur, April 16
The BSF today foiled yet another smuggling attempt on the India-Pakistan border by recovering 18 packets of contraband and counterfeit currency of Rs 4.87 lakh face value near Rattoke border outpost in the Khemkaran sector. The contraband is suspected to be heroin and estimated to be around Rs 90 crore in the international market.


BSF officials show the seized drugs and fake Indian currency at Rattoke border outpost in Khemkaran sector on Tuesday. Photo: Vishal Kumar

Need to de-politicise police, says Manpreet
Jalandhar, April 16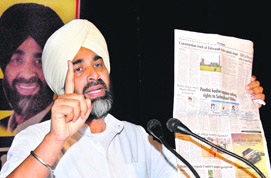 People's Party of Punjab (PPP) chief Manpreet Badal today presented a 10-point action plan for the "betterment" of Punjab. Manpreet claimed though there were several other issues too, the 10 selected by his party at yesterday's brainstorming session were of utmost importance and needed immediate redressal. At the top, he said, was the deteriorating law and order situation. To tackle this, he claimed, there was a need to de-politicise the Punjab Police. Addressing the PPP conclave on its concluding day here, Manpreet alleged that the law and order situation in the state had worsened under the SAD-BJP regime.
Vigilance set to present challan in land scam
Patiala, April 16
The Vigilance Bureau is almost ready with its findings in the Rs 250 crore Patiala land scam and would soon present a challan in the court. The FIR in the case was registered on November 9 last year and former Deputy Commissioner Vikas Garg is among the nine accused.
Combine rent mounts as harvesting season peaks

Muktsar, April 16
With the availability of labour being a major problem, the demand for combines to harvest wheat has gone up in the state. And given high diesel prices, its charges have shot up by Rs 200 per acre this harvesting season. To harvest an acre of wheat, the owners of combines are charging between Rs 1,000 and 1,100. The charges were Rs 800-Rs 900 last year.
A combine harvester in action. A Tribune photograph
CSIO to work on 'precision agriculture' to fight plant disease and cut losses
Chandigarh, April 16
In the backdrop of sustainable and eco-friendly farming practices being the need of the hour, the Central Scientific Instruments Organisation (CSIO) here has taken up a major programme on "precision agriculture" that would provide end-users an early warning in case of plant disease, automated storage solutions, seed quality assessment and protection.
Rajindra Hospital refers assaulted child to PGI
Patiala, April 16
Six-year-old Rajatdeep Singh, who had been undergoing treatment at Government Rajindra Hospital for the past fifteen days, was referred to the Post Graduate Institute of Medical Education and Research (PGIMER), Chandigarh, today. The doctors at Rajindra Hospital could not diagnose a clinical problem in his left kidney.
Govt pushing away investors: Bajwa
Amritsar, April 16
PPCC president Partap Singh Bajwa said with the work at Talwandi Sabo thermal power plant coming to a halt due to the "non-cooperative" attitude of the SAD-BJP government, making Punjab a power surplus state seemed a distant reality.
126 reside in one house as per draft voter list!
Sangrur, April 16
Believe it or not but 126 voters reside in a house in ward number one of Bahadurpur village, near here. These figures are according to the draft voter list of this year, prepared for the elections to panchayats, block panchayat samitis and zila parishads. Ward number one of this village has a total 332 voters, including 156 women.
PSEB suspends five for glitches in exam process
Mohali, April 16
The Punjab School Education Board (PSEB) today suspended five officials for allegedly failing to ensure the proper conduct of examinations. Among the officials, suspended on the orders of board chairperson Tejinder Kaur Dhaliwal, were Joint Secretary Pavitar Pal Kaur, Deputy Secretary Baljit Kaur Sodhi and Assistant Secretaries Kiran Bala, Bhupinder Kaur and Manjit Kaur.
Mushroom cultivation can employ 3 million people: Experts
Ludhiana April 16
Experts at Punjab Agricultural University (PAU) today suggested a new way to put agriculture waste to optimum use at the two-day Indian Mushroom Conference, held at PAU in Ludhiana.
Security up for Navratras, claims police
Chandigarh, April 16
With at least five BSF companies having deployed in the state, the police claims that security has been tightened in the wake of the Navratras. As the government has to pay for security deployed from outside the state, questions are being asked as to whether the state police was short of staff or it simply felt incompetent to handle security for the festivities. Perhaps, the police acted on a feedback about potential trouble during the Navratras.

Private schools can't charge at will: Maluka
Chandigarh, April 16
Education Minister Sikander Singh Maluka today said the state government had decided to rationalise the fee structure of private schools to provide relief to the parents concerned. Necessary guidelines would be issued soon in this regard, he said. "It has been noticed that some private schools are charging exorbitant fees. We have decided to streamline the fee structure of such institutions by issuing necessary guidelines," the minister said. — PTI
Computers distributed
Muktsar, April 16
The Commander, Amogh Gunners, on behalf of the Amogh Division of the Army under the civil military cooperation programme, today distributed 20 computers to students of two schools located in Mann Singh Wala and Udekaran village in Muktsar. — TNS
Cong moves HC on delimitation
Chandigarh, April 16
Accusing Minister for Rural Development SS Rakhra of interfering in the process of wardbandi (delimitation), the Pradesh Congress Committee today moved the Punjab and Haryana High Court for quashing the entire process.
HC: File challan in PSPCL job scam
Chandigarh, April 16
More than a month after an FIR was registered by the Punjab Police in the PSPCL recruitment scam, the Punjab and Haryana High Court has directed the state to complete the investigation and file a challan as expeditiously as possible.
Verdict in case against Sajjan Kumar on April 30
New Delhi, April 16
A Delhi court today fixed April 30 for pronouncing its verdict in a 1984 anti-Sikh riots case in which Congress leader Sajjan Kumar, former MLA Mahinder Yadav, former councillors Balwan Khokhar and Krishan Khokhar, Capt Bhamal and Girdhari Lal are the accused.
Robbers kill factory guard, loot goods worth lakhs
Ludhiana, April 16
Armed robbers killed a security guard, Dhan Bahadur (40), at a factory unit, United Electroplating, located on Metro Road and decamped with cash, raw electroplating material, copper wires and silver ornaments worth Rs 20 lakh. Police said four to five robbers broke into the factory unit at midnight.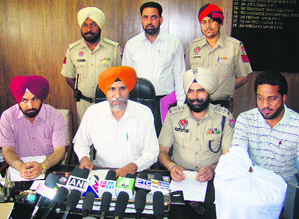 Drug haul case: Peddler Bhola's driver held with narcotic powder
Fatehgarh Sahib April 16
The Fatehgarh Sahib police toady claimed to have arrested a confidant of Jagdish Singh Bhola, dismissed police officer and member of a gang of drug peddlers, in the multi-crore heroin drug haul case. The police said it had recovered 85 kg of a narcotic powder worth Rs 8.5 crore from his Qualis van.
HS Mann, SSP, addresses the media at Fatehgarh Sahib on Tuesday. A Tribune photograph

Chandigarh firm raided
Chandigarh, April 16
A team of the Enforcement Directorate (ED) today raided Bajaj Enterprises in Sector 35 here and confiscated "questionable" documents under the Prevention of Money Laundering Act.
Five looters held with pistols
Sangrur, April 16
The district police today claimed to have busted a gang of criminals, allegedly involved in various incidents of snatching and looting. Senior Superintendent of Police (SSP) Harcharan Singh Bhullar said when a police team raided a place near Ranchana village on a tip-off, the accused opened fire. After a brief gun battle, the police arrested the five robbers and seized five country-made pistols and 12 live cartridges.