Check population too for food security
While the world's population tripled during 1901-2000, India's nearly quintupled from 23.8 crore to 100 crore. Population growth will have to be checked, and soon, if food and quality of life have to be ensured for the masses
Dr Manjit S Kang
To ensure food security for its burgeoning population, the emphasis of India has mainly been on increasing total crop production and crop productivity per hectare, putting great pressure on its land and water resources. Policymakers have basically disregarded the fact that food problem can be addressed in another way, i.e., by controlling population growth. A balance between increasing food production and controlling population could also be a viable strategy.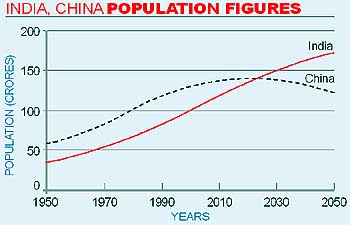 India did achieve great success in food production but at the cost of immense harm to the environment. For example, water table in Punjab, Haryana, and western Uttar Pradesh — the so-called food-bowl states of the country — has receded to dangerously low levels and soil and water suffer from chemical pollution. The once highly productive soil has been exhibiting signs of fatigue and severe nutrient deficiencies for decades now.
Natural resources
India's population in 2012 was 120.51 crore (17.3 per cent of the world population), whereas China's population was 134.32 crore (20 per cent of the world population). The figures culled out from the data provided by the US Census Bureau (see graph) represent populations of India and China between the period 1950 and 2050. The graph reveals that in 2025, India, with a population of 139.60 crore, is set to surpass China's population of 139.46 crore. While India's population is expected to keep growing, China's population will start to decline after 2030. The predicted populations of India and China for 2050 are a whopping 165.66 crore and 130.37 crore, respectively.
China, not being a democracy, has been able to achieve effective population control quickly, but the efforts of India have been inadequate in controlling its population.
Even India's National Population Policy of 2000 erroneously predicted that the country's population would exceed China's population in 2045. The World Bank prediction agrees with the US Census Bureau's prediction that India's population would surpass China's by 2030.
In 2011, India's population density stood at 382 per kilometre, whereas that of China was 141 kilometre. During 1901-2000, while the world population tripled from 200 crore to 600 crore, India's population almost quintupled from the existing 23.8 crore to 100 crore.
While India accounts for 17-18 per cent of global population, it has only 2.4 per cent of the land area of the world. This imbalance puts much strain on India's natural resources, drinking water, arable land, habitat, and availability of infrastructure. Consequently, a large number of Indians struggle to eke out a living as they continue to live below the poverty line. From the standpoint of literacy also, India's situation is less than desirable. Much more needs to be done to make it a success.
Overtaking China

India's population in 2012 was 120.51 crore whereas China's population was 134.32 crore.
US Census Bureau predicts that in 2025, India, with a population of 139.60 crore, will surpass China's population of 139.46 crore.
While India's population is expected to keep growing, China's population will start to decline after 2030.
The predicted populations of India and China for 2050 are 165.66 crore and 130.37 crore, respectively.
National Population Policy
To determine how much progress India has made in controlling population, we should first examine the goals of the National Population Policy 2000. The main goals of the population policy were: to provide facilities for birth control and healthcare, supply information on voluntary family planning and methods to reduce birth rate, balance fertility rate and replacement rate by 2010, stabilise population growth by 2045, reduce infant mortality, encourage girls to marry after the age of 18 years, make primary education compulsory, and reduce the dropout rate for primary and secondary education to below 20 per cent.
According to the 1951 Census, the birth rate in India was 40.8, death rate 25, infant mortality rate 146, and fertility rate 6 (per 1000 population). In 2009-2010, these rates fell to 22 (birth), 7.4 (death), 50 (infant mortality), and 2.6 (fertility).
These figures indicate that the country did make some progress during the 1951-2010 period. Despite this progress, the current population and birth rate are much higher than the targeted levels.
One of the reasons for this was that India, being a democratic country, allowed family planning to be done according to the wishes of the people, and the success of family planning depended on the ability of the government to motivate people toward population control.
Illiteracy also played a role in achieving less than satisfactory outcomes. For example, in Kerala, in 2011, the literacy rate was the highest in the country (93.9 per cent) and its annual population growth rate was the lowest (0.48 per cent).
In comparison to other states, Bihar had the lowest literacy rate at 63.82 per cent and the state's annual population growth rate was 2.26 per cent. The high literacy rate of Kerala also seemed to be a major factor responsible for its highest sex ratio of 1,084. Literacy is certainly the foundation of all positive outcomes.
Another reason for the increased population is poverty. Poverty-stricken households regard the arrival of a newborn as a means of increasing family income. Further, in many remote areas across the country, facilities for healthcare and birth control are not available.
Thus, people in those areas are not able to adopt family planning measures. There are other social reasons for the trend as well. Traditionally, many parents marry off their daughters at a very young age. This also contributes to the increase in population because such actions increase the reproductive period of a married woman, during which additional children can be born. This causes the fertility rate to increase.
Controlling the numbers
Public Awareness: On the website of the International Rice Research Institute (IRRI) in the Philippines, a population counter has been installed that provides information on second-to-second growth in global population and minute-to-minute decrease in arable land. Likewise, our governments need to create awareness among citizens about the grave problem of the ever-increasing population of India. Population and arable land counters should be installed on all public websites and buildings, and airports. Inspired by the IRRI website, a few years ago, I had gotten a population counter installed on the official website of Punjab Agricultural University, Ludhiana, which unfortunately has now been removed. With the help of that counter, I was able to determine that the population of the country increased by 42,000 within 24 hours. Such counters are more valuable, useful, and educational than time-and-temperature counters.
Compulsory education: As in developed countries, India also needs to make high school (10+2) education compulsory for all children. Under such a system, parents should be held accountable if their ward does not attend school.
There is a dire need to pay particular attention to the education of girls because as per the 2011 Census, there is a large disparity in the literacy rate for males (82.14 per cent) and females (65.46 per cent) in India. Mahatma Gandhi's words: "Educate one man, you educate one person, but educate a woman and you educate a whole civilisation" signify the importance of women's education.
There should be various programmes in place for adult education. In the US, if for any reason, men and women, 18 years of age or older, could not obtain high school education, they can earn a General Educational Development (GED) certificate offered by the American Council on Education, which is considered equivalent to a high school diploma. Thus, people of all ages can pursue studies and become literate.
American President Barak Obama had remarked during his 2010 trip to India that India was fortunate to have more than 50 per cent of its population below the age of 30.
If we want to properly harness this "demographic dividend," we must improve the literacy rate from the current 74 per cent to above 90 per cent. Otherwise, instead of becoming an asset, the youth will be a liability for the nation.
Financial aid: To promote smaller families, the government should provide financial incentives to those with one or two children; for example, reduced income tax rates or scholarships for children's education. Girls who wait to marry after the age of 25 should be given some sort of financial help under a scheme.
To improve the standard of living of all its citizens, India must act to reduce its population, and quick. The country has only limited natural resources and a growing population will only act as a massive drain. An ever-increasing population growth defeats the purpose of welfare schemes as it is a hindrance to alleviating poverty and improving the quality of life of the masses.
The writer is a former Vice-Chancellor of PAU, Ludhiana