OPED

World
Nuclear North Korea courting trouble
VR Raghavan
Nuclear weapons place new complexities on the table for military and political leaders. North Korea has shown that even in an asymmetrical power balance, nuclear weapons can be the great equaliser on the strategic poker table.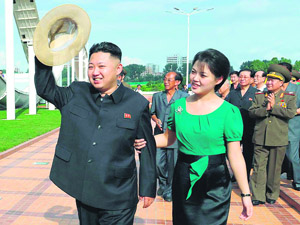 This undated file picture released by North Korea's official Korean Central News Agency shows North Korean leader Kim Jong Un (L), accompanied by his wife Ri Sol-Ju, visiting the Rungna People's Pleasure Ground in Pyongyang. AFP

The rapid escalation of the crisis in the Korean peninsula has left analysts, policy-makers and military minds scrambling to understand the situation better. There are conflicting opinions within the US on dealing with the situation.
North Korea has found innovative ways to raise the escalation thresholds on multiple fronts. It has deployed its missiles in a launch mode, its army and navy are in operational postures. It has asked its own citizens to evacuate the coastal areas in anticipation of military conflict, and it has advised foreign embassies to move out. It has even declared itself to be in a state of war.
US Secretary of State Kerry has visited Seoul and Tokyo to reassure US support and has visited China for high-level meetings, seeking to place pressure on Pyongyang to desist from its reckless activities.
There are multiple states pursuing their individual interests on the Korean peninsula. The difficulties faced in building a six-party response to North Korea's nuclear aspirations - now in fact a reality after its claims to have tested nuclear weapons -- and their responses over the years to pronouncements from Pyongyang confirm the reality of too many cooks having turned the broth into a muddy brew.
China's actions have pointed to its limited leverage over Pyongyang, evidenced by its late and ineffective 'rebuke' to the effect that no country has a right to disturb the status quo. As things are, no country can claim to understand Kim Jong Un's, or, his possibly divided military hierarchy's strategic objectives or military plans.
Kim Jong Un, the cherubic North Korean leader, is estimated by most observers as being under pressure for many reasons. The country is under UN sanctions, the economy is in truly poor state with little prospects of foreign aid and its military is reportedly divided on policy issues.
US not to pay twice for the same horse
After its experience of the six-party talks where North Korea reneged on its promises, the US has been unwilling to trust negotiations. Former Secretary of Defence Gates has stated that the US is not going to pay twice for the same horse.
Secretary Kerry has announced that the US will not accept nuclear weapons in North Korea. He has demanded that North Korea should "denuclearise" itself, and referred to the Chinese concurrence on it.
Kim Jong Un is not in a position to accept that demand. He cannot conceivably give up nuclear weapons which are his father's and grandfather's legacy to the country. Such irreconcilable positions do not augur well for a mutually agreeable outcome.
Yet Secretary Kerry has said in Tokyo, "Our choice is to negotiate, our choice is to move to the table, and find a way for the region to have peace."
The situation raises critical questions on the strategic outcomes in and outside the Korean peninsula. South Korea, in the precarious position of being within North's artillery range and facing a large military adversary, its dependence on the extended nuclear deterrence of the US, which itself has a limited military presence, has few independent choices .
The US as the principal security guarantor for South Korea, Taiwan and Japan finds itself in an unenviable state. The US faces the deterrence conundrum of "Never and Ever", in which as the possessor of nuclear weapons, it must see that such weapons are never used and yet be ever ready to use them.
No clear ideas to deal with the situation
The top US commander in Korea, Gen J. Thurman, and influential Senators and Congressmen have said the situation is extremely dangerous, with no clear ideas to deal with it.
The US military response has, however, been mature and limited to flying bombers closer to North Korean air space, and forward deployment of missile defence elements. The primary question is of the decision matrix Kim Jong Un will use to come to critical decisions.
If the Kerry statement provides Kim Jong Un the opportunity to show to his military that he has forced the US to come to the table, he may choose to lower the tension. He will, however, seek to get the US to pull back the missile defence and air force elements away from the scene, and he will certainly want the UN sanctions lifted.
Some other scenarios might play out in the Korean scene. The possibility of medium range missile test by North Korea remains high. North Korea will use it as demonstrable proof of standing up to international pressures. Such a test in international waters may or may not be conducted over Japan or South Korea.
In either event, it will be a provocative act and will make matters worse for all powers involved. If the US responds to it by shooting down the missile, as some senior US politicians have recommended, it will be close to an act of war.
Beijing losing patience with Pyongyang
Most analysts and policy-makers have cautioned against it. If the US limits its action to merely remonstrating or applying yet more sanctions, its allies in the region will come to their own conclusions about relying on US guarantees.
Beijing's patience with Pyongyang is also running thin, yet it would not wish to be seen as being unable to reign in Kim Jong Un. China will want to secure a continuing major role in managing the North Korean affairs into the future. Beijing, however, needs to be sure of being able to control the North Korean military, of which there is little evidence.
It is useful to remember that North Korea's nuclear and missile capability is a product of many acts of commission and omission by states which employed the outmoded balance of power policies. There would have been no nuclear and missile capable North Korea without China and Pakistan forming a nuclear ménage a trois with Pyongyang.
The US is no less responsible by having succumbed in this to Pakistan's shenanigans as a front line state in Afghanistan. Since no one country is now in a position to demand compliance from North Korea, a multi-state effort is urgently needed. The price for it would be accepting Pyongyang's nuclear and missile reality, legitimising Kim Jong Un's rule and removing the economic sanctions.
The Korean scenario is changing the notion of deterrence from the traditional Cold War model of nuclear weapons having led to strategic stability. Nuclear weapons, and even the idea of their presence now place new complexities on the table for military leaders and their political bosses. North Korea has shown that even in an asymmetrical power balance, nuclear weapons can be the great equaliser on the strategic poker table.
Their shrewd use puts the onus of use of military power on the stronger side, in this case on the US, to prove the usefulness of extended nuclear deterrence, and more importantly its credibility as a major power. It will also need to come to terms with the paradox of strengthening the hands of Kim Jong Un domestically. It will not be the first time the US would choose to do so.
Lt Gen (retd) VR Raghavan was a Commissioner on the Weapons of Mass Destruction Commission and an Adviser to the International Commission for Nuclear Non-Proliferation & Disarmament. Email: genraghavan@yahoo.com