Govt to spend Rs 1,014 crore for SCs, STs
Tribune Reporters
Kullu, April 15
Promising an all round development of a common man, Chief Minister Virbhadra Singh announced that over 1,000 unemployed youth would be trained as ambassadors of village and rural tourism at village level, while another 3,900 youth would be trained with driving skills. He further announced a tehsil and tourist information centre at Bhuntar to facilitate tourist arrivals in the Kullu valley.

| | |
| --- | --- |
| Chief Minister Virbhadra Singh inspects a parade at the state-level Himachal Day function in Kullu on Monday. | Girls perform at a Himachal Day function in Shimla on Monday. Photo: Amit Kanwar |
Greeting people on the 66th Himachal Day today, the Chief Minister unfurled the national flag at the historic Dhalpur Maidan, inspected the parade in an open jeep, took the salute of an impressive march past presented by the police, Home Guards and NCC contingents.
Addressing a large gathering, Virbhadra said there was a time when six villages had electricity and 331 villages had drinking water facility, but today every household had electricity and 70 per cent piped water.
Virbhadra said the focus of the government was on socially weaker sections, including the Scheduled Castes (SCs) and Scheduled tribes (STs), for uniform development of the common man. He added Rs 1,014 crore would be spent for the welfare of Scheduled Castes under the SC sub-plan and Rs 369 crore under the tribal sub-plan. The social service sector was the top priority with Rs 1,371 crore (34 per cent) budget for this, he added.
He recounted the budget announcements like 80 per cent subsidy on the anti-hail nets to save fruit crops from hailstorms, Rs 10 lakh each for improving agri-infrastructure in all 68 selected gram panchayats under the Mukhyamantri Adarsh Krishi Gaon Yojana, Rs 1,000 skill development allowance for youth, Rs 1,500 per month for persons with disabilities and Rs 75,000 grant under the Rajiv Awas Yojana and other housing schemes under which 10,000 houseless would get houses this year.
He reiterated that Rs 363 crore would be spent on improving power distribution system to give reliable and quality power to all consumers. The domestic consumers were getting Rs 270 crore as subsidy on electricity charges, and Rs 175 crore subsidies on three dals, edible oil and iodized salt to all ration card holders under the food subsidy scheme.
He said schoolchildren diagnosed with critical or congenital illness were getting free treatment under the Rashtriya Bal Swasthya Karyakram under which Rs 10 crore was being spent this year.
Virbhadra said the welfare and empowerment of women was getting top priority and the CCTV cameras would be installed in Shimla and other important towns for ensuring safety of women. "20 per cent women will be recruited as constable and sub-inspector level in the police," he added.
He conferred the Himachal Gaurav Purskar, Civil Service Award and Prerna Strotra Award, respectively, on Padma Shri Vijay Sharma, an artist and historian from Chamba in art and culture, Rs 2.5 lakh Civil Services Award to 38 BRTF (GREF) of Deepak Project (Border Road Organisation) for keeping open roads in Lahaul-Spiti, Prarena Sarotra Award (NGO category) to Hamirpur-based NGO for rendering humanitarian services by providing free dead body van service in the state and gave a cash award of Rs 2.5 lakh, received by Hem Raj Chadda, its coordinator and Abdul Gani, a philanthropist from Chamba, who had donated blood over 175 times. He got Rs 21,000 as cash prize.
Rural Development Minister Anil Sharma, Kullu MLA Maheshwar Singh, Banjar MLA Karan Singh, Anni MLA Khub Ram, Vikramaditya Singh, chairman HP State Sports, Cultural and Environment Organisation Chief Secretary Sudripta Roy, DGP, B Kamal Kumar and other officials were present.
Rs 463 crore to expand power grid
SHIMLA: Agriculture Minister Sujan Singh Pathania said Rs 10 lakh would be spent in every panchayat under the model agriculture village scheme so that basic facilities could be made available to farmers.
Pathania presided over the Himachal Day function held at the historic Ridge Maidan here today. "It is with the objective of modernising agriculture so as to maximise the income of the farmers that efforts are being made to provide best quality seeds and fertilisers. Moreover, token tax on the purchase of tractors has been waived off," he remarked.
Pathania, who also holds the Power Department, said to ensure uninterrupted power supply, Rs 463 crore would be spent on expanding network of transmission lines. "A subsidy of Rs 270 crore has been provided to give relief to the consumers while Rs 49 crore will be spent on tackling low voltage problem in Shimla district," he said.
The minister stressed the need of improving road network and providing connectivity to every village. "Our government proposes to construct 475 km motorable road, 40 km jeepable road, 35 bridges and provide a road link to 80 villages," he said.
Pathania unfurled the national flag and took salute of the march past presented by the police, Home Guards and NCC contingents. He honoured Vishal Kumar, a resident of Jachana village in Chopal for exhibiting bravery and Devinder Dutt Sharma of the Fire Department for efficient services.
Industrial package to be expanded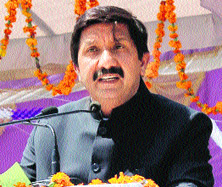 Industry Minister Mukesh Agnihotri addresses a function in Hamirpur.

HAMIRPUR: Industries Minister Mukesh Agnihotri unfurled the national flag and took salute from the police contingents, Home Guards, NCC cadets and schoolchildren in a function organised to celebrate the 66th Himachal Day function here today.
Addressing a gathering, the minister said a Rs 17 crore project, to set up a spice park at Nadaun, has been prepared by the state government and several panchayats would be linked to it which would improve their economy, besides creating job opportunities.
He said the state government was making efforts to extend industrial package to the state till 2020 and has started a single-window system through which industrial projects were cleared within 90 days.
The minister said the state government would soon start giving Rs 1,000 as unemployment allowance and also start skill development schemes to increase employment opportunities for unemployed youth.
Talking about the government incentive to start new industrial projects, he said 4 per cent subsidy on interest on project up to Rs 50,000 would be given.
Fish collection centre in offing
BILASPUR: A fisheries interpretation centre housing all varieties of fish and a fish collection centre will be set up in the town. This was stated by Forest and Fisheries Minister Thakur Singh Bharmouri during the district-level Himachal Day function here on Monday.
He unfurled the Tricolour and took the salute by the police, Home Guards, NCC and scouts and guides. He said the state had set a new record of 205.44 metric tonnes of trout this year and the Gobindsagar had yielded 1212.73 metric tonnes of fish last year.
He said trout fishing would be encouraged by sanctioning aid worth Rs 50 lakh for 100 new private units in the state this year. He said fishing provided self-employment to more than 10,000 families of weaker sections and the government was committed to ensure help to them.
The minister pointed to the ever-increasing temperature in the state. He urged people to ensure that no one set fire in forests and to run to help in controlling fire if this happened as it destroyed wealth of the state. He said a monkey sterilisation centre and a monkey home would be set up in the district soon.
He said there were more than 10,000 monkeys here of which only 2,100 had been sterilised. He said arrangements would be made to ensure that monkeys did not come out of premises of the monkey home. He invited suggestions from members of the public to tackle this serious problem.
Earlier he paid homage at the Martyrs' Memorial near the Circuit House. Ram Lal Thakur, Chairman of the Planning Development and 20-Point Programme Implementation Committee, MLA Bambar Thakur, Deputy Commissioner Ajay Sharma, Superintendent of Police Anupam Sharma, Vir Chakra awardee Roop Lal (Badoo) and former MLAs Babu Ram Gautam and Biru Ram Kishore were present.
Solan-Delhi Volvo bus service soon
SOLAN: Transport, Food and Civil Supplies and Technical Education Minister GS Bali presided over the 66th Himachal Day district-level function at the Thodo ground in Solan here today.
He unfurled the Tricolour and took salute of an impressive march past presented by the police contingents, Home Guards, NCC and NSS cadets.
He said the hill state had become a model of development in the country and the government had taken various decisions to facilitate the people in its short stint of three-and-a-half months. This included provision of free bus travel to students of government schools. He said the social security pension had been enhanced from Rs 450 to Rs 500 per month whereas senior pensioners above 80 years would get Rs 1,000 per month and 20 per cent reservation for women would be ensured in the Police Department.
He said a provision of Rs 175 crore for providing subsidy on essential commodities had been provided to facilitate the people.
The minister announced that a Volvo bus service would be started soon between Solan and Delhi.
Excise and Taxation Minister Prakash Chaudhary presided over the function at Chaugan ground in Nahan today.
He said the state was founded due to the active efforts of the first Chief Minister Dr Yashwant Singh Parmar, who hails from the district.
He said the state had emerged as a model state in the country and a budget of Rs 22,800 crore had been allocated to the state to achieve new milestones in the field of development.
2,000 hand pumps to be installed
MANDI: Irrigation and Public Health and Horticulture Minister Vidya Stokes said 2,000 new hand pumps would be installed and 25 habitations would get drinking water facility in water-deficient areas in the state this year.
Addressing the Himachal Day celebration here today, Stokes said out of 53,201 habitations, the IPH was providing 70 litre of potable water daily in 44,254 habitations in the state.
The minister said the state government had given 80 per cent subsidies on anti-hail nets to protect fruit crops.
Stokes unfurled the Tricolor, took salute of the march past. She gave prizes to the Government Primary School, Mundru, Government Senior Secondary School, Lalag, and the Government Primary School, Mazharnu, for best performance in sanitation.
She gave Rs 5,000 each to school troupes for performing at the cultural programme on the occasion.
Sundarnagar MLA Sohan Lal, former minister Rangila Ram Rao, president Mandi Municipal Council, Mandi, Sushila Sonkhla, DC, Mandi, Devesh Kumar and SP, Mandi, RS Negi were also present.
55 panchayats to be linked by road
CHAMBA: HP Vidhan Sabha Speaker Brij Bihari Lal Butail said out of the total 283 panchayats in Chamba district, 228 had been connected by roads and endeavours of the state government were under way to connect the remaining 55 panchayats.
This was stated by the Speaker while presiding over a district-level function organised to mark the Himachal Day in Chamba.
The Speaker unfurled the national flag and took the salute at an impressive march past presented by the police, Home Guards and NCC cadets.
Addressing the gathering on the occasion, Butail said the state government was committed towards the welfare of the weaker sections of the society. He said the government had enhanced the social security pension form Rs 450 to 500.
He said free travelling facility was being provided to the mother and the newborn baby from hospital to the residence under the Janani Suraksha Yojana.
He said the state government had also decided to recruit at least 20 per cent women at constable and sub-inspector level in the Police Department.
He said 63,199 families had been provided employment under the Mahatma Gandhi Rashtriya Rogzar Guarantee Yojana by spending an amount of Rs 62 crore.
CM's announcements
Over 1,000 unemployed youth to be trained as ambassadors of village and rural tourism at village level, while another 3,900 youth to be trained with driving skills
Rs 25 lakh for development and maintenance of the Dhalpur ground in Kullu
Tourism information centre and tehsil at Bhunter