| | | |
| --- | --- | --- |
| | OPED — Society | |
Jallianwala: How the empire was stirred, but not shaken
The use of force on hapless Indians by Gen Dyer was condemned as an "act of terrorism" in the House of Commons and even by Winston Churchill. But what the General received was severe reprimand and not the harsh punishment that he deserved
G.S.Aujla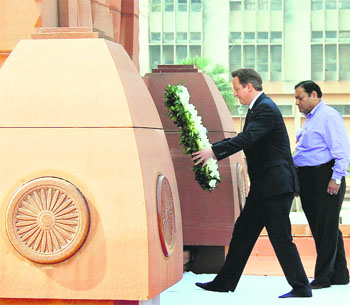 British Prime Minister David Cameron during his visit to the Jallianawala Bagh. He expressed regret over the Jallianwala Bagh tragedy but stopped short of offering an official apology for an incident that had scarred India's collective consciousness. Tribune photo: Sameer Sehgal
The recent expression of remorse, almost after 94 years, on the occurrence of the Jallianwala Bagh massacre by a serving British Prime Minister David Cameron came as a welcome voice. In the past, it was in the same spirit in which the British Secretary of State of India Edwin Montagu and the great war-time Prime Minister of England Sir Winston Churchill condemned the firing on the unarmed Indians on Baisakhi, April 13, 1919, at Jallianwala Bagh, Amritsar as an act of "terrorism" committed by Brig. Gen. Reginald Dyer.
Dissecting martial law
In a debate in the House of Commons on July 8, 1920, on the Report of the Hunter Committee, Edwin Montagu the Secretary of State for India was forthright in his denunciation of merciless firing on hapless Indians in 1919. His memorable words were as follows:-
"If an officer justified his conduct, no matter how gallant his record is, by saying that there was no question of undue severity, that if his means had been greater the casualties would have been greater, and that the motive was to teach a moral lesson to the Punjab, I say without hesitation…. that it is the doctrine of terrorism. Once you are entitled to have regard neither to the intentions nor to the conduct of a particular gathering, and to shoot and to go on shooting with all the horrors that were here involved, in order to teach somebody else a lesson, you are embarking on terrorism, to which there is no end."
Dissecting the martial law orders issued by the authorities, Montagu went on to characterise the order to salaam officers as racial discrimination and the whipping of schoolboys and flogging of a wedding party as frightfulness. "Are you," Montagu asked the House, "going to keep hold on India by terrorism, racial humiliation and subordination and frightfulness, or are you going to rest it upon the goodwill, and the growing goodwill of the people of your Indian Empire?" There was, Montagu said, an alternative to terrorism. "It is to put the coping stone on the glorious work which England has accomplished in India by leading India to a complete free partnership in the British Commonwealth, to say to India: 'We hold British lives sacred, but we hold Indian lives sacred too'."
The passionate advocacy of the above liberal doctrine served only to infuriate a section of House of Commons which believed that a radical Secretary of state, a Jew himself, had inflicted injustice on a 'gallant soldier' whose action to suppress a mutiny deserved support. Montagu asked the House of Commons:
"Is your theory of domination or rule in India the ascendancy of one race over another, of domination and subordination (cries of 'No') or is your theory that of partnership? If you are applying domination as your theory, then it follows that you must use the sword with increasing severity (cries of 'No') until you are driven out of the country by the united opinion of the civilised world." Although the above words alienated the Conservative members further, they appeared prophetic almost 27 years before India got complete freedom.
Dismissal of Gen Dyer
Montagu strongly pleaded for the dismissal of General Dyer and having failed to carry the House with him, he still pleaded for his compulsory retirement. Although the general sense of the House was against Dyer's use of excessive violence, yet there was no consensus on how to punish him. There was a general feeling that the civil administration in Amritsar, headed by the Deputy Commissioner Miles Irving, abdicated its responsibility which gave a free hand to the military commander to indulge in ruthless and mindless firing of 1650 rounds killing 379 innocent citizens and leaving another 1500 injured.
The doctrine of O'Dwyerism, authored by Michael O'Dwyer the then Lt-Governor of Punjab in the World War years, came in for sharp criticism as steeped in selfish disregard for the feelings of the common Indian who was by and large supporting the empire in its war efforts. Michael O'Dwyer had earlier put his seal on the senseless killing at Amritsar by sending a message through General Beynon, reading: "Your action correct and Lt-Governor approves."
Churchill's take
What perhaps came in as the most acceptable and politically correct criticism of Dyer's action was the reaction from no less than Sir Winston Churchill, the future Prime Minister of England. He stated that Dyer's deed had been "an extraordinary event, a monstrous event, an event which stands in sinister isolation," and he had done something which no other English officer faced with a similar problem had ever done. This was so because Dyer had abandoned the principle of minimum force upon which all military aid to the civil power had to be based. Churchill elucidated this principle, and showed the House how it had to be applied: "No more force should be used than is necessary to secure compliance with the law'; a commander had to 'confine himself to a limited and definite objective that is to say to prevent a crowd from doing something they ought not to do". Dyer had gone beyond this, and had thereby laid himself open to the charge of "frightfulness", a word Churchill used intentionally for it recalled the charges made against the Germans in the War. "What I mean by frightfulness is the inflicting of great slaughter or massacre upon a particular crowd of people, with the intention of terrorising not merely the rest of the crowd, but the whole district or country". Setting aside those who were by now attempting to interrupt his flow, he retorted: "I do not think that it is in the interest of the British Empire or of the British Army for us to take a load of this sort for all time upon our backs. We have to make it absolutely clear, some way or other, that this is not the British way of doing business." In a view, which he revealed in a subsequent letter to Lord Crewe, he wrote: "My own opinion is that the offence amounted to murder, or alternatively manslaughter".
Split British society
As the opinion about the role of Dyer split the British society into a sharp dichotomy, it was difficult for liberal thinkers to inflict an exemplary punishment on him. Ironically, while this was going on, a charitable fund amounting to almost £30,000 had been collected to raise his morale.
Yet the opprobrium with which Dyer surrounded himself due to the false bravado of a braggadocio exhibited during cross examination before the Hunter Committee resulted in his retirement in the reduced rank of a Colonel.
The guilty conscience from which he suffered soon grew into nemesis and tragic self-pity. His health started deteriorating. Constant depression and isolation in life, due to living at various obscure locations in England, took a very heavy toll on him. The end came on July 2, 1927, almost within eight years of the infamous firing. His death certificate declared the cause of death as "cerebral hemorrhage" and "arteriosclerosis". His family believed he died of a broken heart but it was an obvious case of twin failure — both of the brain as well as of the heart.
— The writer is a retired DGP from the Punjab cadre.