Perjury proceedings against ex-councillor's son initiated
Chandigarh, April 11
A local court today initiated perjury proceedings under Section 193 of the IPC against Siddharth Sanwaria, son of a former councillor of the Chandigarh Municipal Corporation, Dr AP Sanwaria, for giving false evidence in the court.
Girl accuses boyfriend of rape
Mohali, April 11
A student of Law Institute College, Kala Amb, has accused her boyfriend of raping her. She met him a few days ago on a bus. A case has been registered against Munish Saini at the Phase I Police Station on the complaint of the victim, who is a resident of Sector 68.


Chemists give a bitter pill to patients on PGI campus
Chandigarh, April 11
Next time when you purchase medicines from a medical store at the PGI, make it a point to ask for a bill. Chemists at the PGI do not provide bills to attendants and deduct a "favourable" amount while taking back unused medicines or surgical items from them. Taking advantage of the perplexity of attendants' mind, most of the chemists do not give them bills and calculate the amount later.

A medical store at the PGI. Tribune photo: Pradeep Tewari
Converted plot owners seek Rs 1,200-crore refund
Chandigarh, April 11
The ghost of the conversion policy has returned to haunt the UT Administration as members of the Converted Plot Owners' Association have demanded their money back, which is around Rs 1,200 crore.
The dark side of white-collar crime
Mohali, April 11
It's no more a man's world when it comes to white-collar crime. Women too are indulging in cheating and criminal breach of trust if one goes by the crime statistics compiled by the Mohali police.

stray cattle menace
MC officials not taking complaints seriously
Chandigarh, April 11
Seriousness of the municipal corporation to tackle the stray cattle menace can be gauged from the fact that officials managing the helpline number on stray cattle menace are not taking "timely" action on the complaints of residents. To avoid catching them, the officials are even giving "excuses" to complainants.


Rs 20 lakh for shifting of cattle
Chandigarh, April 11
The Finance and Contract Committee (F&CC) today sanctioned Rs 20 lakh for shifting unclaimed stray cattle from the city to the gaushalas of other states. The committee members, including Mayor Subhash Chawla, councillors Mukesh Bassi, Darshan Garg, Arun Sood and Davesh Moudgil, along with MC officials, decided that they would shift stray cattle to Delhi-based Dabur gaushala and the Gau Sewa Mission of Garshankar in Punjab.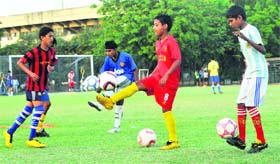 Test of skills Players take part in the trials of Chandigarh Football Academy at the stadium in Sector 32, Chandigarh, on Thursday. During the two-day trials, three players were shortlisted for medical examination. Tribune photo: Vicky Gharu
20 impounded
Chandigarh, April 11
After the death of 33-year-old Harpreet Singh Sodhi, the municipal corporation (MC) has started a special drive to catch stray cattle. The drive was launched last night and the MC impounded 20 stray cattle, out of which seven were buffalos. They were let off for grazing by their owners.
building violations
Misuse notices under scrutiny
Chandigarh, April 11
An order by the UT Chief Administrator quashing a misuse notice issued by the Estate Officer under the Estate Rules, 2007, on the ground of its retrospective application has brought under legal scrutiny hundreds of misuse or building violation notices issued in other cases.
Daily wage workers to be covered under Central pension schemes
Chandigarh, April 11
Putting on hold the long-pending demand of regularisation of services of as many as 2,034 daily wagers and work-charged employees, the UT administration is planning to cover them under pension schemes of the Government of India.
golf club
Close race for post of president
Chandigarh, April 11
Chandigarh Golf Club is gearing up for the upcoming annual general body election on April 21. As many as 1,798 members will decide the future of two candidates contesting for the post of the president.


Liquor to cost more
Chandigarh, April 11
The new liquor policy for 2013-14 is expected to be announced in the next two days. Confirming the development, a senior UT official said liquor prices would go up by around Rs 100 a bottle. Though the UT is yet to announce the policy, there are strong indications that the administration is in the favour of keeping liquor prices almost at par with Punjab.
Drunk student sends police in a tizzy
Chandigarh, April 11
The UT police was sent in a tizzy last night when a student of DAV College in Sector 10 called the police control room saying that he had been robbed of Rs 3,000 cash and the keys of his Innova car had been snatched by assailants in Sector 15.
Health Dept, police teams raid hookah bar
Zirakpur, April 11
In a joint operation, a team of the health department and the police party raided Huka Bar at Baltana near Zirakpur here today. During the raid, hukas, tobacco and other materials were found at the bar. District Health Officer Dr Gursarn Singh said that 11 young boys were present in this bar who belong to high profile families.


Play depicting child labour staged
Chandigarh, April 11
A play "Ji Aaya Sahib" depicting child labour was staged at Punjab Kala Bhawan here today. Based on the short story of the famous writer, Sadat Hassan Manto, the play depicted the story of a 10-year-child "Kasim" who worked at the home of an inspector and because of work load he did not get the time to take rest.
Children perform a play 'Ji Aya Sahib' on child labour at Punjab Kala Bhawan, Sector 16, Chandigarh, on Thursday. Tribune photo: Pradeep Tewari


Classrooms bursting at seams in city
Chandigarh, April 11
"My son refused to go to school yesterday saying that his classroom had 60 students and the teacher could not notice him when he raised his hand for a question," said a parent, Adarsh Chauhan (name changed).
Flying squad: Panjab varsity flouts norms
Chandigarh, April 11
In a sheer violation of Panjab University rules, a member of the Senate has been assigned the duty of a flying squad for the final examinations going on in the PU-affiliated colleges, despite the fact that his son, who is a student of BA-III, is appearing for the exams.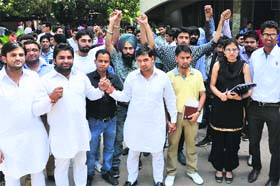 The newly elected panel of the INSO party of Panjab University in Chandigarh on Thursday. Tribune photo: Manoj Mahajan
RTE ACT
Education Dept to review 'neighbourhood' policy
Chandigarh, April 11
Following the latest judgement of the Punjab and Haryana High Court, the UT Education Department will soon review its "neighbourhood" policy under the RTE Act. In its judgement pronounced on Tuesday, the court directed Punjab, Haryana and Chandigarh to come up with a clear definition of the policy.
PU: Eight candidates appear for DPR interviews
Chandigarh, April 11
Interviews for the post of Director Public Relations (DPR) at Panjab University were held today. A total of eight candidates appeared for the selection interviews. Since 2009, there has been no regular DPR at the university after Sanjiv Tewari, who was a regular DPR, retired.
UK-based professor delivers lecture on Punjabi diaspora
Chandigarh, April 11
Dr Steve Taylor, Reader in International Development/Sociology, Department of Social Sciences and Languages, Faculty of Arts, Design and Social Sciences, Northumbria University, UK, gave a special lecture on "The Diasporic Pursuit of Home: A Transnational Punjabi Community" organised at Panjab University.
Private schools in city to revise monthly fee
Chandigarh, April 11
Private schools in the city are in the process of revising their monthly fee for the new session with 10 per cent to 15 per cent hike. The schools had held back this decision due to the pending litigation on the fee issue in the Punjab and Haryana High Court. Since the judgement of the court is out, schools have gone ahead with their revision citing general hike in their overall administrative expenses.
UBS prof to get Macro Research Award
Chandigarh, April 11
Dr Tejinderpal Singh, Assistant Professor, University Business School (UBS), Panjab University, Chandigarh, has been selected for the "Macro Research Award" by the Indian Institute of Banking and Finance (IIBF), Mumbai, for 2012-13.
Lecture focuses on Ambedkar's life
Chandigarh, April 11
The Ambedkar Student's Association of Panjab University today organised a lecture on Ambedkar notion of socialism to commemorate the forthcoming 122th Ambedkar Jayanti, which falls on April 14.