Act on Chinese intrusion: Badal
Chandigarh, April 25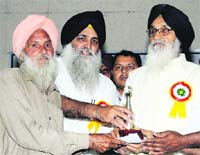 Punjab Chief Minister Parkash Singh Badal today asked the Centre to act swiftly to prevent any further movement of Chinese troops along the Line of Actual Control (LAC). Badal spoke on the sidelines of a function jointly organised by the State Water Supply and Sanitation Department and the World Bank to honour 22 Village Water Supply and Sanitation Committees at Kisan Bhawan here.
Punjab CM Parkash Singh Badal gives a memento to a member of a village committee in Chandigarh on Thursday. A Tribune photograph


Coalition MPs protest outside Parliament
New Delhi, April 25
Akali and BJP Members of Parliament from Punjab today staged a protest outside Parliament demanding that a charge sheet be filed against Sajjan Kumar in an anti-Sikh riot case.
SAD and BJP MPs protest outside the Parliament in New Delhi on Thursday. Tribune photo: Mukesh Aggarwal
Ban on 'Sadda Haq'
SC sets up lawyers' committee
New Delhi, April 25
The Supreme Court today set up a four-member committee of lawyers, including senior advocates Fali S Nariman and Rajeev Dhavan, to view Punjabi movie "Sadda Haq" and assess as to whether the ban on its screening in Punjab, Delhi and Chandigarh could be lifted.
Two months gone, Vijender's hair samples yet to be tested
Fatehgarh Sahib, April 25


The investigating agencies are in a fix as the State Forensic Science Laboratory (SFSL) has failed to identify a laboratory where hair and nail samples of Olympian Vijender Singh can be tested to determine if he has used heroin. The samples need to be tested within 90 days for an accurate result and the boxer is believed to have consumed heroin in the last week of February. The delay is also creating problems for the Olympian who has had to skip two international boxing events in Cyprus and Cuba.

Panchayat Samiti, ZP poll on May 19
Chandigarh, April 25
Accepting the demand made by the state government and the Congress, the main Opposition party, the State Election Commissioner, SS Brar, today postponed the Panchayat Samiti and Zila Parishad elections for a week. Brar, who held a meeting with officials of various districts with regard to the conduct of the elections here today, said the election notification would be issued on May 3 and the polling would be held on May 19.
Porters end stir; trade resumes
Amritsar, April 25
With the porters ending their strike at the Integrated Check Post (ICP) in Attari and the impasse between the traders and the truck union in Attari getting resolved, Thursday turned out to be a good day for the Indo-Pak bilateral trade.
Builders can't use groundwater: HC
Chandigarh, April 25
The Punjab and Haryana High Court today directed PUDA to ensure that the builders do not use underground water for construction. Directions were also issued to the authority to ensure installation of electric water meters on bore-wells.
Two-day police remand for Ludhiana ACP, aide
Ludhiana, April 25
Assistant Commissioner of Police (ACP), South, Baldev Singh Chauhan, who was yesterday caught by the Vigilance Bureau for allegedly demanding a bribe from a scrap dealer, was today produced before a local court which remanded him to police custody for two days.
1% cultural cess on projects above Rs 50 cr
Chandigarh, April 25
The Punjab Government has levied 1 per cent cultural cess on infrastructure projects worth more than Rs 50 crore as contribution towards the Punjab Ancient, Historical Monuments, Archeological Sites and Cultural Heritage Maintenance Board Act-2013.
'Biased' Jail Supdt pulled up
Patiala, April 25
Following reports of preferential treatment to a Chartered Accountant held in a bribery case, Additional DGP (Jails) RP Meena has shot off a letter to the Patiala Central Jail Superintendent Bhupinder Singh Virk.
PSEB to change syllabi of all classes
Mohali, April 25
The Punjab School Education Board (PSEB) is all set to make major changes in syllabi of all the classes. "After getting the green signal from the state government in this regard, we are going to hold a meeting with experts and a special workshop on the issue on April 30 and May 1," said PSEB chairperson Dr Tajinder Kaur Dhaliwal.
Sarovar issue: Dhindsa meets both factions
Sunam, April 25 Punjab Finance Minister Parminder Singh Dhindsa today met rival factions, involved in a dispute over Sitasar Sarovar Temple boundary wall, to resolve the issue amicably.
Honey Singh told to appear before HC on May 14


Chandigarh, April 25
Yo Yo Honey Singh may soon find himself saying "no, no" to vulgarity in songs.The Punjabi rapper, music producer, singer and film-actor has been asked by the Punjab and Haryana High Court to appear before it on May 14 in connection with his purported song "Mai hun balaatkari" (I am a rapist).
Ludhiana ACP Chauhan, aide in two-day police remand
Ludhiana, April 25
Assistant Commissioner of Police (ACP), South, Baldev Singh Chauhan, who was yesterday caught by the Vigilance Bureau for allegedly demanding a bribe from a scrap dealer, was today produced before a local court which remanded him to police custody for two days.
One held for firing
Ropar, April 25
The police has arrested Gulzar Singh, the main accused in a firing incident at Sandhuan village, near here, today. Other accused who were booked under various Sections of the IPC are Gurjinder, Kuldeep, Jitender, Amarjeet, Charanjit, Amarpreet, Surinder, Sukhwinder, Lakhi, Gurdeep, Bikram and Kanwaljeet.
Tehsildar booked
Ludhiana, April 25
Tehsildar Jaspal Kaur, who is posted in Patiala, and her daughter were today booked under Section 11 of the Prevention of Child Labour Act on the complaint of the father of a 10-year-old girl.