Wheat procurement touches 43.26 lakh tonnes
Chandigarh, April 22
Wheat procurement in Punjab has reached 43.26 lakh tonne in the ongoing rabi marketing season.
Protesters in Sunam lathicharged, 10 injured
Sunam, April 22
Ten persons were reportedly injured when the police resorted to a lathi charge this evening on the protesters, who were allegedly moving towards the damaged portion of a boundary wall of the Sitasar Sarovar Temple here. They were demanding that the damaged wall of the temple be repaired. The injured were admitted to local civil hospital. When hundreds of persons started moving towards Sitasar Sarovar Temple, the police stopped them near Shiv Niketan Dharamshala.
Cong to contest block samiti poll on party symbol
Chandigarh, April 22
The Punjab Congress has decided to contest the block samiti and zila parishad elections on the party symbol. Punjab Pradesh Congress Committee (PPCC) president Partap Singh Bajwa said this after a meeting with party leaders at Congress Bhawan here.

Online registration in schools soon
Mohali, April 22
The Punjab School Education Board (PSEB) is all set to start online registration for its students from this session. "All the registrations in this session will be done only through the online process and there will be no charges for it," said Dr Tajinder Kaur Dhaliwal, chairperson, PSEB.
Controversy surrounding Dhingra's memorial refuses to die down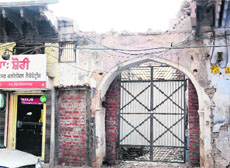 Amritsar, April 22
The controversy sparked by the sale and subsequent demolition of the ancestral house of martyr Madan Lal Dhingra refuses to die down. A group of social organisations continues to fight for conversion of the house into a memorial despite the state government rejecting their demand last year.



Madan Lal Dhingra's ancestral house in a dilapidated state in Amritsar. Photo: Vishal Kumar

Sukhbir for death penalty to rapists
Mohali, April 22
Amid nationwide outrage over the rape of a five-year-old girl in Delhi, Deputy Chief Minister Sukhbir Singh Badal today advocated for death penalty to those convicted in rape cases.
Amritsar visit of Jaitley's wife fuels speculation
Amritsar, April 22
The recent visit of Sangeeta Jaitley, wife of Leader of Opposition in Rajya Sabha Arun Jaitley, to the city has added fuel to the speculation that the senior BJP leader may contest the forthcoming Lok Sabha elections from Amritsar.
Being threatened, offered bribe, claims Tarn Taran assault victim
Jalandhar, April 22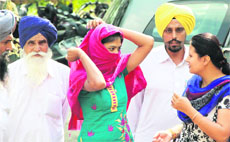 The Tarn Taran police assault victim today deposed before Divisional Commissioner SR Ladhar, the inquiry officer in the case that is being re-probed following issuance of strictures by the Supreme Court against the state government over the "shoddy" investigation.



The police assault victim (face covered) after appearing before the Divisional Commissioner in Jalandhar on Monday. Tribune photo: Sarabjit Singh

Alleging frame-up of official, PSPCL staff takes on VB team
Gurdaspur, April 22
A Gurdaspur-based Vigilance Bureau (VB) team that had laid a trap to nab a Punjab State Power Corporation Limited (PSPCL) SDO at Dhariwal, 10 km from here, found itself at the receiving end today. The power corporation claimed the Vigilance officials were out to "frame" the SDO.
Revamp payment system, demand arhtiyas
Fazilka, April 22
Vikas Pratap, Secretary, Industries, who is also the Nodal Officer for wheat procurement in Fazilka, Ferozepur and Muktsar districts, today visited the Fazilka grain market. Local commission agents apprised him of the problems being faced by them.
BT cotton may revive traditional varieties: PAU experts
Ludhiana, April 22
Experts at the Punjab Agricultural University feel that BT cotton may revive the traditional and bioregional cotton varieties in Punjab. Ever since the introduction of BT cotton in Punjab eight years ago, the number of American Bollworms has fallen drastically. Experts feel that now the farmers can switch over to traditional varieties of cotton.
Newborn's death sparks protests
Sangrur, April 22
The death of a newborn at a private children's hospital here sparked protests outside the hospital today. Later, the bereaved family reportedly agreed to the views of the doctor that the boy had died a natural death. In view of this, the local police initiated proceedings in the case under Section 174 of the CrPC.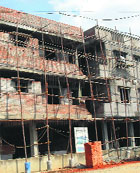 4,145 colonies still unauthorised in state
Muktsar, April 22
Despite the passing of the Punjab Laws (Special Provisions) Bill, 2013, which aims at regularising illegal colonies, as many as 4,145 colonies are still unauthorised in the state.





Though the government has passed the Bill, it is yet to form of a policy on the matter. It needs to take immediate steps to give relief to residents — Coloniser

Ensure free treatment to acid attack victims: HC
Chandigarh, April 22
Acting on a bunch of three petitions raising the burning issue of acid attacks on women, the Punjab and Haryana High Court today directed the State of Punjab to come out with a policy for free treatment of victims.

Fresh summons against Badal in defamation case
Chandigarh, April 22
The court of Civil Judge (Junior Division) Ajit Pal Singh today issued fresh summons against Chief Minister Parkash Singh Badal in a defamation case. Jagdip Singh Chowhan, former Additional Director, Information and Public Relations Department, had filed a civil suit in 2003 against Badal and 14 others (the Punjab Government was also a party), claiming Rs 2.1 crore as damages for alleged implication in a case. He had filed the suit on August 6, 2003.
The case against Chief Minister Parkash Singh Badal was filed by a former Additional Director of the Information and Public Relations Department

3 tonnes poppy husk seized in Bathinda
Bathinda, April 22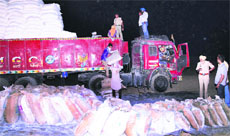 In a major seizure of drugs, the Counter-Intelligence (CI) wing today seized more than 3 tonnes of poppy husk from a truck coming from Rajasthan here today. The contraband was packed in 117 gunny bags. The truck was intercepted on the Bathinda-Dabwali road this morning. Two smugglers, including a proclaimed offender, have been arrested. The police has also seized the truck and Rs 50,000 from the two smugglers.
Police personnel seize bags of poppy husk in Bathinda on Monday. A Tribune photograph

Servant drugs elderly couple, decamps with valuables
Patiala, April 22
A couple was reportedly drugged by their servant Hari, who then decamped with their valuables after ransacking their house in Ghuman Nagar here. Vijay K Singal (61), a retired engineer-in-chief of the erstwhile Punjab State Electricity Board and his wife Veena Singal (56) are admitted to a private hospital following acute poisoning. While the woman is out of danger, the husband is still in a critical state.