Sub-inspector suspended for not registering case
Chandigarh, April 25
A UT police sub-inspector and in charge of the Sector 43 police post was today suspended for not registering a snatching case. Sub-inspector Rajiv Kumar was today suspended following a report by the station house officer (SHO) of the Sector 36 police station to his seniors.


Fire safety: MC slams RLA office
Chandigarh, April 25
Two days after a fire broke out in the basement of the Registration and Licensing Authority (RLA) office in Sector 17, the Fire and Emergency Services Department today issued notice to the RLA for violating fire safety rules.

Files stacked haphazardly in the basement of the RLA office at Sector 17 in Chandigarh. Tribune photo: Manoj Mahajan

Lack of parking space bane of northern sectors
Chandigarh, April 25
Traffic chaos outside schools in the northern sectors of the City Beautiful is the order of the day. Considered posh sectors of the city, the density of vehicles here is very high here.

A girl signals a car to stop so that she can cross the road in front of Carmel Convent School, Sector 9, Chandigarh, on Thursday. Tribune photo: Manoj Mahajan


In Tangle Part-IV, Sectors 7, 9, 10 & 15
Fetching children from school no child's play
It's a maddening rush outside schools in the northern sectors as parents vie for space to park their vehicles near the school gates. The Tribune reporter Amit Sharma and chief photographer Manoj Mahajan report the chaos outside these institutions.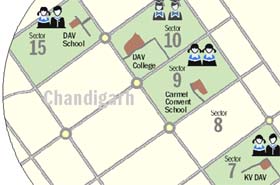 Parents and commuters have a harrowing time driving across schools in the northern sectors of Chandigarh during schools hours. While the lack of parking space outside the schools leads to chaos, the narrow roads add to the problem. There is very less space outside KV DAV School in Sector 7, Carmel Convent School in Sector 9 and DAV School in Sector 15 to park vehicles, as parents arrive in their private vehicles to drop and pick up their children leading to congestion and finally traffic jams.
| | |
| --- | --- |
| Parents wait for their wards outside Carmel Convent School. | Vehicles parked outside KV DAV school in Sector 7. |
| Vehicles parked along the boundary wall of DAV College. | Students park vehicles along side the road at DAV school. |
| Cars parked Haphazardly on the road outside DAV College in Sector 10. | A staff of Carmel Convent school manning the traffic outside the main gate. |

Getting RCs a tall order
Chandigarh, April 25
On Thursday late noon, there was an unending queue of applicants for the registration certificate (RC) at the Sub Divisional Magistrate (SDM) office, South, Sector 42. Some of the applicants were standing in the queue for more than four hours.
A queue of applicants seeking RCs at the office of the SDM, South, Sector 42, Chandigarh on Thursday. Tribune photo: Parvesh Chauhan


Fire at RLA, Sector 17
Records in danger but no makeover for RLA storeroom
Chandigarh, April 25
Dumped files and closely-stacked records of thousands of vehicle owners in a dingy room, where there is no space to move through the steel racks, represent a picture of the record room of the Registration and Licensing Authority (RLA), Sector 17, here.
No security in executive coaches, courtesy staff crunch
Chandigarh, April 25
Despite paying more to travel in an executive class safely, one is not getting proper security services while travelling from Chandigarh-bound trains as the Railway Protection Force (RPF) has not deployed any guards in the executive coaches due to staff shortage.


Finally, CITCO installs cameras at filling station
Chandigarh, April 25
It took two years for Chandigarh Industrial and Tourism Corporation (CITCO) to install closed-circuit television (CCTV) cameras at its petrol pumps in the city. The CCTV cameras installed at the Sector 9 filling station on a trial basis were, in fact, removed after a few months.
A worker checks a CCTV camera while installing it at a petrol pump at Sector 9 in Chandigarh on Thursday. Tribune Photo: Pradeep Tewari
After infant's death at PGI, Chandigarh Health Dept seizes vaccine
Chandigarh, April 25
The Chandigarh Health Department seized all units of the easy five vaccine, used for infants to prevent infections, and has sent the samples of the vaccine for examination to the Central Drug Standard Control organisation in New Delhi.


This cyclist from Mumbai has no stoppages
Chandigarh, April 25
It takes a lion's heart to ride thousands of kilometres on a bicycle, which has no seat. But Mumbai-based Hiralal Yadav has been doing this arduous task with perfection for the past many years.


Hiralal Yadav shows his bicycle to students at Government School, Sector 22C, in Chandigarh on Thursday. Tribune Photo: Pradeep Tewari
msmed act
UT Admn in a quandary
Chandigarh, April 25
The Chandigarh Administration is in a fix over the implementation of the Micro, Small and Medium Enterprises Development (MSMED) Act. While converted plot owners are against the implementation of the Act, the Industries Association of Chandigarh wants it to be implemented.


Women commandos help couple tie nuptial knot
Mohali, April 25
The newly launched Women Commando force started its functioning on a good note as it helped two lovers, who were facing resistance from their parents, in tying in wedlock, here today.


Qasim Beg and Seema at a residence in Phase I, Mohali. A Tribune photograph
Internal roads to be re-carpeted every 4 years
Chandigarh, April 25
In the Road Committee meeting of the Municipal Corporation today it was decided that the civic body will re-carpet the internal (V-6) roads every four years instead of five. The meeting held under the chairmanship of Sat Parkash Aggarwal was attended by members including Mukesh Bassi, Darshan Garg, Satinder Singh, DS Sandhu, Harjinder Kaur, Naresh Kumar and Anup Sunny Gill.
Mohali roads to get facelift in 3 months
Mohali, April 25
The roads of the town would be re-carpeted in coming three months. Today, two tenders of a total sum of Rs 39 crore have been opened for the purpose. While the Greater Mohali Area Development Authority (GMADA) is going to spend Rs 30 crores to upgrade the main roads of the Mohali, the local Municipal Corporation is going to spend Rs 9 crores to re-carpet the "B" and "C" roads here.
Tourism kiosk to come up at Capitol Complex
Chandigarh, April 25
The UT Administration will be setting up a tourism kiosk at Capitol Complex, Sector 1. Presently, tourists have to visit the UT Secretariat building at Sector 9 to take permission to visit Capitol Complex.


Street Theatre festival
Day 6: Plays on social causes staged
Chandigarh, April 25
The second day of the 6th Annual Chandigarh Street Theatre Festival saw people enjoying different plays at the various places in Chandigarh. Two plays "Death of Humanity" and "Toaa" were staged at the Advocate Society, Sector-49, and another two plays "Hey Bhagwan" and "Samaj" at SBI and Jeewan Adhar Society, Sector-48A. The play "samaj" dealt with society's mindset about women.

Artistes from Chandigarh Sangeet and Natak Academy perform a play " Toaa" at the Advocates' Enclave in Sector 49 on Thursday. Tribune Photo: Parvesh Chauhan
Malaria Day rally held
Chandigarh, April 25
Health Department, today organised World Malaria Day rally at Sukhna Lake. The theme for the year was "Invest in Future, Defeat Malaria". On this occasion, the assistant director briefed about the various activities to be carried out during World Malaria Day.
SDM row: Vikrant to meet Shinde
Chandigarh, April 25
In connection with the SDM Tanvi Garg row, Vikrant Kumar, a local businessman and his friends will now meet Union Home Minister Sushil Kumar Shinde. Vikrant's friend Jagdish Singh Diwan said they would meet Union Home Minister Shushil Kumar Shinde.
Honour for two officials of Ambala division
Chandigarh, April 25
The Northern Railways today honoured two officials of the Ambala division for their outstanding performance in the operational wing of the division. The award was given by Northern Railways general manager VK Gupta at a ceremony organised in New Delhi.


PU issues notice to Dasuya college
Chandigarh, April 25
The Panjab University (PU) Syndicate today decided to issue a show-cause notice to the Guru Teg Bahadur (GTB) Khalsa College for Women, Dasuya, Hoshiarpur, after the fact-finding committee constituted by Panjab University found Balwinder Singh, centre superintendent of the college, guilty of sexually harassing five female teachers at the college.
BCom exam goof-up
20 grace marks recommended for students
Chandigarh, April 25
The Board of Studies (BOS) at Panjab University in a meeting, over the goof-up during the BCom second-year Cost-Accounting exam question paper, has recommended that all the students should get 20 grace marks.
non-compliance of conditions
Homoeopathic college faces disaffiliation notice from PU
Chandigarh, April 25
The Panjab University Syndicate unanimously decided to send a notice of disaffiliation to the Homoeopathic Medical College and Hospital, Sector 26, Chandigarh, for not appointing 100% faculty and non-compliance of other conditions imposed by the Inspection Committee.
Convocation of Dept of Laws postponed
Chandigarh, April 25
The convocation of Department of Laws at Panjab University (PU) which was scheduled to be held on April 28 has suddenly been postponed, due to the non-availability of the chief-guest. In the absence of any mechanism available to inform the students about the rescheduling of the convocation, around 1,000 students will be put to inconvenience by the university.
PU to start teacher feedback system
Chandigarh, April 25
In the coming week, Panjab University is going to put the student-teacher feedback forms on its website and distribute the copies of the form in the department. The decision was taken after the members of NSUI today staged a protest before the Syndicate members outside the Administrative Block over delay made by authorities in implementing 'Teacher Feedback' system.
Syndicate deliberates over internal assessment system
Chandigarh, April 25
After a long discussion over the proposal of an alternative system of internal assessment in PU affiliated colleges, the syndicate today decided to route the proposal through the academic bodies of the university- Board of Studies, Faculties and the Academic Council, for information and discussion before the same should be brought to the Syndicate again for deliberations.
FROM SCHOOLS
Traffic awareness camp
Chandigarh: Traffic Awareness Organisation, Chandigarh, conducted an awareness camp in KV 3BRD, Chandigarh, keeping in view the increasing figures of serious accidents in the city.