Porters' strike at ICP brings Indo-Pak trade to near halt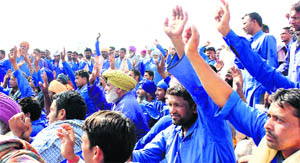 Amritsar, April 23
The India-Pakistan trade through the Attari-Wagah route came to a virtual halt today with porters striking work, demanding a hike in labour charges. The traders have refused to hike the rates of the porters operating at the Integrated Check Post (ICP).


Porters strike work at the ICP, Attari, on Tuesday. Tribune photo

Eyeing LS poll, govt loosens purse strings
Chandigarh, April 23
With an eye on the Lok Sabha elections, the state government has released Rs 375 crore to improve infrastructure in major cities of the state.
Govt declares Jains a minority community
Ludhiana, April 23
On the eve of Mahavir Jayanti, the Punjab Government today issued a notification declaring the Jains as a minority community under Section 2 of the Punjab State Commission for Minority Act 2012. With this, the state government has fulfilled a long pending demand of the community.
Bajwa meets EC official, wants poll postponed
Chandigarh, April 23
Punjab Pradesh Congress Committee president Partap Singh Bajwa here today met state Election Commissioner Shivinder Singh Brar and demanded postponement of the panchayat elections by at least 15 days.
CM not helping Punjabi farmers in Gujarat: Bhattal
Chandigarh, April 23
Senior Punjab Congress leader Rajinder Kaur Bhattal today said even as Punjabi farmers in Gujarat were facing the might of "draconian" steps taken by its government, Chief Minister Parkash Singh Badal was not doing anything on the issue.



Farmer unions oppose draft agriculture policy
Amritsar, April 23
Various farmer organisations today rejected the recommendations made by the Punjab State Agriculture Commission (PSAC) in the draft agriculture policy terming these as "anti-farmer". They warned if the policy was implemented, they would launch a protest in the state.
Books delayed, PSHRC seeks report from Punjab
Faridkot, April 23, 2013
A day after The Tribune reported that the students in government elementary schools and adarsh schools in Punjab were not supplied books, the Punjab State Human Rights Commission (PSHRC) took suo motu cognisance of the matter and registered a formal complaint today.
Pension commutation brought down to 20%
Chandigarh, April 23
Altering its earlier instructions with regard to pension, the Punjab Government has issued a letter reducing the commutation of pension from 40 to 20 per cent.
PCMS doctors protest disparity in pay structure
Patiala, April 23
Several doctors, under the banner of the Punjab Civil Medical Services (PCMS) association, today held a protest rally outside the office of the Patiala Civil Surgeon, demanding pay parity with doctors, recruited by the Union Public Service Commission (UPSC).

Former Minister Dogra dies at 75
Hoshiarpur, April 23
Veteran Congress leader and former Punjab Minister Ramesh Chander Dogra died after a prolonged illness at a hospital here today. He was 75.


RC Dogra

Sarovar wall repaired amid tight security
Sunam (Sangrur), April 23
Amidst heavy police deployment around the Sitasar Sarovar Temple here, the damaged portion of the boundary wall of the sarovar was repaired today. Over 250 policemen along with an anti-riot vehicle and a fire tender were stationed there.



Row over Sadda Haq
Screening will affect peace: Punjab to SC
New Delhi, April 23
The Punjab Government today filed an affidavit in the Supreme Court, maintaining that allowing the screening of 'Sadda Haq', a Punjabi movie on militancy, would affect peace and harmony in the state and thereby create a law and order problem.
Badals cite security reasons for not appearing in court
Chandigarh, April 23
Chief Minister Parkash Singh Badal and his Deputy Sukhbir Badal today cited security reasons for not appearing in court in a 12-year-old defamation case.



Four-year-old raped by cousin in Sangrur
Sangrur, April 23
A four-year-old girl was allegedly raped by her cousin at Mehlan village, 10 km from here. Though the incident occurred yesterday, it came to light today when the victim's mother lodged a complaint.