Wealth tax: Akali Dal takes to competitive politics
Chandigarh, April 28
The SAD has taken up a political issue which is close to the farmer's heart in opposing implementation of wealth tax on agricultural land in the vicinity of urban areas.
Bathinda Head Constable's Murder


For vital clues, police wants to catch third fugitive alive
Bathinda, April 28
The police claims that raids are on to track down Jaswinder Singh, one of the three undertrials who fled after killing a head constable on April 25. Fugitive Jaswinder Singh
State govt ready to pay Sarabjit's medical bill, says Majithia
Amritsar, April 28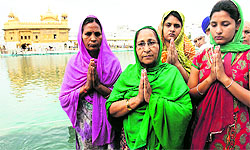 Expressing concern at the deteriorating health of Indian death row prisoner Sarabjit Singh, who is in coma after a murderous attack on him by fellow prisoners in a Lahore jail, Cabinet Minister Bikram Singh Majithia said today that the Punjab Government would bear his medical expenses, if need be. He was addressing a public meeting at Gumtala near here.
SEEKING DIVINE INTERVENTION: Sarabjit Singh's wife Sukhpreet Kaur (left), his sister Dalbir Kaur and daughters Swapandeep Kaur and Poonam at the Golden Temple in Amritsar before leaving for Lahore on Sunday. Photo: Vishal Kumar


Cong, Morcha reach poll pact in Sangrur district
Sangrur, April 28
The Congress and the Sanjha Morcha, comprising the SAD (Longowal), the CPI, the CPM, and the People's Party of Punjab (PPP), have joined hands for the Zila Parishad (ZP) and Block Panchayat Samiti elections in Sangrur district.


14.2% of people live in slums in state: Census
Chandigarh, April 28
At least 14.2 per cent of the urban population in Punjab lives in slums, says the census data released by the Directorate of Census Operations, Punjab, here today.
CM blames Centre for drug flow into state
Jalandhar, April 28
Chief Minister Parkash Singh Badal today lambasted the Congress-led UPA Government for its "failure" to check the flow of drugs into Punjab from across the border.
Cancer-hit families cutting on basic needs, finds varsity study
Chandigarh, April 28
Cancer-affected families have been forced to curtail their basic needs, including expenditure on food, childcare and education, so as to provide expensive treatment to their patients.
341 missing persons untraced in Muktsar
Muktsar, April 28
At least 341 persons remain untraced in Muktsar district, several of them having gone missing way back in 2000.
Untimely rain sweeps aside high wheat yield estimates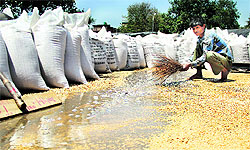 Jalandhar, April 28
The recent adverse weather conditions in Punjab, including the unexpected rains, have forced the state Agriculture Department to lower its estimates of wheat production this season.




A man clears water post rains at the New Grain Market in Jalandhar. Tribune file photograph


Jang-e-Azadi memorial
CM gives nod to 10-member panel
Chandigarh, April 28
Punjab Chief Minister Parkash Singh Badal today gave his nod to constitute a 10-member high-level committee under the chairmanship of member secretary of the Jang-e-Azadi Memorial Foundation Dr Barjinder Singh Hamdard.

School board to review move to regularise teachers
Mohali, April 28
The Punjab School Education Board (PSEB) will review its decision to regularise 37 teachers on contract, as the decision to do so was not taken in compliance with the guidelines of the government.

Videos on police "brutality" a rage on the internet
Patiala, April 28
Videos showing police "brutality" and "indiscipline" are fast becoming popular on the internet with more than five lakh hits on youtube.

Steep rise in swine flu cases in Punjab
Ludhiana, April 28
As many as 182 cases of swine flu have been reported in the state this year, up from the 14 cases recorded last year.

Stray bull critically injures man
Ropar, April 28
A stray bull hit a man identified as Telu Ram, injuring him seriously, at the local bus stand here yesterday evening. The victim has been admitted to the local civil hospital.

Varsity to be set up at Mastuana Sahib
Sangrur, April 28
Member of Rajya Sabha and chairman, Akal College Council, Mastuana Sahib, Sukhdev Singh Dhindsa, today reiterated that the Sangur Municipal Council would establish a university at Mastuana Sahib by the end of March 2015.





Five booked for child marriage in Tarn Taran
Tarn Taran, April 28
A man married off his 12-year-old niece in Dyalpur village, 30 km from here. Five persons, including two women, have been booked by the Bhikhiwind police under Sections 363, 366, 376 and 120-B of the IPC on the complaint of Soni Singh of Balehar village, 40 km from here. They are Amarjit Singh, the victim's uncle, his wife Bholi (aunt), Hans Raj of Hazad Nagar (Gurdaspur), Prem of Jammu and his wife Duddi.