Thieves take away ATM containing Rs 16 lakh
Panchkula, April 30
Miscreants decamped with an ATM containing Rs 16 lakh from a booth at Surajpur in Panchkula late last night. The police suspects that the machine, which weighed over 100 kg, may have been lifted and taken away by at least five miscreants.
The booth from where thieves decamped with an ATM at Surajpur in Panchkula district on Tuesday. Tribune photo: Manoj Mahajan
3 kids fall off overloaded van, hurt
Panchkula, April 30
Three children fell from the back seat of a van in Sector 15, Panchkula, while on the way from their respective schools to Shishu Greha (a children's home) when the back door of the vehicle suddenly opened due to overloading. The van (Omini) belonged to the Shishu Greha authorities and was carrying over 15 children while it has just eight seats.


In Tangle: Solutions
There is hope only if talks stop and action begins
Even as the situation near schools in the city remains chaotic, the Chandigarh Traffic Police and the UT Education Department have not been able to come out with a concrete solution to manage the problem of traffic congestion and parking near the schools.
Students apprise parents of traffic rules at Carmel Convent, Sector 9, Chandigarh.
| | |
| --- | --- |
| In the absence of any traffic police personnel, students cross the dividers near Government Senior Secondary School in Sector 10, Chandigarh. | Policemen manage the traffic in Sector 26, Chandigarh. |
| Vehicles parked outside Shivalik Public School in Phase VI, Mohali. Tribune photo: Vicky Gharu | A bus leaves the campus at Hansraj Public School, in Sector 6, Panchkula. Tribune photo: Nitin Mittal |

forgotten promise
MC to provide job to widow
Chandigarh, April 30
The Municipal Corporation today unanimously resolved to provide a contractual job to the widow of Harpreet Singh Sodhi, who died in a road accident involving stray cattle. Councillors from both the Congress and BJP-SAD tabled the agenda in this regard during the MC House meeting today.
Harpreet Singhís relatives at the Municipal Corporation office in Sector 17, Chandigarh, on Tuesday. Tribune Photo: S Chandan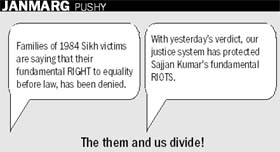 playground issue
MC against extension to Chief Architect
Chandigarh, April 30
With the UT Chief Architect Sumit Kaur not giving clearance to the proposal of developing playgrounds in various sectors of the city sent by the Municipal Corporation councillors, the MC House today decided that the UT Administration should not give her a further extension as the Chief Architect.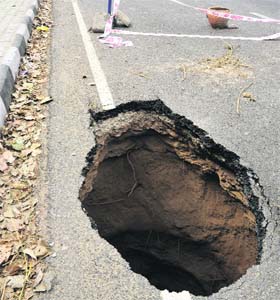 Tragedy waiting to happen: A caved-in road near NIPER in Mohali. Tribune photo: Vicky Gharu
Differences in SAD come to the fore
Mohali, April 30
With the Block Samiti and Zila Parishad elections round the corner, the division of Shiromani Akali Dal into two main factions in the Mohali district has started coming to fore.
Girl survives fall from second floor
Mohali, April 30
A twelfth class girl student of Government Senior Secondary School, Phase 3B1, had a narrow escape when she fell down from second floor of the school all of a sudden today afternoon.
internet security
Chandigarh among top six bot-infected cities
Chandigarh, April 30
Chandigarh is among the prominent cities in India that is facing continuous cyber threats. This was claimed by a Bengaluru-based IT firm in its latest Internet Security Threat Report shared through video conferencing.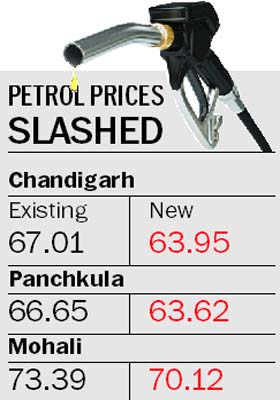 liquor vends
Auction: Rs 19 cr in UTís kitty
Chandigarh, April 30
In its second attempt, the UT Excise and Taxation Department earned Rs 19 crore by the auctioning of 21 liquor vends, 17 of Indian Made Foreign Liquor (IMFL) and four of country-made liquor, in the city. Against a reserved price of Rs 16 crore, the department registered an increase of around 20 per cent in the projected revenue.
sdmís vehicle clash
Accused discharged
Chandigarh, April 30
In less than a fortnight, after a city based jeweller was booked under the preventive measures for a close brush with Sub-Divisional Magistrate (SDM) Tanvi Gargís vehicle, the Additional Deputy Commissioner today discharged the accused from the case, after Harjit Singh, the SDM's driver and the complainant withdrew his complaint.



PEC students go innovative
Chandigarh, April 30
In a bid to cater to the rural population that still uses hands to wash clothes, students of the PEC University of Technology have come up with a pedal powered washing machine made of steel. This machine also has a spin dryer to dry the clothes. The cheaper version of the washing machine which looks like a cycle has a drum fixed on it and the user just need to sit on the seat of the cycle and pedal it to make the drum rotate to wash the clothes. The team members included Aditya Kesri, Sukhminder Singh, Vivek Ramesh and Sahitya Kumar.
Students with their pedal-powered washing machine at the PEC University of Technology in Chandigarh on Tuesday. Tribune photo: Pradeep Tewari



Battery-operated cart for the disabled
Chandigarh, April 30
With an aim to empower physically disabled people, students of the PEC University of Technology have come up with a battery operated cart that has been designed with special features for the disabled with a space for fixing a big drum or basket in front that can be used for keeping vegetables and other goods for sale while sitting on a rickshaw itself.
Students with their battery-operated cart at the PEC University of Technology in Chandigarh on Tuesday. Tribune photo: Pradeep Tewari

Annual Great Moonbuggy Race 2013
Chandigarh University studentsí corner glory
Mohali, April 30
An eight-member team of Chandigarh University, Gharuan, cornered glory by remaining at top among Asian teams and overall at 12th spot in the 20th Annual Great Moonbuggy Race 2013 organised by the National Aeronautics and Space Administration (NASA) at Huntsville, Alabama, in the US Space and Rocket Centre.

An elated eight-member team of Chandigarh University, Gharuan, at the NASA, USA.
Studentís body gives Rs 70,000 for ailing 8-year-old girl
Chandigarh, April 30
A studentís body of the DAV College, Nav Sankalp, today made a donation of Rs 70,000 for the treatment of an 8 year-old girl, Ruchi, who is suffering from an Atrial Septal Defect.


City girl third in astronomy olympiad
Chandigarh, April 30
Srishti Guglani, a student of Class VII, Sacred Heart Senior Secondary School, Sector 26, stood third in the All-India NASA Astronomy Olympiad, held in Chandigarh. She was awarded with an achievement certificate and a momento at the capital earlier this week. With this achievement, she becomes the only student from the north region who got selected among the toppers. She was also rewarded with a laptop.


Srishti Guglani with her awards. A Tribune photograph
Presentations mark Earth Day
Chandigarh, April 30
The Indian Meteorological Society, Chandigarh Chapter, organised the Earth Day today. A presentation from students of Panjab University and PGIMER, Chandigarh, was presented to the delegation who attended the event.
NGO organises awareness walk
Chandigarh, April 30
An NGO, Arrive Safe, in collaboration with the Chandigarh Traffic Police organised a walk with the students of Government Senior Secondary School, Sector 45, today morning.


FROM SCHOOLS
Water Resource Day
Chandigarh: The Water Resource Day was celebrated on the premises of Government Model High School, Sector 36, Chandigarh. A poetry recitation competition was organised among the junior class students. Tiny-tots recited poems in three languages on the occasion.
Students enjoy a puppet show at Shemrock School in Mohali. A Tribune photograph