Recesses of the mind
Leading psychoanalyst Sudhir Kakar's words are as lucid as his thinking — analytical and profound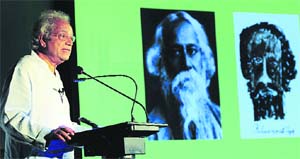 A mind of a thinker combined with the art of a story-teller…that's Sudhir Kakar, easily one of India's leading psychoanalysts who has time and again in his 17 books unpeeled layers of the human mind in an eminently readable as well as insightful fashion. Here he was in Chandigarh to decode the art of one the great minds that India has seen, none other than Rabindranath Tagore.
mind games: Sudhir Kakar
Verse friendly
A feeling lurking in the deepest corner of the heart, a thought that couldn't take a form, a moment flying unchained… if all this were to be given a form, a standing, a platform then the only way would be to put them in lines; establishing links (rhyme if possible) and let them flow in the poetry. Rajbir Deswal, commissioner of police of Ambala and Panchkula, fills the empty spaces with his recently released book on poetry — Rehguzar — published by Books For All.
Copy that!
Among the top-notch designers, Manish Malhotra and Sabyasachi are the most replicated ones in Chandigarh boutiques…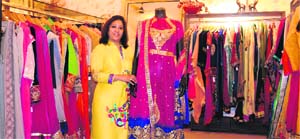 Getting hold of a fake Burberry is as easy as buying cold coffee. Counterfeit fashion is a billion dollar market. No wonder, the four-letter word starting with the sixth alphabet sends the creative directors in a flap! Till the likes of Roberto Cavalli see flattery in imitation, there are those that broaden the fine line between imitation and inspiration itself.
Anu Sodhi displays her designs
Pun'jab' Sandeep Joshi
Canine cut: We're sensitive about his looks so we take him to Paris for a haircut!
Fashion fiesta
Black Apparel India Limited unveiled its flagship store in Elante Mall, Chandigarh, where Gulshan Sharma, the Golmal-fame Bollywood actress and model, flaunted the exquisite range of apparels.
Master Chef
Something fishy!
Who does not relish a well-made fish curry with rice? Fish being very 'easy to cook' is a nutritive option for many and according to cooking norms, the lesser cooked the better! So, here's a simple and quick-to-make homemade fish curry recipe.
The babies and some blues
Actress Reese Witherspoon says she has been struggling with memory loss since giving birth to her third child last year. Last September, the Legally Blonde star and her husband Jim Toth became parents to Tennessee James, a sibling for Witherspoon's two children with Ryan Phillippe, 13-year-old Ava and nine-year-old Deacon.
When Aamir made Imran cry
Actor Imran Khan was in tears on seeing his uncle Aamir Khan die in the final scenes of Qayamat Se Qayamat Tak. Imran played the role of young Raj (essayed by Aamir) in his grandfather's home production.
A star does not have to take off her clothes: Miley Cyrus
Singer Miley Cyrus has said that while she accepts that sex sells in Hollywood, she thinks people need to "find a way that's not all about showing your body".
chatter box
No chemistry
Farhan Khan, who plays the role of Manav in Chhanchhan that is telecast on Sony TV, might soon be replaced. If sources are to be believed, his chemistry with the lead actor, Sanaya Irani, is not compelling and the makers are giving it a second thought.
Astro Turf
ARIES: "The Emperor" brings out your leadership qualities. Today your best approach is not to confront people but to go about your own tasks with great dedication.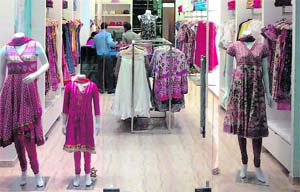 Shopping paradise
BIBA, a name synonymous with new-age Indian-wear has launched its first store in Chandigarh at Elante Mall taking the total store count to eight in Punjab and four in Haryana. Being already established in the cities like; Zirakpur, Ludhiana, Amritsar, Patiala, Pathankot, Jalandhar, Yamunanagar and Gurgaon; the new launch marks BIBA's aggressive plans to tap the retail potential of the region.

Beg, borrow or steal
Deepika Padukone is very proactive in bagging roles and it actually helps her. She has been sending reminders to Aditya Chopra that she wants to do a Yash Raj film. Earlier, she was also keen on a film with Salman Khan and Aditya Chopra is planning a film with Salman Khan. No wonder, she is doing whatever she can to grab the role.

Watch Preity, this May
Preity Zinta wants to make a big announcement to her fans but is waiting for the right time. Her production debut and comeback film, Ishkq in Paris will release soon in May. It got pushed from its September date due to distribution and other issues. She has invested Rs 17 crore in the project.
Coming soon: Preity Zinta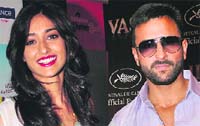 Thinking ahead
Saif Ali Khan will romance Ileana D'Cruz in his next home production, which is a romantic film directed by Krishna DK and Raj Nidimoru. They have also directed Go Goa Gone. Saif wanted a fresh pair after being coupled with Diana Penty in Cocktail. He liked the director-duo's idea of a romantic film. The film will roll much later this year.

In good spirits
Shilpa Shetty looks gorgeous after having shed 22 kilos of pregnancy weight. She does not throw any star tantrums. At a recent show, she recommended her make-up man Ajay Shelar to Vikram Bawa and that was an impressive thing to do. It showed how generous and encouraging she is towards her staff members.
Cheer lady: Shilpa Shetty

Worth the effort
Starlet and model Sherlyn Chopra says that the Playboy shoot, which she happily stripped for, was the best decision of her life as it got her a lot of work and visibility. She is hosting a show on MTV now and also doing an erotic movie in 3D. She was also in the news recently for trying out veganism.

Terms and conditions apply
Shraddha Kapoor is basking in the glory of Aashique 2. She took up the film in the middle of her three-film contract with Yash Raj Films, which got terminated. She says that Aditya Chopra is her mentor and she will always be available to work with the production house. She waited for two years before signing a movie outside YRF.

Contract basis: Shraddha Kapoor