Mumbai resident seeks action against in-laws
Karnal, May 1
Manisha, a resident of Mumbai, is running from pillar to post to get justice after she was deserted by her husband and in-laws. Manisha, who fell in love with a Rohtak boy through a social networking site and married him, was put behind bars for eight days after she attempted suicide in front of the office of the Superintendent of Police (SP) here on April 11. "I was behind the bars for eight days, but the persons who forced me to take the extreme step are moving freely," said Manisha.
Yamunanagar Administration swings into action, starts repairing roads
Yamunanagar, May 1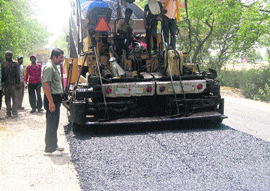 Just two days after The Tribune highlighted the poor conditions of roads, the administration swung into action and ordered repair of most of the roads in the district. An official statement issued here today stated that the work to repair and re-lay the damaged roads in the district had been started on a war footing. The statement said the PWD department had been asked to repair all the important roads in the district on which a sum of Rs 47.27 crore was likely to be spent.
Repair of damaged roads under way in Yamunanagar on Wednesday. A Tribune photo

3 brothers, driver nabbed for raping two Dalits
Bhiwani, May 1
The Bhiwani police has arrested three brothers and their driver for the rape of two Dalit migrant labourers at Dhanana village of the district. Suresh Hooda, DSP (Headquarters), Bhiwani, said today that the police had arrested three brothers, Umesh, Naresh and Kaptan, who owned a brick kiln at Dhanana and their driver Somveer on the complaint of rape filed by the two women.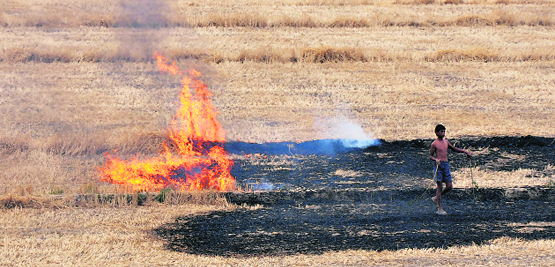 Despite a ban on burning wheat stubble, a field is afire near Nilokheri in Karnal. Tribune photo: Ravi Kumar

Four get 10-year jail for raping Dalit girl
Fatehabad, May 1
The Haryana Valmiki Mahasabha has taken exception to the failure of the Haryana Police to punish its own officials for willful neglect of their duty in a case of gang-rape of a Dalit minor girl at Shekhupur Daroli village in Fatehabad on January 10, 2013.
State told to give one-room tenements to bonded labour
New Delhi, May 1
The Supreme Court has directed the Haryana Government to immediately provide one-room tenements in Faridabad to 309 mine workers released from bonded labour as part of the rehabilitation scheme.
Minister assures farmers on wheat bonus
Chandigarh, May 1
Haryana Agriculture Minister Paramvir Singh has assured delegation of farmers that he would urge Union Agriculture Minister, Sharad Pawar to provide bonus to the farmers on current wheat price.
MP: State giving highest wages to labourers
Sonepat, May 1
Congress MP Deepender Singh Hooda today claimed that the Haryana government was giving the highest daily wages to the labourers in the country. He was addressing 'Mzdoor Divas', rally at Gohana. The rally was organized by labour organisations.
Candlelight march against Sajjan's acquittal
Faridabad, May 1
Hundreds of Sikhs staged a candlelight march here yesterday evening in protest against the acquittal of Congress leader Sajjan Kumar by a Delhi court in connection with the 1984 anti-Sikh riots in the Capital.
Lahore bus makes brief halt at Ambala as passenger falls sick
Ambala, May 1
Lahore-bound 'Sada-e-Sarhad' bus made an emergency halt here after a Pakistani national travelling on the bus complaint of sickness.
Husband dies of burns
Fatehabad, May 1
A marital discord turned ugly at Bhattu Kalan village last night resulting in the death of the husband of burn injuries under mysterious circumstances. The victim Sunil's father Mohinder and younger brother Mukesh also received burn injuries in efforts to extinguish the fire.
BJP to launch door-to-door campaign on May 15
Faridabad, May 1
The state BJP has decided to launch a month-long door-to-door campaign in Haryana from May 15 in order to boost up its prospects in the forthcoming Lok Sabha elections. The BJP is an electoral ally of the Haryana Janhit Congress (HJC) in Haryana, but it has decided to launch the campaign independently in the state.
Factory supplying RO water raided
Sirsa, May 1
A team of the State Vigilance Bureau (SVB) today raided a factory supplying "clean drinking RO water" to people in containers and unearthed a big fraud of playing with the health of residents.
Sirsa teacher hurt as part of ceiling caves in
Sirsa, May 1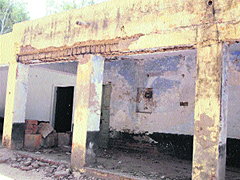 Shashi Bala, a Hindi teacher, sustained injuries while over 20 children had a narrow escape as a portion of the ceiling of a room caved in at Government Senior Secondary School, Alika (Sirsa), today. The teacher was rushed to a private hospital. Shashi Bala was teaching Class XII students in the room when a portion of the ceiling fell on her around 8.45 am. While schoolchildren managed to run to safety, their teacher received injuries on her head and shoulders.
A view of the government school buliding at Alika in Sirsa on Wednesday. Photo: Sushil Manav

INLD forms panel for MC poll
Chandigarh, May 1
The INLD today formed an 11-member committee for the upcoming elections to the municipal corporations with the purpose of preparing the list of likely candidates.
Hooda assures to look into employees' demands
Chandigarh, May 1
Chief Minister Bhupinder Singh Hooda today assured the supervisors of the Integrated Child Development Services (ICDS) and employees of the Ministerial Staff of various departments that all their genuine demands would be considered by the state government.
Student killed on college campus
Yamunanagar, May 1
Yogesh Rana, a BA (final) student at MLN College, Radour in this district, was killed in firing on the campus today. Yogesh Rana was taking his examination when at least 15 youths entered the college and went to his room. The youths opened fire at Yogesh but before anyone could react , the assailants fled the college.
Demonstration against Chinese incursion
Sonepat, May 1
Representatives of several trade and social organisations led by state vice-president of the BJP, Rajiv Jain today organised a demonstration in protest against the incursion of the Chinese troops in Indian territory in Leh-Ladakh.
Power dept staffer killed in mishap
Jhajjar, May 1
Ramesh Kumar of Nigana village, who was posted as a clerk at Matanhale sub-station, was killed when his motor-bike was hit by a car on the Chhuchhakvaas-Matanhale village road this morning. The accident occurred when Ramesh was going to his office.The car driver managed to escape. The police rushed to the spot and sent the body to the civil hospital for a postmortem examination. The car driver has been booked for rash and negligent driving. — OC
Manager caught accepting bribe
Hisar, May 1
The Haryana State Vigilance Bureau has caught Umed Singh, manager Cooperative Society, Khairy Chopta, Hisar district, red-handed while accepting a bribe of Rs 1,500 from Ram Chander, a resident of Kinnar, Hisar district in lieu of giving a loan cheque. While stating this here today, a spokesman of the bureau said a case had been registered against the accused under Sections 7,13,49 and 88 of the Prevention of Corruption Act at the police station of the State Vigilance Bureau, Hisar. — TNS
KU extends date of BEd forms
Kurukshetra, May 1
Kurukshetra University has extended the date of submission of B.Ed and D.Ed forms. YP Goswami, Kurukshetra University chief coordinator, examinations, said the Kurukshetra University Vice-Chancellor, Lt Gen Dr DDS Sandhu (retd),had ordered the extension of date for the submission of forms for B.Ed and D.Ed examinations to be held in Jun-July with late fees of Rs 5,000 plus usual fees up to May 31. — OC
INLD: State govt anti-labour
Faridabad, May 1
The INLD today charged the state government of following "anti-labour" policies and demanded minimum wages in the state at par with Delhi. Addressing labourers on the occasion of Labour Day, Abhay Singh, MLA and younger son of former chief minister Om Prakash Chautala, if his party was voted to power in Haryana, it would ensure proper implementation of the ESIC and PF policies in the state. — TNS