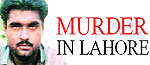 Punjab farmer or Indian spy, the mystery lives on
Saurabh Malik/TNS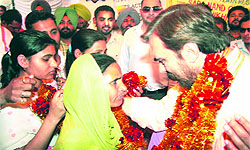 Pakistani human rights activist Ansar Burney with Sarabjit's wife and daughters. — File photo

Chandigarh, May 2
When doctors at Lahore's Jinnah Hospital announced Sarabjit Singh's death early Thursday morning, they brought alive a fundamental question: was the man who died in a foreign land an Indian farmer who strayed into alien territory under the influence of liquor or a spy responsible of killing 14 Pakistani nationals in a series of blasts?
The vexatious question is likely to be given a quiet burial in Pakistan, as his body is handed over to his kin back home. But the issue of his identity is unlikely to die its natural death in India, as the circumstances leading to Sarabjit Singh's incarceration -- and end of his journey to the gallows before the destination -- are being debated again.
The Background
When the farmer from Bhikhiwind, located along the India-Pakistan border in Punjab's Tarn Taran district, vanished on the dark night of August 28, 1990, there was no way his family could have realised that their happiness was to remain locked behind bars of Kot Lakhpat jail in Lahore for 23 years.
Sukhpreet Kaur claims her late husband left home to plough fields near the Wagah border. A school drop-out, he would work on farms to support his family. But what Sukhpreet Kaur at that time did not realise was that Sarabjit Singh, in the process of ploughing fields, was digging his grave.
After he failed to returned, his family launched a massive combing operation in and around the village, but could not track him down. About nine months later, they received information about his being alive.
The family received a letter from Sarabjit, claiming he had been caught by Pakistani border forces after erroneously crossing the border under the influence of liquor. India has maintained that Sarabjit was arrested by Pakistani border guards in an inebriated state on the border near Kasur.
Pakistan has a different story to narrate. Initially, Pakistani policemen slapped the charge of illegally crossing the border against Sarabjit. Attribute it to the not-so-cordial relationship with India, or a result of further investigation, the charge against Sarabjit Singh became grave. After eight days, he was charged with being involved in the 1990 terror blasts at Faisalabad and Lahore.
Identity Crisis
Pakistani authorities claimed he was Manjit Singh and was responsible for carrying out four blasts and was arrested while returning to India after carrying out the explosions. Manjit Singh was accused of working for an Indian intelligence agency and described as a terrorist. Even an FIR in the matter carried Manjit Singh's name. During the course of trial, the Pakistani authorities claimed he confessed his crime.
Pakistani human rights activist Ansar Burney, too, said none of the four FIRs contained Sarabjit's name or description. Talking to The Tribune, Burney had earlier asserted that he had already requested the Punjab Government in India to authenticate the FIR in which Sarabjit Singh was shown as missing from Bhikhiwind in 1990 so that he could again take up the issue.
Human rights activist-cum-Punjab and Haryana High Court lawyer Ranjan Lakhanpal, who has been taking up Sarabjit's case along with Burney at different levels nationally and internationally, says the confession was forced. Lakhanpal, who had moved a court in Pakistan on the issue earlier, says the evidence against Sarabjit was not presented to India. The forced confession was the only video India saw.
The Trial
More than a decade after he was arrested, Sarabjit Singh was handed over a death sentence under the Pakistan's Army Act. Contacted by The Tribune through email, British lawyer Jas Uppal, who had been campaigning for Sarabjit's release, says the trial was fast-tracked. The main witness repeatedly changed his version. Sarabjit's identity was neither verified nor established in court.
Language, too, was a barrier. The trial was conducted in English and Sarabjit was not provided an interpreter, though he did not speak or understand English. Forensic evidence to link him to the bomb attacks was not provided.
Sarabjit's sentence was upheld by the high court. Challenging the verdict, his counsel contended that the conviction was based solely on the "confessional statement" of Sarabjit Singh, which was subsequently retracted.
In its 27-page judgment, the Pakistan Supreme Court held that the death sentence awarded to Sarabjit Singh was "well-deserved" and that there was no scope for any "leniency" given the "nature of offence".
Upholding the sentence, the Pakistan Supreme Court maintained that the act of Sarabjit Singh "was not only an act of terrorism at the national level, rather it was an act of international terrorism, the object of which was to disrupt and destroy the national life of the people of Pakistan and the petitioner by committing this heinous offence not only caused loss of life and property of innocent persons but also made an attempt to damage the national integrity and stability of Pakistan."
The apex court said there was no substance in the defence counsel's contention that it was unsafe to convict the petitioner on the basis of judicial confession which was subsequently retracted, in the absence of direct evidence.
The Twist
On April 26, 2008, prime witness Shaukat Salim retracted his statement during an interview with newspersons. Salim, whose father and other relatives had been killed in the attack, had initially told the court that Sarabjit had planted the bomb. He went back on his statement to say he had done so under pressure from the Pakistani police. Since his conviction, online campaigns were launched and mercy petitions filed by Sarabjit's legal representatives.
What Next
Lakhanpal says he will move a Pakistan court to seek strict action not just against Sarabjit's attackers, but also jail staff. He says he would also pray for grant of compensation to Sarabjit's family.
Manjit or Sarabjit: Identity not established in court
More than a decade after he was arrested, Sarabjit Singh was handed over a death sentence under the Pakistan's Army Act

British lawyer Jas Uppal, who had been campaigning for Sarabjit's release, says the trial was fast-tracked. The main witness repeatedly changed his version. Sarabjit's identity was neither verified nor established in court

Language, too, was a barrier. The trial was conducted in English and Sarabjit was not provided an interpreter, though he did not speak or understand English

Forensic evidence to link him to the bomb attacks was not provided. Sarabjit's sentence was upheld by the high court

Pakistani human rights activist Ansar Burney has said none of the four FIRs contained Sarabjit's name or description

Challenging the verdict, his counsel contended that the conviction was based solely on Sarabjit's "confessional statement", which was subsequently retracted

Human rights activist-cum-Punjab and Haryana HC lawyer Ranjan Lakhanpal, who had taken up Sarabjit's case along with Burney nationally and internationally, says the confession was forced

He says the evidence against Sarabjit was not presented to India. The forced confession was the only video India saw
TIMELINE
1990: Bhikhiwind farmer Sarabjit Singh crosses over to Pak, inebriated; nine months on, he writes to his family saying he has been caught after erroneously crossing over

1991: Sarabjit Singh is convicted of spying, carrying out bombings in Lahore, Faisalabad and is sentenced to death; the sentence is upheld by a higher court

2006: The Supreme Court of Pakistan rejects Sarabjit Singh's appeal for reviewing his death sentence and upholds the sentence awarded to him
2008: His renewed mercy plea is turned down by President Pervez Musharraf. However, his execution was later delayed by the Pakistani government
2012: President Zardari commutes his death sentence to life imprisonment following which Pak authorities say they will free him, but take a U-turn later
2013: Sarabjit severely assaulted by jail inmates; admitted to ICU; family calls for his transfer to India; request turned down; succumbs to injuries in hospital on May 2