Tricity youngsters shine in UPSC exam
Chandigarh, May 3
Following the four tricity candidates who cracked the UPSC exam was Kritika Batra, a resident of Panchkula. Kritika made tricity proud by bagging 103rd All India Rank.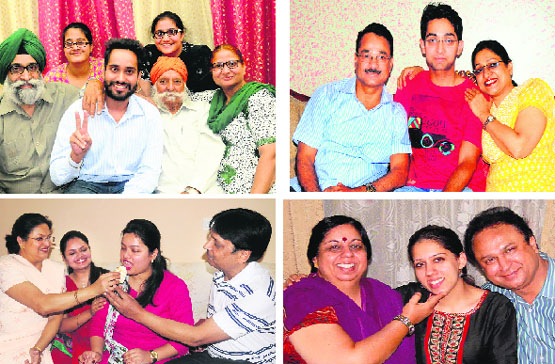 Clockwise: Harpreet Singh (22nd rank) shares his joy with his family members at his residence at Sector 22, Chandigarh, on Friday. Tribune Photo: Pradeep Tewari. (2) Parth Gupta (59th rank) with his family at his residence in Sector 7, Chandigarh. Tribune Photo: S Chandan (3) Kriti Garg (80th rank) with her family at her residence in Sector 44, Chandigarh. Tribune Photo: Pradeep Tewari.
PGIMER comes to a standstill
Chandigarh, May 3
The referral of Sanuallah Khan, a Pakistani prisoner who was badly thrashed inside a jail in Jammu and Kashmir, to the PGIMER on Friday brought the premier health institute to a standstill, causing inconvenience to other patients.



An ambulance carries Pak prisoner Sanuallah to the PGI in Chandigarh; and (right) a policewoman shifts a patient from outside the Advanced Trauma Centre on Friday. Tribune photos: Nitin Mittal & Parvesh Chauhan
Chemists run business from PGI canteen
Chandigarh, May 3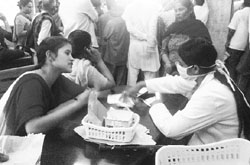 Chemists in the New OPD Block have encroached upon a significant portion of the patients' canteen by occupying a number of tables.





Employees of a chemist shop at the New OPD Block work from a table of a canteen at the PGI in Chandigarh. Tribune photo: Pradeep Tewari
Patients' toilets being used by labourers at GMSH-16
Chandigarh, May 3
Toilets in the new OPD block at Government Multi-Speciality Hospital, Sector 16, have turned into public toilets. Constructed for patients, the toilets are being used by labourers working in nearby construction sites.
Five killed, 9 hurt in accident
Panchkula, May 3


Five persons were killed while nine others were injured, some of them seriously, when a truck collided head-on with a maxi cab on the Panchkula- Baddi road this evening. The maxi cab had 14 persons on board against its seating capacity of seven.
The injured being treated at the General Hospital, Sector 6, Panchkula, on Friday. Tribune photos: Nitin Mittal



MLA hits out at govt over change in zones
Mohali, May 3
Congress MLA Balbir Singh Sidhu today flayed the changes made "overnight" in the zones for the block samiti elections in order to "benefit the SAD."
BJP announces candidates for zila parishad elections
Mohali, May 3
After snapping ties with the SAD in the coming block samiti and zila parishad elections, the Mohali unit of the BJP today announced candidates for various seats.
City getting more crowded like Delhi, population up 17%
Chandigarh, May 3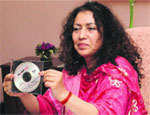 The City Beautiful, country's second-most urbanised UT that ranks high on prosperity indicators, has reported a noticeable improvement in the child sex ratio (0 to 6 years). The child sex ratio of the city is 880 females per 1,000 males. In 2001, the sex ratio was 819 females per 1,000 males.

TN Bindhyeshwari, Director of Census Operations, Chandigarh, releases the figures of Census 2011 on Friday. Tribune photo: Manoj Mahajan
Income Tax Office comes up with swanky café
Chandigarh, May 3
Defying the prevailing perception that government sector institutions resort to archaic setup, the Income Tax Office in Chandigarh, located at the Aykar Bhawan in Sector 17, has come up with a swanky café, offering all kinds of fast food and beverages at half the market price.
Hoteliers attend two-day workshop
Chandigarh, May 3 The Foreigners Registration Office (FRO) of the UT police organised a two-day workshop under the supervision of UT SSP Naunihal Singh at Police Lines, Sector 26, Chandigarh.

Air Commodore Arun Barik appointed 3BRD chief
Chandigarh, May 3
Air Commodore Arun Kumar Barik has been appointed as the next Air Officer Commanding, No. 3 Base Repair Depot (BRD). Presently serving as chief engineering officer of the Eastern Air Command at Shillong, he will take over from Air Commodore Suresh Singh.
Senior citizens honour Milkha Singh
Chandigarh, May 3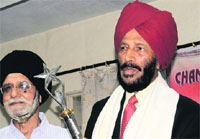 Flying Sikh Milkha Singh poured his heart out over the recent fight at the Chandigarh Golf club, saying he was hurt about what the gentlemen's game had done to him. "My image has been massively spoiled because of the recent controversy despite the fact that I was not at all involved in any manner," said Milka Singh, who was given Lifetime Achievement Award by the Chandigarh Senior Citizens Club at a local ceremony here today.
Olympian Milkha Singh, who was conferred with the Lifetime Achievement Award at Guru Nanak Public School, Sector 30, by the Chandigarh Senior Citizens Association on Friday. Tribune photo: Pradeep Tewari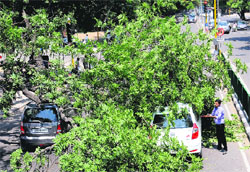 Occupants of two cars had a narrow escape after a tree fell on the vehicles near the Sector 22/23 light point in Chandigarh on Friday. Tribune photo: Manoj Mahajan
Self-defence training from May 6
Chandigarh, May 3
Choi Kwang Do Association of Chandigarh is going to organise a three-day especial self-defence training starting on May 6 at St Peter Martial Art Academy premises, Sector 37B, Chandigarh. The training will be performed by Master Bikram S Thapa, and is absolutely free. The officials said that the training would entirely focus on the practical self-defence.
180 donate blood in Landran
Mohali, May 3
A blood donation, medical check-up and eye camp was organised by the Youth Development and Sports Club at Landran today.
All set for NEET tomorrow
Chandigarh, May 3 Even after the prevailing confusion, thousands of young medical aspirants are all set to appear for the first ever National Eligibility Entrance Test (NEET) on May 5.
Expelled teachers stage protest
Chandigarh, May 3
As many as 50 expelled guest faculty members and contract teachers staged a protest for several hours near Sector 17 here, against the Education Department's inaction to re-employee them.