Couple chemistry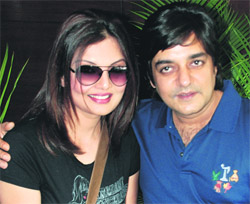 Production suddenly sounds like a gamble if you aren't making a film with the word Jatt in the title, the protagonist hasn't cut half a dozen music albums and the script doesn't stick to the all-pervasive genre of a romantic comedy! On a few counts, director Manduip Singh doesn't give into the herd mentality. "Whether we want to cast a Bollywood actress or a singer or anybody else is a decision that the casting team takes. Ideally, the person who fits into the role should be playing it. That is something we've tried achieving in this film," he shares during the announcement of his upcoming film Just U & Me.
Deep Shikha & Chandrachur Singh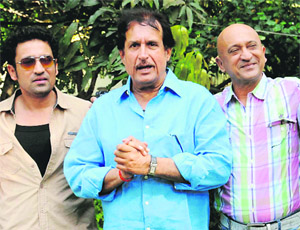 Energy unlimited
"Ask me a place where I haven't been. I have been to Alaska as well. I haven't been to China though, otherwise I have traveled widely"… the man talking about his travels, his faith in the almighty, love for his family, regular sessions at the gymnasium…is the one who had sparked the silver screen with his innocently naughty looks in the movie Jungle Main Mangal. Actor Kiran Kumar, over the years of his career, meandered through various characters and established himself as a villain, rather a good-looking villain, which the good boys had to rub shoulders with.
punjabi flavour: (L-R) Aryaman Sapru, Aryan Kiran Kumar and Tej Sapru. Photo: Manoj Mahajan

Getaway gateway
Do we really need to go far to be far from the madding crowd? Or venture during a godforsaken hour or a rainy month to avoid brushing shoulders with random people from similar backgrounds? Those who'd rather go off the charts and land nowhere than to one of the myriad commercialised, tourist flocked, clichéd destinations; there's some hope and a host of alternatives.
the 'in' side


A greener option
Thinking of cleaning up your house? Ditch the chemical cleaners this year and make some equally effective homemade cleaners. Studies show that the chemicals in the conventional cleaning supplies are bad for your health, your children's health as well as the planet's health. Homemade cleaners work just as well and are a cheaper option too. This is the first step you can take in your homes to going green. Use homemade cleaners for a cleaner indoor air quality and a healthier you.

Master Chef
Amazing maize
The golden colour and its crunchiness make maize a versatile ingredient for any dish. Our own 'roti' with makki ka atta is a dish relished by all North Indians and has become a delicacy for special occasions too. This innovative dish with maize flour is a sure winner.
A whiff of Delhi
No matter where we eat in Delhi, there is always a distinctive flavour. Little wonder that places are even named after the specialty, like the Paranthewali gali! Trust us when we say this, it is difficult to resist the temptation that Delhi offers in terms of food. If you haven't yet tasted it, worry not. You don't have to drop everything and travel to Delhi just to savour all those delicacies. For, Indi Spice, Park Plaza-17 brings you the taste of Delhi-6 yet again after the huge response they received last year.
Celebrate Sunday
There are better ways of spending a Sunday than catching up on all the repeat telecast on television, than re-arranging your wardrobe, or deciding what to eat, whether a brunch should be good enough or supper should be fine. There are definitely better ways to spend a Sunday. Like for instance if you stay in Chandigarh, Panchkula, Mohali or Ambala, you can gather your family together, pack them in a car, grab your swimming costumes and head straight for the recently- opened Aloft, Zirakpur.
first-day-first show
Action and reaction
Written and directed by Sanjay Gupta, Shootout at Wadala is a Bollywood crime and action flick and it is a prequel to the film, Shootout at Lokhandwala that was released in 2007. The film features John Abraham, Kangna Ranaut, Anil Kapoor, Tusshar Kapoor, and Sonu Sood in lead roles. Meanwhile, the film dramatises the first-ever registered encounter by Mumbai police, where gangster Manya Surve was shot dead at the junction next to Dr Ambedkar College in Wadala, Mumbai on January 11, 1982.
star track
Goan celebrations
Anushka Sharma turned 25 in style by celebrating her birthday in Goa with her family members and close friends. She has been busy shooting for movies, endorsements and magazine covers back-to-back. She took only a day off to celebrate her birthday with her loved ones.



Success story


No show


Wrap up in style


All for family


Birthday bash


Angry young man


Full of beans


Is Imran acting pricey?


Milind, Shahana break-up!
chatter box
While mommies do the tango!
Dance India Dance, the show that redefined dance, is back again with yet another unique concept to enthrall the viewers. In all the seasons of DID, there has been one common factor, the families of all contestants on the show have never shied away from joining their sons/daughters on stage for a dance. Taking this ahead, Zee TV will soon bring a new show with a concept that has never been explored before! It is time for all mothers across India to take centre stage with DID Super Moms.



John's new Laila


Identity crisis


This Ammaji can dance


Singing out loud


On receiving the Dadasaheb Phalke Award


Women and diamonds!